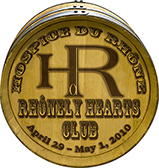 Having arrived safely in Paso Robles, I am eagerly anticipating the kick off of Hopices du Rhone tonight at the Rhône 'n Bowl.  This event is sure to bring out the athlete in all of us, or at the very least be sure to make us all laugh hysterically as we sip some terriffic Rhône wines.
I myself am sporting a Twisted Oak Ron Dover (brother of Bend) bowling shirt, replete with rubber chicken.
Be sure to tune in to the updates here and on twitter for all of the frivolity this weekend!