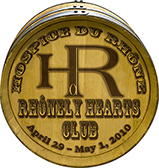 Rhône around the world.  in 11 short days, the penultimate Rhône wine event will commence in Paso Robles.  This year, I am jumping up and down on my sofa like Tom Cruise, because I get to attend, along with some of my best blogger friends as well as several hundred Rhone wine lovers from around the world.
At this annual Rhone-a-thon, Hospice du Rhône shows off its wares with a 3 day extravaganza attendees play wine Jeopardy with the 22 Rhône varieties, while taking time to talk to the winemakers, attend seminars, and enjoy special wine paring meals.
In the jam packed three days, we'll have a history lesson on South African Syrah, a Rose Lunch, two grand tastings, and an exploration of the Washington State Terroir.  This will be of particular interest to us bloggers who are attending this years Wine Bloggers Conference, which will be held in Walla walla, Washington.  For those of us who are incapable of saying no to an event invitation, there is even a bowling session, where my friends at Mutineer Magazine is challenging us to bowl our best game while drinking some delicious Rhoen.  For those of you who have known me for a while, you realize that the only way I bowl (or play pool, or sing karaoke) is when I've had multiple shot  I don't drink shots anymore, but with free flowing Rhône , this could get ugly.  I promise to hold a magnate to my video card if things get too out of hand.
Given my love of the Syrah and my summertime affair with Rosé, I am very much looking forward to spending the weekend with my other best friends, Grenache and Mourvedre, as well as learning more about the other 19 Rhône varietals.  To gear up for HdR, they are presenting 22 Days of Rhône, to help educate the wine community about the 22 Rhône varietals.  Hey kids at home!  That means you can play alnog.  Together with TasteLive, you can taste along online.  This week, the featured grape is Grenache, so grab a bottle, taste it, and tweet along with the hashtag #HdR2010.
Speaking of hashtags, have you seen the new HdR iphone app? It's a slick new interface which greets you with a play on Sgt Peppers Lonely Hearts Club Band album cover, " with Hospice du Rhone Rhonely Hearts Club.

with this handy iphone app, I can see all of the producers that will be pouring at the event, what varietals they are pouring, and when they are pouring it.  Further more, you can narrow the producers down by geographic region, which is helpful if you are trying to explore a new area like South Africa or Washington state.  My favorite part of the app has to be the twitter integration however.   You can click on the feed, but you can also send a twitter report out from the winery's producer page directly.  That means if you are walking around tasting, there is no need to pull out your notebook – simply click the name of the winery, click tweet it out – and a tweet with the name of the winery and the hashtag is pre-filled for you.  Maybe next year, we can click through on the variety details page? I'm not the most geeky iphone user but i LOVE this tool.
So thanks Hospice du Rhone, for taking on the mission of educating us about these 22 grapes.  I'm excited at the opportunity to mix, mingle and learn with the best of them.
If you'd like to try to win tickets to HdR, my friend William over at Simple Hedonisms has a contest going – the Question of the week Contest.  The generous HdR2010 team is sponsoring 'Question of the Week, with  tickets to the Friday and Saturday  tastings ($100 value!).  We will combine this with our usual "Question of the Week" with a Rhone theme. (updated) Please post the question on the Simple Hedonisms Facebook Fan site , and a question will be selected for a free ticket, and answered in a blog article.  There is ONE MORE CHANCE to win, on April 22nd at the April Sonoma Facebook Wine Meetup April 22nd at Artiste Winery in Healdsburg.
Good luck and look for twitter reports from the field!