Spring has sprung, and summer is starting to show glimpses.  A side effect of this season, is that there is a plethora of wine events going on in May and June.  A few of the highlights in the next few weeks are:
Tuesday May 11th, the Rose Avengers and Producers (RAP) hosts thier annual Pink Out celebration in San Francisco.  From 6:30 – 8:30pm, the celebration of all wines pink features an extensive walk around tasting of 40 wines, still & sparkling, as well as some tasty appetizers.  This event does sell out (sorry for the late notice!) and tickets can be purchased online for $35 or if any are left, for $45 at the door.  For those of you who can't make it in person, TasteLive is hosting an online tasting forum with the Mutineer Magazine crew.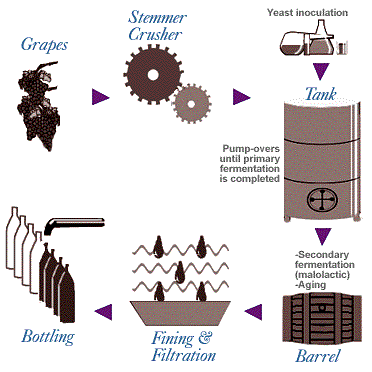 Have you ever been to a tasting room with 20 wineries?  Well, ok there are more and more coop tasting rooms out there, but how about one housed in a custom crush facility?  For those of who are less familiar with the winemaking minutia, a custom crush facility is a place where many wineries / labels can use the same equipment, share costs, and share space.  Vinify Wine Services is one of these meccas for up and coming cult wines, in Santa Rosa.  It's housed some of the best botique wines in Sonoma County over the past few years, and many more to come.  As the nature of the beast goes, you use a place like this for as long as you need, but then you might outgrow it and use your own facilities for various reasons.
On May 23rd, VINIFY IS HOSTING their annual Open House.  This is a rare opportunity for the public to enjoy some 20 labels of delicious juice, for the bargain price of $20 (including a fancy glass).  There will be over 40 wines, and you will have the chance to meet the winemakers, bottlewashers, and salespeople – being the same person – in an intimate setting.  I hope to see you there to taste some of the following:
Baker Lane
Bevan Cellars
Bjornstad Cellars
Lattanzio Winery
Pfendler Vineyards
Sojourn Cellars
Westerhold Family Vineyards
Calluna Vineyard
Jemrose Vineyard
Barbed Oak Vineyards
Claypool Cellars
Desmond Wines
Frostwatch Vineyard and Winery
Olsen Ogden Wines – a personal favorite of mine
Gracianna Winery
Cinque Insieme Wines
Suacci Carciere Wines
Vinfiy Wine Services is located at 3358 Coffey Lane, Suite D in Santa Rosa.  Tickets should be purchased in advance at Local Wine Events and you can reach them at 707-495-4959
On June 5th & 6th Sunset Magazine Celebration Weekend will have several expanded wine seminars and sessions.
With the Glam Camping Compound at the heart of the festivities, Sara Schneider could suggest her favorite bottles for the ultimate "glamping" trip (more details here: http://www.sunset.com/marketplace/camp-glam-00400000066902/)
Expanded wine seminars, including tours through the wines of Washington, Southern Oregon and California's Central Coast (these always sell out!)
A sneak peek at Savor the Central Coast, Sunset's new food & wine event that will be held Sept. 30-Oct. 3 in San Luis Obispo County
The Celebration runs all weekend from 10am to 5pm, and admission is $16.  Wine Seminars are $10 each, and you can sign up at the event.  Susnet is located at 80 Willow Road Menlo Park, CA 94025, schedules and info can be found HERE
Also on June 5th, the Tempranillo Advocates Prodcuers and Amigos Society (TAPAS) is hosting their annual tasting at Ft Mason.  TAPAS is the most extensive annual tasting of domestically produced Spanish and Portuguese varietal wines in North America, and the annual tasting is a great time to taste wines produced by TAPAS members from grape varieties indigenous to Spain and Portugal that are now cultivated in America, in a delightful walk-around setting where they may chat with the TAPAS growers and producers. These new and delightful domestic wines originate in Arizona, California, Oregon, Texas, and Washington, and range from crisp, refreshing whites, through big full-bodied reds, to elegant port style wines. This is a unique opportunity to sample wines made from varieties like Tempranillo, Albariño, Garnacha, Graciano, Mourvedre, Touriga, Verdelho, Bastardo and more. Many of our members are limited-production, boutique wineries whose wines are not generally available in stores.
The consumer tasting will run from 2:00 p.m. to 5:00 p.m.  Consumer tickets are available at tapas2010.eventbrite.com for $35, or $200 for a pack of 10.  Bring your friends!  There will be many hard to find wines at this event.