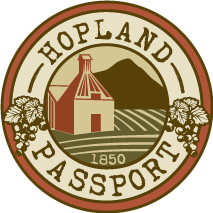 To Hopland!  I've never actually been to Hopland, and while I"ve had some of the wnies that are produced there, next weekend will be the first time I'e been able to spend time focusing on the area.  The 20th Annual Hopland Passport kicks off Saturday, and runs through Sunday, showcasing 16 wineries, as well as food pairings and live music.
Hopland has gone to great lenghts to make this festival enjyable, including a shuttle that will whisk you from winery to wienry in air conditioned (err heated?) comfort.  I'm going to be pretty spoiled since they will even pick me up at my hotel!  Shuttle tickets are $20, but tha'ts a small price to pay to be able to drink in relaxed ease all day.
Tickets for the Passport are $45 for both days, and can be purchased in advance online or at any of the wineries listed below.  They include all wine tastings and activities, as well as a keepsake logo glass.  The 16 participating wineries are:
Jeriko Estate – serving roasted pig and tri tip paired with Estate wines
Saracina Vineyards – Truffled Cannellini bean puree and grilled flank steak (YUM!
Weibel Family Winery – Shitake mushroom bruschetta
Cesar Toxqui Cellars – Garden fresh pumpkin soup paired with new release 2010 Chardonnay.
My hosts at McFadden Vineyard are serving organic steak, and new releases.
Parducci Wine Cellars will be serving fresh oysters at their new tasting room
Campovida is pouring sustainable, organic and biodynamic wines paired with Mexican street food
Milano Family Winery will be releasing their '09 Sangiovese and '06 Lolonis Zinfandel!  Now I know this zin, and it's not like any zin you might be expecting.  A great wine!
Jaxon Keys Winery has live music by the Felt Tips and artisan pizza
McNab Ridge Winery is pouring pinotage
Nelson Family Vineyards is also serving pizza, this time int he redwood grove.  Ahh relaxing!
Wait, did I just see PORK AND PINOT?  I might never leave Jeriko!  But then again, there are oysters are Parducci!
Hopeland is approixmately 2 hours north of San Francisco, just past Ukiah, in Mendocino County.  THe cooler climate products some great wines!  Hope to see you there!
Hopland is the center of a thriving wine community and gateway to beautiful Mendocino County – America's Greenest Wine Region. Explore the pages in our site for information on wine tasting, arts & culinary events, health & wellness and other fun activities offered in our area, then get on the road  and make the trip to visit us here in the beautiful upper Russian River Valley.
Thank you to McFadden Vineyard and the Hopland Passport for inviting mne to this wondeful event!