It's a terrible thing, be able to enjoy sparkling wines whenever I want to.  I personally love bubbles with potato chips, hamburgers, and at the ballpark, but that's just me.  I'm a firm believe that wine (especailly sparkling wine) is made to celebrate life, and not just life's special occasions!
In celebration of my life and my friends, Iwas invited crashed dinner with friends, including the venerable Chuck Hayward of JJ Buckley Wine, his Girl Friday Paige (also of JJ Buckley) and my sistah from anotha motha, as well as Joy Sterling, CEO of Iron Horse Vineyards, the far western Sonoma County bubble house.
Iron Horse was founded by Audrey and Barry Sterling in 1976, in a quiet corner of Green Valley, in the lush rolling hills of Green Valley.  This western Sonoma area is in the rainy side of town, and it's a perfect place to grow Chardonnay and Pinot Noir.  So off they went, to grow grapes for still wine.
But why would a vineyard, known for creating delicious Pinot Noir and Chardonnay, make the leap to sparkling?  It's not exactly easy.  The answer is easy – necessity is the mother of invention.  In 1980, the first vintage of sparkling wine was made when there was an excess of still wine.  Since 1985, Iron Horse sparkling wine has been served in the White House continuously.  Not too shabby for a creative solution to a common problem.
Audrey and Barry passed on the Iron Horse legacy to their children, Joy and Laurence.  Joy, educated in paris and at Yale (yeah, she's a smart cookie that one), is the face of Iron Horse and the CEO.  Her brother Laurence and his wife Terry live on property and he is the Director of Operations.
I was lucky enough to meet Joy through Paige several years ago, and it's so much fun to drink with her!  But that's enough about that.  Never one to say no to a glass of stars, we ran through all (oh yes all) of the  current releases at dinner.
2006 Ocean Reserve is a special bottling that was created in partnership with National Geogrraphic to help raise funds to protect marine areas.  This 100% Chardonnay is aged for 4+ years and has a briny flavor that actually does taste like the ocean.  There is a seaweed taste in there, with a creamy limestone and bitter lemon note that tastes of oysters and burnt toast.  So very interesting!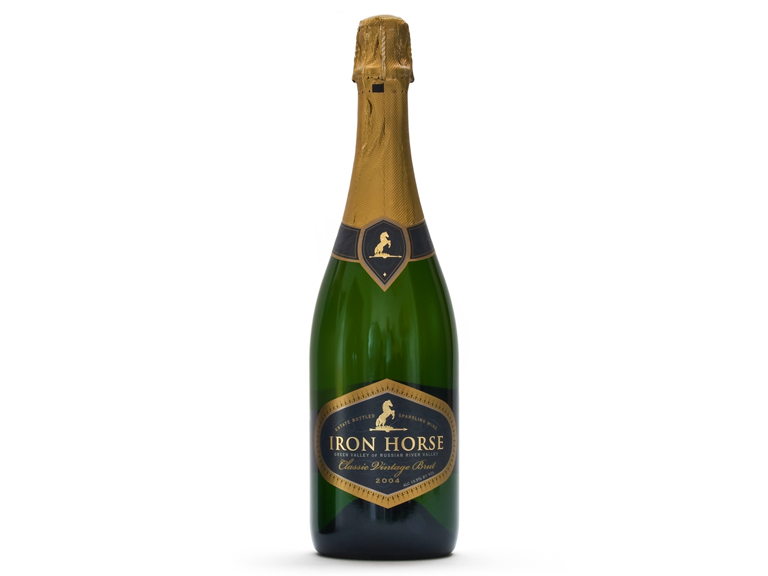 2006 Classic Vintage Brut is fresh and bright, and has a classic (no pun intended) flavor of freshly baked bread.  There is a ton of fresh lemon and bright crisp citrus as well.  With 68% Pinot Noir, it's a great example of a Green Valley wine.

The 2007 Wedding Cuvee  has a lot more color than in most years.  The gorgeous strawberry and raspberry notes had a fresh floral feeling, with rose petals and cream.  Delicious!  This is probably my favorite Iron Horse sparkling wine.
The 2006 Brut Rose is a gorgeous deep salmon blush color.  With Blood orange and oom on the nose and almost a bit of tomato, this purpose made rose has a rich flavor that brings some thing different to the table.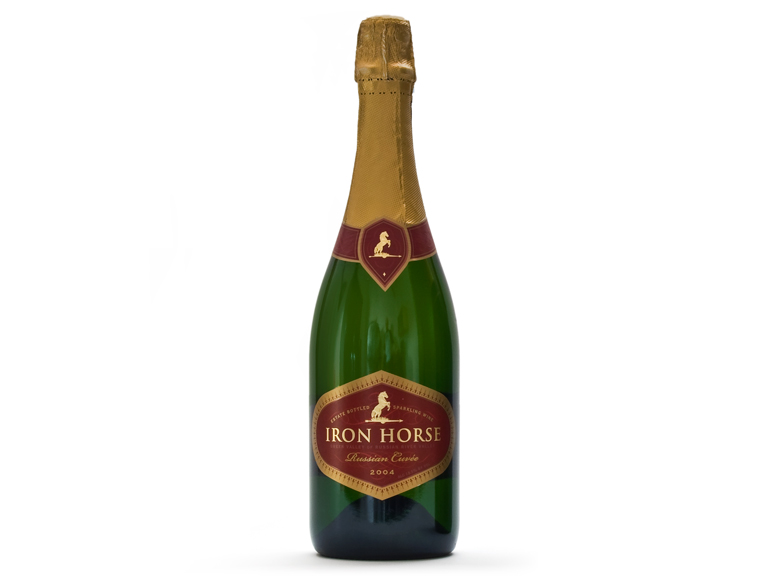 The 2006 Russian Cuvee is another classic, with buttered popcorn flavors springled with fresh yeast.  It is slightly sweeter than the others and has delcious stonefruit falvors .  This is my other favorite!  Starting it's life as the same base wine as the Classic Vintage Brut, the Russian is given a richer dosage (more sugar).  This makes the Russian more opulent, and fitting for any Czar.  It's got a touch of sweetness, and was created for the Reagan-Gorbachev summit at the end of the Cold War.  Pretty cool!
Iron Horse Vineyards is located on Ross Station Road, just outside of Sebastopol in western Sonoma County.  If you go, make sure you you bring your four wheel drive and mud boots in the winter, and a hat int he summer!  Sitting on the top of a hill above the vineyards in the valley, you will be able to sip wine among the apple trees, in the outdoor tasting bar.  There is no table serviec here, just pure fun!