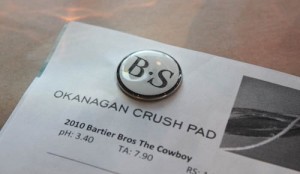 Those of us in California, or other parts of the United States, probably know about Crushpad;  Crushpad is was a custom crush facility that was once upon a time located in urban San Francisco, and not only offered custom crush facilities for budding commerical wineries, but also for the consumer who had some extra money to spend under the guise of being a budding (pun intented) winemaker.
Alas, recent news has indicuated that Crushpad will cease operations before the end of June, citing lack of sufficient funding.  But that is for another post!  I have all sorts of thoughts, good, bad and ugly, about that – but here in Okanagan, there is a new kid on the block.
The Okanagan Crush Pad operates on a simple model:  small wineires share equipment and resources in a small facility that has invested heavily in capital equipment costs.  The importance of such an operation in an expanding wine region is critical; the largest hurdle to get over as a new winery is the major investmetn you must make in winemaking equipment.  By sharing these facilities, effectively renting the press, crusher, barrels, and in this case concrete eggs, as well as a mobile bottling line, you are paying a fraction oi the price; you are only only paying for the equipment when you use it, stead of all year round.
OCP offers a variety of services, from vineyard management, winemaking expertise, as well all full service branding & markeing efforts.  Their philospiphy is "from field to market", allowing the client to select how much or how few services they require in thier journey from grape to glass.  With three brands currently, they strive to produce distinct, Okanagan terroir focused wine.
As we sat down to taste some of the wines that OCP produces, I was reminded of how wonderful it is to experience new wines.  OCP products Bartier Brothers, Bartier Scholefield, and Haywire, as well as the Crush Pad series of wine on tap.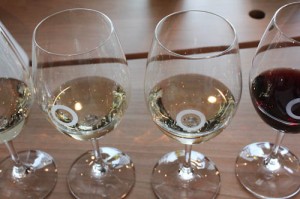 I was particular impressed by the 2011 Bartier Brothers Semillon, which had wonderful lemon and mineral notes.  Oh how I love a semillon!  I also really enjoyed the 2011 Canyon View Pinot Noir, which was still in tank but was a great preview of what will come.  The pinot had fabulous fruit, black cherry, rhubarb, and bold pepper notes on top of cola flavors.  Love!  Another fave was the 2011 Switchback Pinot Gris.  I adore Pinot Gris, and this was no exception with the crisp acid and medium body.  This was aged sur lie and with a heavy battonage schedule, the grapefruit notes gave way to creamy lemon curd and green herbs.
I can't wait to go back and visit again in 2013, if not sooner!