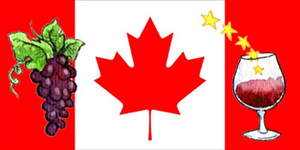 On our last day in the Okanagan, we were greeted by gloomy skies and chilly temperature.  That didn't deter from the sweeping views from the top of the valley floor, where we arrived at Tantalus Winery
for a tasting and lunch.  At the winery, we were joined by Rhys Pender, Master of Wine, from the B.C. Wine Institute, who led us through a head to head blind tasting, pairing B.C. wines with those from Napa, Sonoma, Australia, and France.
During this taste-off, I really had a chance to taste the red wines of the region and get a better sense of place.  More often than not, the BC wines showed the depth of character and old world charm of those from France and Italy, landing somewhere between the New World and Old Worlds.  The value is on par with the comparable wines, and there are some excellent examples being produced.
Among the wines we tasted, here are my notes, and my first guess below the actual wine.
Flight 1 – Chardonnay
Kendall Jackson Grand Reserve – Santa Barbara, California
oaky and bold, California
Chartron et Trebuchet Pouilly Fuisee – Burgundy, France
bright citrus, minerals, France

acidic with lots of citrus, B.C.Tantaslus Chardonnay – Okanagan Valley, B.C.
Yay I guessed right!
Flight 2 – Syrah/Shiraz
Cave de Tain Esprit de Granit Saint-Joseph – Rhone Valley, France
Oaky, with smoke and bold berry plum flavors.  thinner, tannic.  B.C.
Nk'Mid Cellars Qwam Qwmt Syrah – Okanagan Valley, B.C. (It's interesting to note that Nk'Mid is the first winery in North America to be owned & operated by First Nation native peoples)
Juicier, ripe plum, bold berry bright fruit.  France.
Layer Cake Shiraz – McLaren Vale, Australia
Huge, brambly and chewy.  Tell take Aussie shiraz with dense spice and chocolate.
Hey, 2 out of 3 ain't bad!
Flight 3 – Cabernet Blends
Chateau Branaire-Ducru Saint Julien – Bordeaux, France
Funky earth, dry and bitter.  France
Mission Hill Family Estate winery Oculus – Okanagan Valley, B.C.
Bold and jammy with deep coffee notes,  B.C.
Duckhorn Cabernet Sauvignon – Napa Valley, California
Flabby, with floral notes, violets.  Sweeter and dense.  Napa.
This flight was hard but I got them all right too!
Now I was really guessing on the first two because it could go either way, but the Napa example was such a departure from the first tow, it was obvious.  It's amazing what side by side tastings can do for your palate exposure!
After our blind tasting, we enjoyed lunch and some of the Tantalus wines.  I particularly enjoyed both the Riesling and the pinot noir, which was juicy and full of ripe strawberries and cherries.   This wine was going down a a treat, and I sipped it during lunch much to my pleasure.
While it can be challenging to find BC wines outside of the local area, and certainly outside of Canada, it's a worthwhile destination for all that the Okanagan offers.  From water sports, to snow sports, to wine sports, I am looking forward to a repeat visit before
WBC 2013
!
This is going to be a treat, when we are there in June, to enjoy the summer weather and great wines.  I can't wait to go back!