Before the mayhem of the Wine Bloggers Conference began earlier this month, I took some extra time to explore the different AVAs of the Willamette Valley in Oregon, known for Pinot Noir and Pinot Gris.  One winery that came up in conversation over and over again was Anderson Family Vineyards.  Recommended by several friends, I was excited to see what all the fuss was about.
Sitting on top of a hill, the sweeping views of the Dundee Hills AVA are breathtaking.  Just below the estate vineyards, a hazelnut orchard sits on the flats.  Set up an armchair, and I could sit there for days!  The Anderson family started off as growers of premium Pinot Noir, Pinot Gris, and Chardonnay, selling these grapes for over 20 years.  After a while, they wondered why they weren't' using some of the amazing fruit for themselves, and the winery was born.  Currently, Anderson Family sells 1/3 of their grapes to area wineries, and uses the remainder for their own label.
Cliff Anderson began his search in the 1980s for land that would produce grapes that would rival the great wines of Burgundy.  His belief that vines that struggle and need to reach for water, becoming deeply rooted, become amazing wines led him to the heart of Oregon wine country – the Dundee Hills AVA of the Willamette Valley.  Situated in the rolling countryside outside of Newberg, they found a property with steep hillsides full of broken stones and basalt.  In 1992, the vineyard was planted.
Organically farmed, the Anderson Family creates wines in small lots with native yeast, in a gravity flow winery.  Carefully taken care of each small batch of wines, they move a little slower here.  While many larger operations have already released the 2010 vintage, Anderson Family is holding back; there will be no wine before it's time!
We had the opportunity to taste through the current releases with assistant winemaker Jonathan Riekert, a rising star of the area who is passionate about Pinot Noir as well as the Oregon terroir.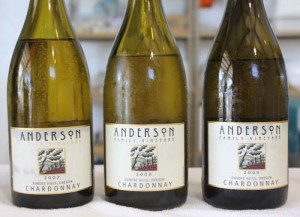 2009 Pinot Gris – There is something special about Oregon Pinot Gris.  I can't quite describe it, but it combines the creamy nature of Gris with the crisp acidity of a Pinot Blanc in a beautiful swirl.
2009 was a warmer vintage for Oregon, but it was peppered with cool nights, as well as a few cooler days which helped keep the acidity in this wine.  With no malolactic fermentation, and 100% stainless steel fermentation, there are beautiful green apple, grapefruit and Asian pear notes.  With a dusting of nutmeg and a nutty finish, this is what I love about Pinot Gris.
This wine was a bit of accident, as the vineyard was thought to be planted to chardonnay, I am glad they found this hidden gem!
Next, we tasted a vertical of Chardonnay.  Much more European in style, these are lean and racy.  Just what I like!
2007 Chardonnay – 2007 had a longer growing season than some other years, which gave the grapes time to develop on the vine.  Unpredictable rains and a mellow season produced balanced flavors and bright fruit.
A blend of 50% barrel fermented and 50% stainless steel, with 60% malolactic fermentation, it is full of hazelnuts, lemon curd and apple flavors.  It's a richer chard, but not buttery and has a lovely minerality with a pear finish.
2008 Chardonnay – 2008 had a cool season with late blooms, with warmer days in October.  This leads to a longer hangtime, which brings bigger, fuller flavors to the wine.  In the case of chardonnay, it means big ripe flavors, but maintaining a bracing acidity.  This year had a brighter citrus base, with a touch of butterscotch and meyer lemon, with more spice.
2009 Chardonnay – 2009 was a very hot year.  With a series of unpredictable heat spikes dotted with cooler days and nights, the fruit was very ripe, with a touch less acidity than 2008.  This developed in to a clear citrus, blood orange, and higher acid wine with a long wet river rock finish.
Finally, the core of any Oregon wineries line up – Pinot Noir.  With a classic style full of spice and earth, the Anderson Family Pinot Noir's did not disappoint.
I was thrilled when the 2007 was still available; widely panned by critics at the time of release, it's always been one of my faovrite years for Oregon Pinot Noir.  Now, of course, the critics are back peddling and saying how nicely it's developed in teh bottle  Whatever, it's simply delectable!
2007 Pinot Noir – The big deal about 2007 is that it was a cool, wet year.  This made a wine with bright acid, clean fruti notes, and earthy underpinnings.  Classic flavors of cola, baking spice and red fruit with a lighter body are the makings of a great year in this bloggers mouth.  mind.  I found notes of dried berries, rhubarb, and spices, especially cloves.  It was classically 2007 with mushrooms and earth, followed by a mineral rub.
Left in the barrel for longer than normal, this wine has intense aromas with tons of baking spice.  The 115, 667, 777, Pommard and Wadenswil clones in the final blend give it the powerful fruit base of the Pommard with the spice and earth of the 115 and 117.  Yum!
2008 Pinot Noir – A bigger vintage in general, there is more dark fruit than red fruit.  The hot season needs time to simmer down.  The late summer forced longer hangtime of the fruit, which I think gives it a bolder feel.
2009 Pinot Noir – While 2009 set a new record for warm days, the summer was finicky with hot days and cool days.  There was a narrow window when the fruit ripened; I currently prefer the 09s to the 08s, because the cool days provide some lovely acidity along with the big red and black fruit.
It's a deeper bolder Pinot than the 07, but not as big as the 08.  I found lots of pomegranate, bright berry and classic cherry fruit, followed by baking spice.  Less earthy overall, this will be a crowd pleaser.
Thank you Jonothan and Cliff for taking the time to show me the wines!  If you are in Newberg, please be sure to call Anderson Family Vineyards for a visti you will not soon forget.  I brought home the Pinot Gris and 2 of the 07 Pinot Noirs.  I can't wait to revisit them!