The terroir at Concannon Vineyards in Livermore Valley hides a rich history.  When the winery was built in 1883, it was one of the first in California and the first in the area.  Now, four generations later, John Concannon's namesake great grandson leads the way in Petite Sirah, sustainability, and modern winery operations.
Concannon is notable both for it's place in history but also because it is a winery founded by Irish immigrants.  Founder James Concannon was born in the Aran Islands, left Ireland for America in 1874.  Travelling across the country to reach San Francisco, James was drawn to the idea of creating Rhone and Bordeaux style wines in California.  At the time, Livermore was nearly undiscovered, and James became a wine pioneer.
Second generation Captain Joe Concannon helped to lead Concannon Vineywards successfully through Prohibition, producing sacramental wines for the Archbishop of San Francisco.  After serving in World War I, where he created wines for then General Pershing and Lieutenant Patton (later General Patton), he hired the first professional female winemaker.  Captain Joe was also instrumental in replacing vines that were lost to phylloxera.
Third generation James (Jim) took over winemaking at the vineyard and brought the first named Petite Sirah to the American market n 1961.  Selling the winery when finances were tight, Jim remained as winemaker and continued to represent the family and winery to the public.  He is still active ein the winery business and in Livermore culture.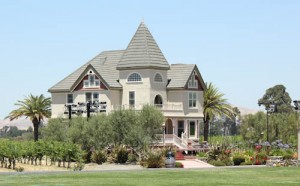 Jump forward to the 4th generation, John Concannon left his career in the medical device filed to region the family business.  Born and raised on the winery property, John III has worked at every job in the winery, and currently seves as the 4th generation vintner.  Ever the rebel, this join is constantly looking and new and innoative ways to incorporate technology in the vineyard and production.
Additionally, the current John has spearheaded Concannon's sustainable practices in environmental conservancy.  Most of the property is owned by a land conservancy and can never be developed.  With a huge price tag attached to any said sale, this is a major investment in keeping the LIvermore Valley's agricultural history in tact.  This Conservancy lends it's name to a series of wines made from the grapes grown in the land trust.
We sat down with John to taste some of the winerys wines, as well as explore the Underdog Wine Bar, which is situated on site and offers up delicious morsels as well as several other wines for sipping.
Concannon has something to offer everyone and offers you a great look at history in the Livermore Valley, someplace with a long legacy in wine but that is still slightly off the beaten path.
Wines tasted:
2010 Conservancy Chardonnay $14 – A bigger chard than I care fore, this wine had lots of buttered popcorn and a slight sandlewood finish.
2010 Reserve Chardonnay $30 – This wine went through additional malolactic fermentation and is quite tropical, green apple, citrus and minerality.  It has great acid and kiwi notes that were bracingly refreshing.
2008 Conservancy Merlot $18 – Spicy plum, mincemeat.  Velvety plush but a nice backbone.  Dark raspberry.  This is a great BBQ wine!
2008 Conservancy Petite Sirah $18 – Concannon is widely known for it'is Petite Sirah.  This is an exceptional offering and shows chewy blackberry, chocolate and cedar.
2007 Captain Joe's Petite Sirah $36 – Captain Joe Concannon was the son of founder James Concannon, and helped the winery to survive Prohibition.  Surviving World War I, he took over the winery.  In tribute, this wine was crated by 4th generation winemaker John Concannon, using the exact blending recipe that Captain Joe used to serve to General Pershing and Lieutenant Patton (before he was a general).  Plum and blackberry mingle together with smoky leather and dense dark fruit layered over violets and meat.
2010 Conservancy Crimson and Clover $18 – This is a lively blend of Livermore varitals, showcasing what the valley can produce.  Containing primarily Petite Sirah, there is alos Cabernet Sauvignon, Merlot and Zinfandel.  A spicy smokey crowd pleaser, this is a fun wine that should be served with every burger.
If you are in Livermore, be sure to stop by Concannon for a history lesson as well as some tasty wines!