On top of the rolling hills of the Dundee AVA in Oregon, Winderlea Vineyard and Winery sits on top of the world.  Looking out at the rolling vineyards below, through  the glass wall of the tasting room overlooking the estate vineyards, I felt like I was sitting in the vines.
Named for the original property and it's owners, the name Winderlea is thought to come from the German word that means "Wind in the Meadow".  That is exactly what it feels like when you are sitting there.  Too hot to sit outside on this particular day, I can imagine how, in the early fall, how the tasting room would be with the glass wall of doors rolled back and the outside melding with the inside.
Winderlea was recommended by several friends, and as we were in the area, we decided to stop by, and i'm so glad we did.  Sitting in the nice air conditioned tasting room (phew it was hot!) sipping delicious wines, what could get better?
Bill Sweat and Donna Morris always had a passion for wine.  Leaving their previous careers behind in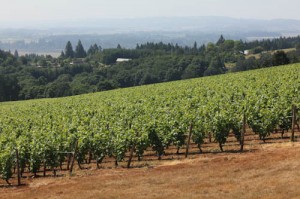 Boston, they moved to Oregon to pursue their combined passion for wine, and specifically Pinot Noir.  Why Oregon you might ask?  Like many of the current crop of vintners and winery owners in the Willamette that I met, Sweat and Morris were drawn to the unique climate and soils, along with the drive to make small batches of amazing wine.  Newcomers are welcomed and tutored, and the wine community is inclusive of new members.  I heard this story over and over again with different places in Oregon, and many of my tech compatriots have left Southern California and Silicon Valley for vineyards in Oregon.
Winderlea is a luxury boutique winery specializing in the limited production of Pinot noir and Chardonnay from Oregon.  Crafting elegant, sensuous and age worthy wines for those who view the pairing of wine and food essential to their lifestyle and well being is what Winderlea is all about. Our focus is on making small lots of Pinot noir and Chardonnay that show the best characteristics of each vineyard. Hand crafted with minimal intervention and the modest use of new French oak barrels, our food friendly wines are classic in style.
Ensuring that the vineyards are LIVE certified as well as Salmon Safe, the team at Winderlea cultivates the land in a way that leaves the soil in tact for many future vintages to come.  This is a common theme here in Oregon; unlike California, the word sustainable is used extensively.  Much less so than Organic or fully Biodynamically certified, sustainable vineyards are a practice that can be maintained over the long haul, while using the best of all farming practices to produce the best results.
Augmenting this sustainable philosophy, Winderlea believes that the vineyard workers should be sustainable as well.  To support this, the $15 tasting fee (which is well worth it regardless) is donated to ¡Salud!, an alliance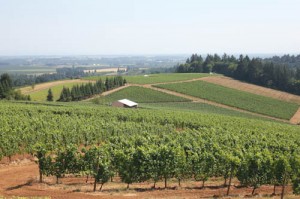 between Oregon winemakers, and local healthcare agencies to provide education and access to services for Oregon's seasonal vineyard workers and their families.  Similar to San Francisco's healthy restaurant tax, this enables vineyard workers to support their families and their employers year round.
Warning:  The tasting caused me to join their wine club!  Read at your own risk.  The 2010s are just being released, so expect more to hit the shelves soon.
2009 Chardonnay – Creamed honey, with apricot, spiced pear and baking spice.  Lovely nutmeg finish.
2010 Dundee Cuvée Pinot Noir – the 2010s are shaping up to be a fantastic vintage.  Bright, with a fun and funky nose that gives way to coffee, stewed fruit and cherries, this wine screams Willamette.  The bright raspberries almost have a beet like note to them, with that earthy texture and mincemeat spice.
2010 Crawford Beck Pinot Noir – Crawford Beck breaks from the Dundee Hills AVA and goes further south, in to the Eola-Amity AVA.  The climate in the Eola-Amity area is influenced by the Van Duzer gap, which allows in cool coastal breezes.  This marine cooling trend taht happens every afternoon cools down the vineyards and tend to create more natural acidity in the Pinot Noir.  This wine had dusty plum with cocoa powder, slight sandlewood notes, and hints of walnut.  It is a young and fresher style of pinot.
2010 Ana Vineyard Pinot Noir – Back in the Dundee Hills AVA, the Ana Vineyard also has some of the oldest Pinot Noir in Oregon.  With mostly Pommard and 777 clones, the vineyard sits on the ridge top at 450 feet, sloping down to 350 feet.  Sitting in a bowl, the afternoon sun heats up the vineyard and creates bolder, fruitier fruit.  This was a clear and bold wine, with classic cherry flavors, bordering on sweet.  The acidity came out after the first taste, and I would call it craisen with raspberry juice.
With many more wines in the library Winderlea is worth a stop on even the shortest of visits to the Willamette Valley.
Cheers!