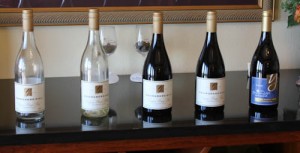 Driving up to the inn & winery, past the rolling hills south of McMinnville, through the farmlands, you feel like you are on top of the world.  Turning in to the driveway of the winery, and you realize why the current owners, Wayne Bailey and family choose to purchase this particular spot.
in 2003, the Baileys purchased the property, and proceeded to radically change the way the vineyards and winery were managed.  The vineyard was moved to organically farmed grapes, and they are still lint he process of being more biodynamically farmed as we speak.  Today, Youngberg Hill is a small, family owned winery that produces Oregon Pinot Noir and Pinot Gris (as well as a renegade Pinot Blanc).  Today, an inn operates on the vineyard property, offering luxurious accommodations with sweeping views of the McMinnville hills.
The winery sits on 50 acres, on top of a hill, surrounded by the estate vineyards.  It's easy to have Wayne's infectious enthusiasm rub off on you, and I sat on the deck of the inn, nibbling on a light lunch, tasting the delicious wines.  Wayne's dream was to create a winery that produced distinctive wines, while respecting the environment and local climate accordingly.  For 22 years, the vineyard has been producing these lovely wines, while maintaining a green philosophy that is so dominant in Willamette's wine making industry.
With 20 acres planted to 3 blocks of Pinot Noir and one block of Pinot Gris, each block is unarmed for one of the Baily daughters – Natasha, Jordon and Aspen, as  well as the Camelot block that was planeted in 2008.  Natasha is 7 acres, and is the largest of the Pinot blocks.  At 600 feet, it sits on marine sediment from the sea that once covered this area.  Jordan is 4 acres, and is on a steeper slope that is volcanic soil, at 800 feet.  Both of these blocks are planted with 60% Pommard and 40% Wadenswil, from the original vineyard planting in 1989.  The third pinot block, Camelot, is smaller at 3 acres and sits between the two sisters, with a blend of volcanic and marine sediment.  This is planted to 777, and was a more recent addition in 2008.  The Aspen Pinot Gris is dry farmed, and is between 525 and 600 feet.
The vineyards are all hand harvested and field sorted before the secondary table sorting begins.  Youngberg Hill does not use whole cluster fermentation, and all of the fruit is destemmed.  Traditionally, they use a native yeast fermentation, but as most wineries do, there is an emergency box with commercial yeast, to assist when things get stuck.  The importance of native yeast cannot be stressed enough – since it's a complex blend that comes in from the vineyards, as well as the house style in the cellar.  Replacing that with a single staring with do a disservice to to the wine, and as Youngberg is striving to be sustainable, organic and local, they shy away from those practices.
Some of the other sustainable practices in place today include reducing soil erosion with cover crops, a primary focus of biodynamcis.  The winery also uses alternative pesticides such as biodegradable oils, soaps, and plant extracts, and is aggressively pursuing the goal of 100% sustainability in its vineyard.  In 2005, they earned their LIVE and Salmon Safe certifications, two key sustainable organizations in Oregon.  In 2010, Youngberg Hill was certified by the Oregon Wine Board as sustainable.  The latest goal is to be biodynamically certified.
It was a beautiful afternoon and I can't wait to go back and visit!  The inn is on the isolated hilltop, and is the perfect place to bring a book or three, and disconnect for the weekend.  The staff will be sure to take excellent care of you as you sip on the wines below, gazing out at the stunning views below.  I know I will be planning a weekend as soon as I can!
2011 Aspen Block Pinot Gris – The 800 foot elevation gives this Pinot Gris a brilliant and bracing citrus acidity that is well balanced and delicious.  Lots of grapefruit and Granny Smith apple.  This is a beautiful porch pounder for your early fall sipping!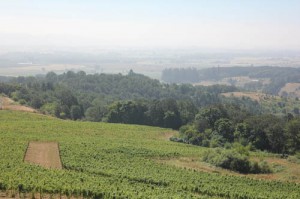 2011 Pinot Blanc – The Pinot Blanc is the only non estate wine in the line up, and is from the Larkins Vineyard in the Eola Hills.  The nose has bright grapefruit and lime citrus, with luscious stone fruit and cream on the palate.
2009 Estate Pinot Noir – this is a blend of the 2 older blocks of Pinot, Natasha and Jordon.  It has an earthy dust, mushroom notes and flavors of the forest floor, with a nice acid profile with bright cherries and spicebox.  A hint of minerality with cinnamon dusted plum to finish.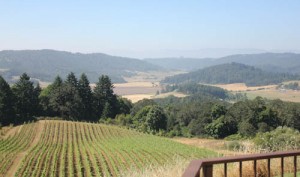 2009 Natasha Block Pinot Noir – This is the 24th leaf of the block.  There are richer cherry cola notes, and lots of Dr. Pepper, prune, and rhubarb notes.  A darker one but wonderful.
2008 Jordan Block Pinot Noir – This is the upper block, on volcanic soils.  It producer more intense black cherry, brambleberry, and fig notes.  There was a lot of root beer, with nice earth and bark finish.  The Jordan uses 20+25% new oak, that gives it a great balance.
Thank you Wayne for hosting, and I look forward to visiting again soon!