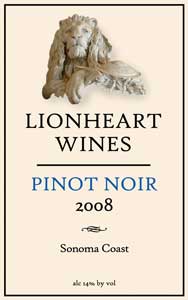 When I first met Leon Glover, winemaker, owner, bottle washer, and mad scientist at Lionheart Wines, several years ago at Crushpad, I knew he was going to make some special wines.
Recently, I had the chance to catch up with him and see how things were going.  WIth the wines resting (ok under lock and key and held hostage but the powers that be at the form Cr***p&%, but who's counting), I thought they deserved some extra love.  Getting them out of the warehouse was a challege that required some patience, but it was worth it to taste Lionheart's wines.
First up:  The 2008 Sonoma Coast Pinot Noir from Gap's Crown Vineyard.  This is one of my favorite locations for Sonoma Coast pinot.  Typically, you think of the Sonoma Coast as a region that develops bright acid, cranberry and juicy red fruit.  2008 however was an odd year.  High temperatures for a long summer as well as bad fires in Mendocino led to a big dark and dense wine, with spikes of acid.  That tell cranberry, black cherry, cola, and black raspberry came out to dance on my tongue   The mellow use of only 1/3 new oak balances out this wine without overpowering it.  $42
Lionheart makes several other wines, and I will be sharing those one by one.  I hope I tantilize you with my tastes, and that you run over and buy some for yourself!