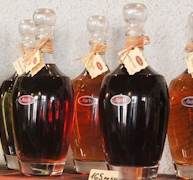 Hum is a tiny little hamlet, still surrounded by it's hilltop walls, in the middle of Istria.  A small remnant of medieval life clinging to it's roots, it has entered the Guinness Book of World Records as the smallest town in the world.  While it might not be the smalled in size, it's officially a town and has it's own government.
Getting to Hum can be a challenge, and we found ourselves backtracking the highway on local roads with signs pointing in every direction.  There is no GPS out here, so we just threw caution to the wind – and maybe said a small prayer to the rakija gods – to find this hidden treasure.
Seventeen turns, 3 misguided dead ends, and one near miss with a local, and we were on the right road to rakija!
How's that for the little guy!  But there is more to Hum than meets the eye.  This castle (really, that's what it is, a castle and the court around it), is a center point for the now lost Glagolitic script, which is considered to be the earliest form of the written Croatian language – and be the forefather to modern Cyrillic.
But…since this is a post about wine tourism, what about the wine?  All around the steep and sloping hillsides, you can see the vineyards that roll on to the coastal borders of Istria.  Here in Hum however, they are more known for Rakija.  Rakija is the Croatian word for Grappa, and is typically made from distilling the alcohol that is produced from the leftovers of wine making, like grape skins.  Here in Croatia, Rakija can also be made from a base alcohol of brandy, applejack, or other forms of fruit liquor.
As we meandered around Hum, Mladen – our intrepid Funky Zagreb driver, tour guide, comic relief, and all around Mad Max replicant, pointed out the Rakjia museum & shop.  Yipee!  What a way to break up a long drive!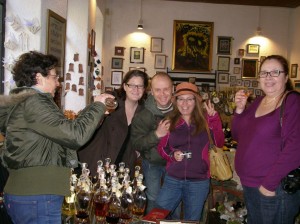 Here, we tasted many of the flavors, including Biska, the most famous – made from mistletoe, or Medcina, made from honey, red wine, apple, pear, and so many more.  In Croatia as well as other parts of this region, everyone makes their own Rakjia.  It is a point of pride as to who makes the best, and the secret recipes are a much guarded treasure.  Try as we might, we just couldn't get the secret out, although Mladen did give us a sample of his famous walnut upon our return to Zagreb.
After imbibing in several flavors, we all left, happy, warm and well stocked.  And, according to legend, rakjia cures cancer, and can be used as liniment for sore muscles.  I think I'll try it!
And, if you're in the mood for a real treat, Hum hosts an annual Rakija festival every October.  Bring your best attempt and share in the fun!
After Hum, we were back on the road to Rovinj, and the coast.  Stay tuned for the continued adventures of the Bourne Wine-Premacy!