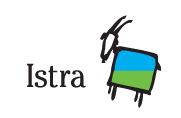 After our snowy and rainy day of exploring Zagreb, the intrepid Mousekateers set off to explore Istria, the dangling participle of Croatia.  This peninsula of land that is tucked under the Trieste region of Italy, and just under the former Yugoslav region of Slovenia, now a thriving independant country of it's own.  Hanging out in the middle of the Adriadic, it has been part of Venice, part of Yugoslavia, and now part of Croatia.  Istria is distinctly – Istrian.
Are you Italian?  Are you Croatian?  I am Istrian!
But first, how does one get to Istria (Istra in Italian)?  From Zagreb, in the northern plains, and no where near the coastal riviera of Dalmatia, we had to get over a high mountain pass, around an inlet, and over to the other side of Istria to the gorgeous port city of Rovinj.
So how in the world were three wine & travel writers, with all of our luggage and booming voices, supposed to accomplish this?  Marcy, Liza and I really didn't want to deal with the headache of renting a car in Europe, and weren't comfortable driving in a country that had a language more foreign than a French wine label.  So…
Mladen to the rescue!  A former engineer, Mladen Car offers a wide variety of biking,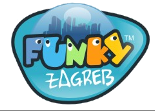 hiking, walking, and driving tours in both Zagreb and the rest of Croatia.  Known as Funky Zagreb, he loves Mad Max, beer, and showing off his town.  Growing up in Zagreb, with the sense of humor that rivals a stand up comedy open mike night, I cannot recommend Mladen's services highly enough.  In fact, I'm already thinking of my next visit, when we can explore some of the places that we didn't have time to see on this visit – like the barrel maker, a great restaurant in Rovinj, and his favorite beer bars in Zagreb.
With the mini van packed to the gills with bags and wine writers, we set off for our first stop – Hum, the official Smallest Town in the World, and the capital of Rajkia (Croatia's answer to grappa, but more on that later).
There is a change when you pop through the other side of the tunnel and end up high above the large port city of Rijeka.  At the crossroads of a multi-cultureral stew, Rijeka is the gateway to Istria.  Passing through town, you can see the hustle and bustle of Italy, the Austro-Hungarian Empire, and eastern Europe coming together.Now, back to Istria.  
While it will be quiet in the off season, I am looking forward to exploring wine capital of Croatia!  Istria has been heavily influenced by Italy, and there are medieval hill towns reminiscent of Tuscany, and vineyards clinging to the hillside slopes with sweeping view.
Istria is roughly the shape of a heart, or triangle, and is separated from the rest of Croatia.  The best part of this area is that is one of the most widely known wine regions in Croatia.  It's a particularly fascinating part of the region since it has been a land in conflict and rule for over 1000 years.  After the fall of Rome, Istria belonged to several warring factions of Europe.  Most recently, it has been part of the Republic of Venice, part of Yugoslavia, and now, part of Croatia – and yet, it maintains  it's separate and distinct identity.  While many people speak Italian, they also speak Croatian.  In places that are closer to the current boarder of Slovenia, they might speak Slovenian, Croatian, Italian, and – quite possibly – German.
Only 2 hours from Venice by boat, our first stop, Rovinj, is a summer tourist destination that brings in hundreds of thousands of overnight visitors as well as day tripper.  When we arrived however, it was a sleepy local fishing town that we were eager to explore.
So sit back, get a glass of Rakjia, and stay tuned!