As I unpack my bags from my adventures in Croatia & Italy at the International Wine Tourism Conference next week, I am often asked why do you do it? Why do you blog? And, more importantly, why do you go to this Wine Bloggers Conference, every year, in the odd locations and the cool, in less flush times and not?
Well, I'll tell you. It started in 2008, at the "Flaming-O" (Flamingo) in Santa Rosa. That was the beginning of a core group of intensely dedicated and passionate wineaux that also loved to write. Back then, six years ago, (holy cripes!) it was a smaller group and the conference was just an experiment.
Who were these upstart wine bloggers? Why were we all getting together?  There were no end to the questions, but – we were overwhelmingly well received by the Sonoma County wine and tourism scene. So much so, that many connections I made that first year are now dear friends and colleagues. Several have gone on to more luminous careers in the wine industry.
The following year, I was so excited by my developing blog and writing style, and my blossoming friendships, that of course – I returned to the Flamingo or WBC09.  There, divided between Napa and Sonoma, we explored more wine, culture, and the being of a blogger.  Once again, despite Napkin-Gate (you know who you are), it was an educational, hilarious, convivial, liquid weekend of passion and education.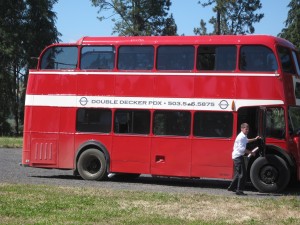 In 2010, we were invited to Walla Walla, Washington to explore the eastern Washington terroir. Of course I went, off with anticipation and gusto. What is this W2 wine? How will it taste? Mind you, I first stopped in Portalnd, for the most memorable experience at any WBC to date; The Double Decker Donut Decadence Wine Tour! A select group of blogger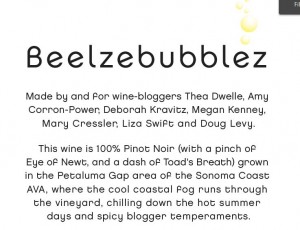 brethren hopped on PDX Double Decker, a converted London City Bus, and hit the road to the Willamette, fueled on sugar and caffeine. I will never forget that trip, and we had Part Deux in Carlton this past year.
Somewhere in the middle of all of this, before we meandered off to Virginia for WBC11, I had made fast friends with Mary, Doug, Liza, Amy & Joe and more.  As a result, we created our own label of sparkling wine, an effort to embody the sparkling personality of ourselves, and our shared passions. I still have 4 bottles stashed away somehow. Can I smuggle one to Penticton?
In Virginia, I met East Coast  that I hadn't yet had the opportunity to meet, and tasted some…interesting…wine in impossibly hot weather. Yes, there were great Cab Francs and lovely Chards. And then I got food poisoning. The most memorable tweet from that event must have been "Where's Thea? She's not tweeting! Is she dead?" To which I replied "No, but I wish I was" as I prayed to the porcelain god for 3 days.
Fully recovered and squealing with glee, we headed up to Portland last August for what is probably the largest gathering of wine writers, wine industry professionals, wine amateurs who wanted to party, and a smattering of Quixicotals and maybe Shriners. You're probably wondering what happens when you mix these people together: the answer – nothing good. Though the Quixicotal wives really did like wine and were happy to take spare samples off our hands as way of apology for the loud crew taking over.
So why do I travel around the country (and the world) to blog? Why do I spend a great deal of tiem and money travelling for wine, drinking wine, learning about wine ? Simple, it's my passion. Discovering new regions and experiencing the people and wine culture are an eye in to their lives. Learning from other writers helps me writer better. Every year, every conference, every bottle, hones my skill and helps me determine my best self in my best voice. Yes, that voice changes year to year, month to month. Passions change. Directions shift.
But it's still me. And it's still about the story. The story of the friendships I have made over 6 years of blogging and WBC events; the story of every bottle of wine; the story of the new winery that happens to be owned by someone I lived next door to when I was 8; the story of how wine tourism has evolved; the story of my personal adventures in wine tourism.
So, it is with great anticipation, and Veteran status ribbons, that I look forward to Penticton in June. It's my birthday weekend, and it's another region for me to explore and think about.
Why do you blog? Why do you drink wine? I write about wine because it's my passion, and I attend these conferences and network with other writers for community.
Thank you to MyWineConcierge.com at TheWinedUp.Net for reminding me about the passion and the reason I do this, and providing us with an opportunity to stay at the Penticton Lakeside Resort for free!  And in case you were wondering, The Wined Up is donating $5 for every entry to the contest to the WBC Scholarship for every entry, so get on it!
Cheers!