**picture heavy post**
After we settled in to the Hotel Lone, meaning we dumped our bags, dropped our jaws at the amazing location, and looked around, we were whisked off to our next Istrian Adventure locale of Stancija Meneghetti, just outside of town, to experience the farm, the guest house, and the delicious wine.
Meneghetti is a beautiful old villa, located in the heart of Istrian vineyards.  From our location in the middle of the scrubrush, one could hardly tell we were a stone's throw from the Adriadic, but the cooling breezes and climate are a large influence here.  As we drove through the countryside, I wasn't quite sure if our Istrian guide, Marko, was disposing of us – or taking us to a great wine location!  But finally, after passing several questionable sites, we arrived at the old iron gates of Meneghetti, and the brush cleared to show a beautiful property.
Once a private villa available for rentals, Villa Meneghetti is now a luxury boutique hotel, with four distinctly elegant rooms, two swimming pools (gah!), and a unique wine & food experience.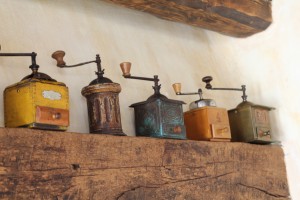 The dining room is a rustic part of the old villa, complete with a beautiful collection of old coffee grinders, and kitchen equipment.
Built in the vicinity of the biggest Austro-Hungarian stronghold in this area, Stancija Meneghetti was the place of rest for officers and their guests. There they could hide from the blazing Mediterranean sun or get warm beside an Istrian fireplace, have a glass of wine and eat home-made cheese and smoked ham. Like many other estates at the Mediterranean, this one is a mixture of urban and rural elements, modern and traditional ones, surrounded by intact nature.
Built of white Istrian stone, the same one that glitters like lace on St.Marcus' Square in Venice, Stancija Meneghetti is harmoniously incorporated into the central part of an ample, cultivated space, like an island in the sea of peace and green foliage. Conceived as a separate "station" with independent production of basic ingredients of healthy and currently so popular Mediterranean cuisine, it continues the tradition of producing best olive oil and wine.
But enough about the history!  What about the wine?  What about the food?  As luck might have it, and also hunger, we were able to keep our Funky Zagreb tour guide Mladen, over for lunch.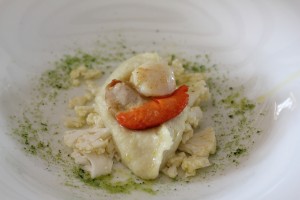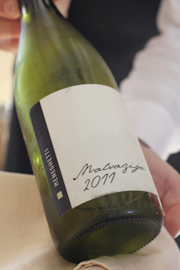 First up, the 2011 Malavazija, which for the rest of the Wine-Premacy, was paired with an ingenious Crab Shake.  These spectacular spectaculars are an ingenious display of layered ingredients, served in a covered dish which the diner is encourage to shake vigorously.  Of course for me,  since I didn't want to cut my vacation short with a seafood induced ER visit, I had the most delicious St. Jacob's Shell (Scallops) with cauliflower.  Malvazija (Malvasia) is the indigenous white grape of the region.  There will be many more Malvasia's to come, so stay tuned on that!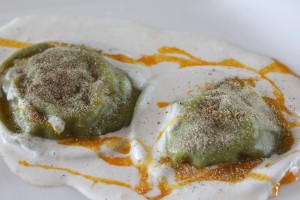 After the seafood course, we moved on to the pasta.  As this part of Croatia is very near Italy, the food is heavily influenced by that.  These delicate pillows of cheese filled heaven were served with cauliflower.  Now OK, i'm the first to say I hate cauliflower but this changed my life.
The third course was Adriadic tuna tartare, which is not something I can accurately describe, unless you've actually had Adriadic tuna.  There is a unique flavor in the tuna, that is much more delicate, salty, adn special than the tuna we get here in the states.  Paired with the Merlot, this meaty fish dish was out of this world.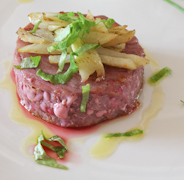 The last course was a pork chop, paired with the Crveno, a red blend
.  The richness of the wine, which was poured with flair from a beautiful decanter by our lovely host at the villa, was perfectly paired with the creamy pork (complete with amazing balls).
Finally, we enjoyed a chocolate mousse tower, floating on a pillow of whipped cream, with an olive oil based.  Olive oil is used in many dishes, and should not be limited to just the main courses.  The peppery spiciness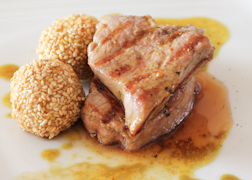 was an elegant contrast to the richness of the mousse, and paired with the dessert wine (and of course, a touch of Rakjia), it was a roman candle end to a 4th of July worthy meal.
The unique experience at Meneghetti gave me a peek in to the luxurious world of Istrian food and culture,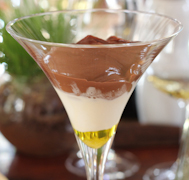 with a warm welcome.  The stories, the laughter, and the wine of the people that make this their lives, truly impacted me.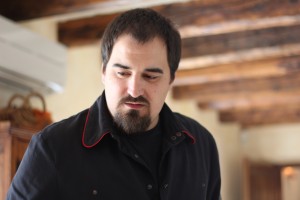 Our chef, Bojan, is half of a dynamic duo that blends the cultural history and traditions of Istria with a modern presentation, which will set your head to spin.
My suggestion?  Get ye to Meneghetti!  Packages with accommodation and a wine experience start at 170 Euros.  That is a bargain for a villa where Brad & Angelina stayed and plalyed!  A truly amazing afternoon.
Special thanks to the good people of Meneghetti and the Istrian Tourist Board for providing the Wine Premacy with a unique and endearing experience to kick off our Istrian Adventure!