One of my favorite stops on my tour of Rioja was Bodegas Izadi, a small group of producers established 25 years ago. A striking 5 story winery is tucked behind the small house that holds the tasting facilities, and is the centerpoint of the gravity feed operation.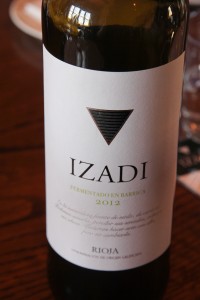 Bodegas Izadi, located a stone's throw from the Basque country is Basque for nature, and the wines reflect that in the wines and properties.  
While most of Rioja is widely known for the red wine made from Tempranillo, Bodegas Izadi is more famous for their whites, which are refreshing and beautiful on a hot Rioja day.
The calcareous soils of Rioja Alavesa look like a moonscape, with dried, cracked calcium rich soils holding strong to the bold Tempranillo vines.  Known for wines with a fuller body and higher acidly, the hard scrub soils produce vigorous vines that fight for nutrients creating some amazing wines of bold character.
First up, the 2012 Blanco F.B. is a blend of Viura and Malvasia.  This bright and clean wine has notes of flowers, specifically daisies, and a aromatic vanilla finish.  Full of peaces and musk melon, this fresh and fruity white is barrel aged for 3 months, and a steal at $20.
The 2009 Crianza is made with fruit from 40 year old vineyards and is the flagship wine of Bodegas Izadi.  This fresh, fruity, friendly wine has dried figs, fruit compote, violets and molasses.  Yum!  A pinch of Graciano is included from the field blend, although they are unsure how much is actually planted in there as it has intermingled with the Tempranillo for so long.  The firm tannins in this wine are great with food and will maintain it's structure for years to come.   Regalo, or "The Gift", Reserva is made from a small selection of low yield vineyards that are averaging 50 years old.  Primarily Tempranillo, there is also 1% blended in with Garnacha, Graciano, and Mazuelo (Carignane).   The rich smokey blackberry fruit, blue fruit and chewy dense red fruit really shine through in this special wine.  The finish oges on for days, and is perfect for a classic Rioja steak en plancha (meat on a stick, grilled)!   The Orben brand was started with the intention of introducing new ways of winemaking in the old world regime of Rioja.  With careful selection of fruit and modern winemaking techniques, the Orben wines are appealing to the New World palates.  The 2008 Orben Tempranillo is made the modern style, with a selection from 72 plots around Rioja Alvesa.  These very old vines produce a single bunch of grapes each, full of bigger, bold fruit expression and personality.  This chewy and dense wine still holds a beautiful bright acidity on top of the brooding bramble berry fruit.  
A declassified Rioja (green label), this gives the winemaker freedom in style and expression and this shows in the Orben.  The name Orben stems from orb, or circle, but an imperfect circle; always striving to be better, the Orben is delicious and a great expression of the region.   Bodegas Izadi is a must stop on any tour of Rioja Alvesa, where you can taste tradition and modern winemaking in a single stop, while exploring the gravity flow winery behind it all.  Bodegas Izadi is located in the Rioja Alvesa region, int he Basque region, in the town of Alava.  Stop by and stay a while!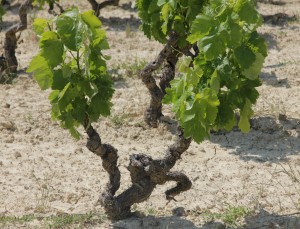 For more delicious Rioja, read on: