It's enough to make a make for TV movie, or at least – a great article in the Sunday food section.  You know the story, small town boy, goes to the big city to live a dream and makes it big.
In this case, this is the story of a little blogger who could.  When I first met Ed Thralls, he was part of the first handfull of bloggers that were a group, around wine country, figuring out what this social media thing was all about.  Ed was also one of the finalists for the now infamous Murphy-Goode lifestyle (which is another story – for another blogger – who also makes wine.  But more on that later).
Interning at Holdredge Wine (who, as it happens, is someone I have known for over 10 years, and also makes world class Pinot Noir) as cellar rat, Ed sucked up as much knowledge about winemaking as he could.  Realizing that he couldn't possibly leave this wonderful world of delicious Pinot Noir and juice, he made the leap and moved to wine country full time.  While working a full time job in the wine business, he tested, crafted, experimented, and made wine.  Thus, the Thralls Family Wine label was born.
These days, Ed has created a line of four distinct, terroir driven Pinot Noirs from around Sonoma and Mendocino counties.  Each wine expresses a different piece of personality that makes Pinot Noir such an amazing wine.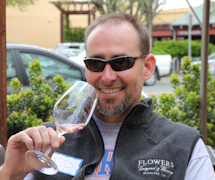 First up, the so called entry level 2012 Russian River Pinot Noir.  This juicy, balanced, and bold example is everything I love about Russian River Valley.  Not overblown like so many Russian River Pinots can be these days, the bright cherry, cranberry adn red fruit sing out with bold flavor and juicy fruit.  Using 1/3 new French oak gives this wine those beautiful hints of baking spice, without overwhelming it.  This is a fantastic everyday drinker for $32.
Next, moving in to a single vineyard showcase, the 2012 Bucher Vineyard Pinot Noir is one of my favorites.   With a deeper cherry flavor base, Bucher shows more black cherry, dark raspberry, and forest floor than the brighter Russian River.  The nuances of cedar and white pepper on the finish leave you guessing for more after the first sip.  This is a wine that gets better with time, so try it over a couple of days, and see what develops!  $40
Moving further west, the 2012 Sonoma Coast Pinot Noir takes a step away from the bolder 667 and 777 clones of the Russian River bottlings.  Bringing in some bright 115 and 114 froim the cool, foggy Sonoma Coast, this Pinot Noir has alpine strawberries, cranberry, bergamot smokiness and amazing acid.  This wine goes native, using all wild yeast with 10% whole cluster fermentation to give it a bit of a wild thing note.  Yum!  $36
Finally, for the Pinot Noir geeks in the group, the 2012 Roma's Vineyard Pinot Noir from Anderson Valley is one for the ages.  100% Pommard clone goes in to this unfined and unfiltered gem, which looks a bit like cloudy cherry Kool-Aid but tastes like a dream.  Roma's Vineyard sits at about 1800 feet in elevation, high above the valley floor, which creates a sunbelt in a cool climate.  This beauty is popping with mushroom, pine needles, bright cherry cider and rhubarb pie.  It's bright and has brilliant acidity, and will pop with any mushroom dish or creamy cheese.  $42  (Editor's Note:  Another fabulous Roma's Pinot, make in an entirely different style, can be found in Cartograph's Anderson Valley Pinot Noir.)
The 2012's are Thralls' third time out of the gate, with the 2008 Syrah being his first attempt at going it on his own.  Beginning with the 2011 Sonoma Coast Pinot Noir, Ed fed a passion for pinot, and intends on continuing this tradition of small lot, hand crafted premium pinot noirs while also sourcing chardonnay for his next release.
I can't wait to see what comes next for the Navy Brat from Atlanta, who came to  Sonoma County to pursue a dream!
Hats off to you Wine Tonight, and cheers!