Mother's Day is coming up, and hopefully you are able to spend some time with your mom to celebrate her.  What better way to celebrate mom putting up with your crazy than some bubbly?
Recently, I visited Mumm Napawith Vindulge's Mary Cressler, my partner in crime and bubble buddy who was visiting the Bay Area.  While there, we took the tour through the production facility, which includes a taste of the still wines that will become the magical sparkling wonder – made in the traditional way, Méthode Traditionnelle.
On the way to the winery, we stopped by the demonstration vineyard and heard more about the varietals Mumm uses in their sparkling program.  While many producers focus only on the classic chardonnay and pinot noir grapes for their bubbles, Mumm adds in Pinot Muenier ("Little Miller"), a grape that I think is underused in both still wine and sparkling wines in the US.
Pinot Meunier tends to have less sugar and a higher acidity, and is harvested earlier ,which lends a brightness and cleaness to the wines made from it.  Mumm has between 40-60 unique growers that they work with, including their own vineyards, which allows them to select from the best grapes to make the best sparkling wine.  
As we toured through the facility, we stopped to taste the still component wine, and play wit the blends.  This has to be the best part of being a sparkling winemaker.  As we had two glasses of Chardonnay and Pinot Noir (white juice, no skin contact), we played with the blends that make up the largest percentage of Mumm's production.  using the component wine, which is not at all like a finished still wine, we created our own blends and began to see how the flavor profiles develop in the sparkling.
After our blending fun, we walked through the now famous permanent collection of Ansel Adams works.  This is the largest single collection and is truly breathtaking.  In addition to the permanent collection, currently Mumm is showcasing The Golden Decade Photography at the California School of Fine Art, 1945-1955.  These works capture the post war boom and growth in California and is a wonderful way to enjoy a glass of sparkling wine.
As we emerged in to the bright sun, we were escorted to the Oak Terrace by our wonderful guide Charles.  Waiting for us was a beautiful table, ready to taste 
through the sparkling lineup.  We also had the artisan cheese plate to pair with our wines ($25) which I highly recommend.  Tastings on the Oak Terrace are $40 per person, and include two glasses of your favorite library wine – which is a wonderful value.  With some library selections going back several years, this is a great opportunity to taste older sparkling wines, magnums, and rare production wines which aren't generally available.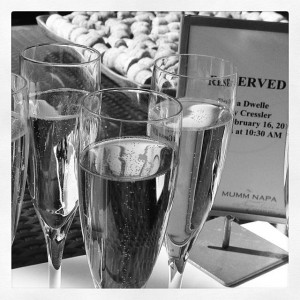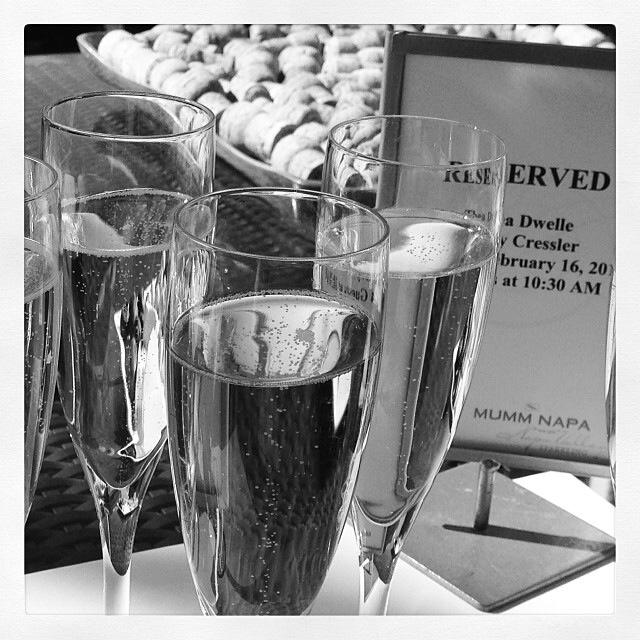 As there were three of us, we were able to taste and share just about everything.  This is also a great way to do Mumm – bring a few friends, and order something different.  The generous tasting pours make it easy to share your favorites.  There are so many options to taste, I am going to highly my favorites:
2001 DVX – this library selection of the flagship

tête de cuvée honors the work of Guy Devaux, who founded Mumm Napa in 1979.  This rich golden oldie is full of brioche, yellow peaches, vanilla custard and baking spice.  Made with only 11 select lots of Chardonnay and Pinot Noir, this special selection had 15% barrel fermented to add richness and depth.  Sitting quietly for 13 years, this was a special treat.  $85

2007 Santana

– yes, it's

that

Santana.  Carlos Santana and Mumm Napa have had a partnership going back several years, and every year the 

legendary

 local musician creates a new blend.  The 2007 was soft and lush, with deep red fruit and figs.  With a hint of Syrah added to the mostly Pinot Noir and 

Chardonnay

, this is a fun wine that benefits the Milagro Foundation.  $56

Brut Reserve Rose Magnum – there is something special about wines in large format bottles.  This non vintage bottling of a classic Pinot Noir & Chardonnay blend was my favorite, with bright cranberry, raspberry, and cherry flavors.  It was completely different than the 750 bottling, which we also tasted and was a great way to show off how wine ages differently in different size bottles.  $68
Sparking Pinot Noir – a rare sparkling red, this dry red wine created in the traditionally champagne style is something totally different and fun.  Ripe plums, baking spice, blackberry pie and chocolate all in one, this unique wine leaves you thinking and wanting more.  $34
Mumm Napa is open 7 days a week, and is located on the Silverado Trail in Rutherford, just north of the city of Napa.  Treat your mom to a special Mother's Day and stop by next Sunday!  Mumm is also widely available in your favorite wine shop or retail outlet and offers excellent value in sparkling wines.
A special thank you to Charles, our tour host and conversationalist, and Kate Regan at Folsom & Associates for arranging this visit!