In land far away, on a hill steeply above the valley, lies a secret place in Capay Valley called  Casey Flat Ranch.  Located at 2000 feet above sea level in the Vaca Mountains, between Napa Valley and the Central Valley, the area was originally settled in the late 1850s during the Gold Rush.  Now, a new rush is on – both for sustainable organic produce, and wine. The Capay Valley AVA was established in 2002, which is somewhat surprising with only two vineyards:  Casey Flat Ranch and Capay Vineyards.  The 150 square miles of Capay Valley has only 100 acres under vine, with it's primary resource being agriculture.  The produce from Capay is legendary, and many an urban CSA gets it's offerings from this area.  While Capay Valley has had wineries since the Gold Rush, the pressure from neighboring Napa all but killed the wine industry out until recently.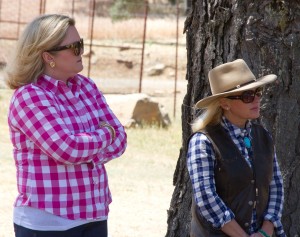 With Casey Flat Ranch being established in 1987 as a Texas Longhorn cattle ranch, vineyards were only added in 2004, initially as an experiment.  Why not?  If Napa could have all that success a mere 22 miles away, why not here?  Lucky for us, this experiment yielded beautiful results!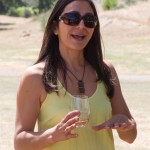 Focusing on Bordeaux and Rhone varietals, Casey Flat Ranch produces Sauvignon Blanc, Syrah Rose, Viognier, and an Estate Red blend.  It's sister label, Open Range, produces Sav Blanc and a red blend as well.  Winemaker Laura Barrett is an exciting, young women winemaker, who started her career in New Zealand.  Receiving her Masters in Enology from neaby UC Davis, Laura joined Casey Flat Ranch in 2008.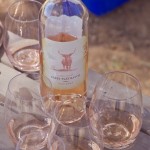 When you arrive at the base of the mountain, it is clear that you are not in traditional wine country any more.  This is cattle country!  Expecting cowboys to come meandering down the hillside, we were greeted by the 2013 Estate Syrah Rosé instead.  This bright and fresh rosé  is a lovely alternative to pinot noir rose, and is bursting with blood orange, red berry, and fresh, juicy peaches.  It's got a lushness and fullness of body that just makes my heart go pitter patter!  I love a Syrah rose, and this was no exception.  At $18, it's a great front porch sipper, and perfect for barbeques. Once at the top of the mountain, at the luxe ranch house, we were eagerly waiting for our lunch,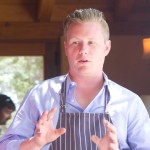 prepared specifically to pair with the wines by Thomas McNaughton, executive chef of SF cult hotspots flour + water, Central Kitchen, and Salumeria.  Swoon!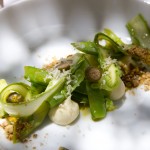 Our first course of a Spring Vegetable Salad was perfectly paired with the 2013 Sav Blanc.  The crisp, tropical refresher with strong floral and herbal notes.  Fermentation is started in tanks, and neutral barrels and stainless steel barrels age the wine sur lie.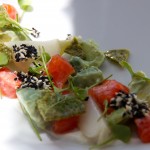 Next up, King Salmon with the 2013 Viognier.  On a warm day, the light and refreshing Viognier has stone fruit up front, Golden Delicious apples, and beautiful minerality under the fruit.  This was Casey Flat Ranch's second single varietal bottling, and I think they did a wonderful job with the 50% neutral oak, 50% stainless steel aging on this baby.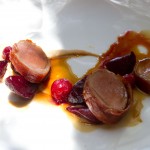 We finished our day on the ranch with the 2010 Casey Flat Ranch Red Blend paired with Speck Wrapped Pork Tenderloin.  The red blend is a rich and spicy Bordeaux style blend, but also fun and fresh.  Comprised of Cabernet Sauvignon, Syrah, and Cab Franc, the dusty baking spice, dark purple fruit, blackberries and plums really accented out the beets & cherries served with the pork.
While I thoroughly enjoyed all of the wines, the rosé
of Syrah is my favorite, and deserves your attention and is, indeed, a Rosé
of Summer!
Thank you to Casey Flat Ranch and Charles Communications for letting me be your guest at this amazing day!