It was a bright and warm late spring day when I ventured up to St. Helena to see the new Hall Wines facility and tasting room.  While I had visited before, in 2009, it was shortly after the LEED Certified production facility had opened, and what a difference 4 years can make!
With a focus on sustainability and responsibility, along with diverse culture, Hall has gone to new heights with the new Wine and Art Exploration tasting & tour which gives visitors to the winery a peek in to the passion for art & design that Former Ambassador Kathryn Hall has always expressed.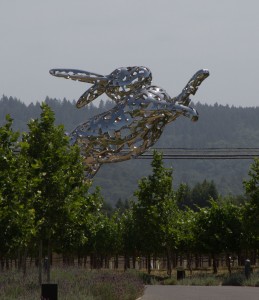 Arriving at the St. Helena property, the first thing you see is "Little Bunny Foo Foo" – a large metal sculpture in the circular drive.  This imposing and  imipressive piece welcomes you in to the parking lot and sets the tone for the day to come.  This is just one of the many stunning pieces of visual art that are on permanent display at Hall.
As we we were welcomed in to the visitors center by a cold glass of Sauvignon Blanc, we were surrounded by the textural art in the tasting room that screams reach out and touch me.  Alas, we were not allowed to do so, but that type of art work that intrigues and inspires imagination is what draws you in and leaves you wanting more.
Wandering around the property, you will see several examples of these large pieces of art work that you can spend your time gazing at and just relaxing.
Completing your tour in the tasting room, your palate is delighted by the focus on Cabernet Sauvignon, which is what Hall focuses on, as well as the WALT Pinot Noirs.  A visit to HALL is a must on any stop in Napa, and you may never want to leave!
The winery also has special programs throughout the year, including the Friday Sunset Cruise – where guests can linger outside after hours, and taste through the wines open from the day, while sitting in the Adirondack chairs by the reflecting pool, eating some delicious appetizers.
Another program is Demystifying Wine & Food, where guests can expand their tasting experience with a guided food and wine experience.
There are many more experiences to choose from, so you should check them all out here.
I can't possibly pick my favorite wine, since all of the Cabernets are silky, beautiful and luscious, but if you are a Cabernet Lover, you could opt for the  Ultimate Cabernet Collector experience, where guests can enjoy history in a glass, one Cab at a time.
These experiences range from $30 to $100 and reservations are required.
If you are a wine lover, an art lover, and a Cabernet Sauvignon lover, take some time out of your day to stop and relax at HALL WInes in St. Helena.