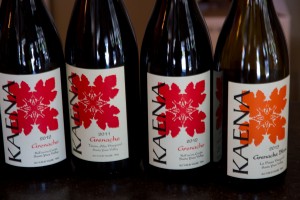 After #GoingRogue with Tercero, it was time to meander down the road a bit to Beckmen Vineyards, were the #QBP had a barrel tasting arranged with Keana and Beckman winemaker, Mikel Sigouin. 
I first met Mikel last year at Rhone Rangers in San Francisco, and when I mentioned that some wine bloggers were going to be in his neighborhood, he eagerly invited us to taste through his wines. Mikael, a native of Hawaii, makes wines for Beckmen Vineyards by day, and Kaena Wines by night, so I knew this would be a golden opportunity to taste some world class Grenache.
Little did I know that we would taste through more wines than I thought possible, each one more unique and delicious than the last!
But before we started this barrel adventure, we had to make our way out of Los Olivos, and down the road to Beckmen.  As I attempted to corral the #QPB out of the door of Tercero, what would appear to our wandering eyes but Frank Morgan – the erstwhile Drink What You Like Virginian.  If you are not familiar with this breed of wine blogger, it is a unique one; this breed mysteriously appears when least expected and is amiable to almost any activity.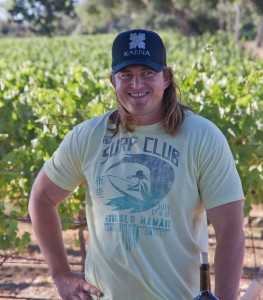 Since we were a posse of all girls, Melanie and I shouted out the car window for Frank to get in the car.  A few hollers later, some coming from the mobile command center of Brix Chicks Liza, the unwitting Frank hopped in the car.  It was clear from the look on his face that he was wondering how the wine mafia had tracked him to tiny Los Olivos.  Was it an ex-girlfriend?  Someone who didn't appreciate his reviews?  No, it was just the #QBP, wine-napping him for an afternoon of delights.
A few miles later, we met back up at the winery and began tasting our way through the barrels.  Here in the expansive barrel room, it's hard to tell where Beckmen ends and Keana starts, a clear marker of how there is little separation in this extended family.
When the Kaena brand was launched in 2001, it was to express Mikael's passion for Grenache.  The name itself, Kaena, shows his spirit, with it's meaning of "potential for greatness" and brings back Mikael's Hawaiian culture.  Honing in on his obsession with Grenache, he has made a name for himself as the Grenache King, but hasn't limited his style and influence on the other wines of Keana.
While Grenache is certainly one of my favorites, I cannot slight the other wines that he had his hand in.  As we meandered the barrel room, tasting a bit of this and a bit of that, it was difficult to tell any favorites since they were all so good.  As they age in the barrels for the next year or two, I look forward to a return visit to see how they are developing.
On this trip, I was intoxicated at the vastness of the selection, and focused on the nuances of barrel toast and vineyard blocks.  Admittedly, I didn't take as many detailed notes as I normally do, and that I regret.
Revisiting the bottled wines a few days later, there were certainly some that stood out to me.  Of coure, that didnt' stop me from filling my case box up and takeing these and more home!
Beckmen Cuvee le Bec – a GSM with a dash of Counoise, a brilliant expression of Rhone style wines in California.
Beckmen Grenache Rose – a deep rose, rich and bold but still a bright expression of rose on a hot day.
Kaena Grenache Rosé – light, bright, rose petals and necterines.  The perfect thing to quench your thirst and quite the opposite of the Beckmen.
Kaena Larner Vineyard Grenache – highly aromatic and floral, with dried herbs and banking spices wrapped around bright cherries and raspberries.
Kaena Tiera Alta Syrah – Luscious blackberries, cassis and grilled meat, bacon fat and gingerbread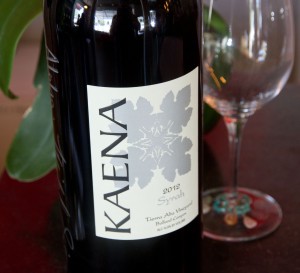 Thank you for such a great visit!  If you find yourself in Los Olivos, be sure to stop in and taste both Beckmen and Kaena. You won't be sorry!