After the mayhem of the Wine Bloggers Conference had subsided a bit, the #QBP (and token Joe) decided to stick around a bit longer an enjoy the relative peace of Los Olivos on a Sunday afternoon.
As luck would have it, fearless leader Melanie had arranged for a visit to Refugio Ranch Winery for some tasting and tweeting.  As we gathered in Los Olivos to relax in the Montana style hunting lodge tasting room, I could tell it was going to be a great visit.  But the tasting room was only the beginning…
In 2005, owner Kevin and Niki Gleason found the 415 estate property, which they planted to 26 acres of vines.  Intending to maintain the property, tucked behind the town and well hidden form any view or civilization, the estate ranch is a piece of history that is truly stunning to enjoy.  Our group was whisked away from the tasting room and taken through the winding roads of the Santa Ynez hills, stepping back in time as we drove farther out of time.
Approaching the retreat house, you can see the prime acreage planted to Rhone grapes, and the careful maintenance of the land is evident by the sprawling gardens, oak trees, and agriculture use.  There is no monoculture here.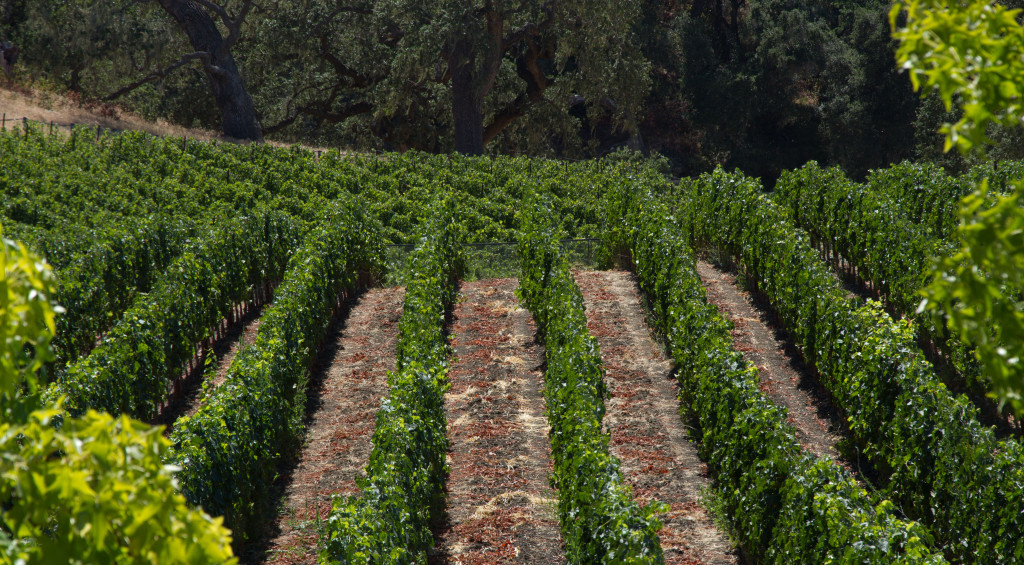 The Grape Whisperer, aka vineyard manager Ruben Solorzano, carefully selected blocks and varieties that he thought would best suit the property.  Winemaker Ryan Deovlet began producing these amazing wines in 2011, and together with the Gleasons, they have created a small slice of heaven.
Tucked away on the ranch, the guest house is a rustic reminder that this is still a weekend retreat for the family.  Sitting on the porch, overlooking the ranch, you might think you were an extra in Little House on the Prairie – except the wine in your hand will make you forget about everything modern, sit back, and relax.  It's no coincidence that you feel your inner cowgirl / cowboy coming out on this property, much like a back lot at Universal Studios, as Refugio Ranch was an untouched cattle ranch that had been in operation for centuries.  The transition to vineyards was a natural one, but the owners are carefully maintaining the native habitats and ecosystems, while using the best pieces for vineyards – maintaining a clear balance between past, present, nature, and man.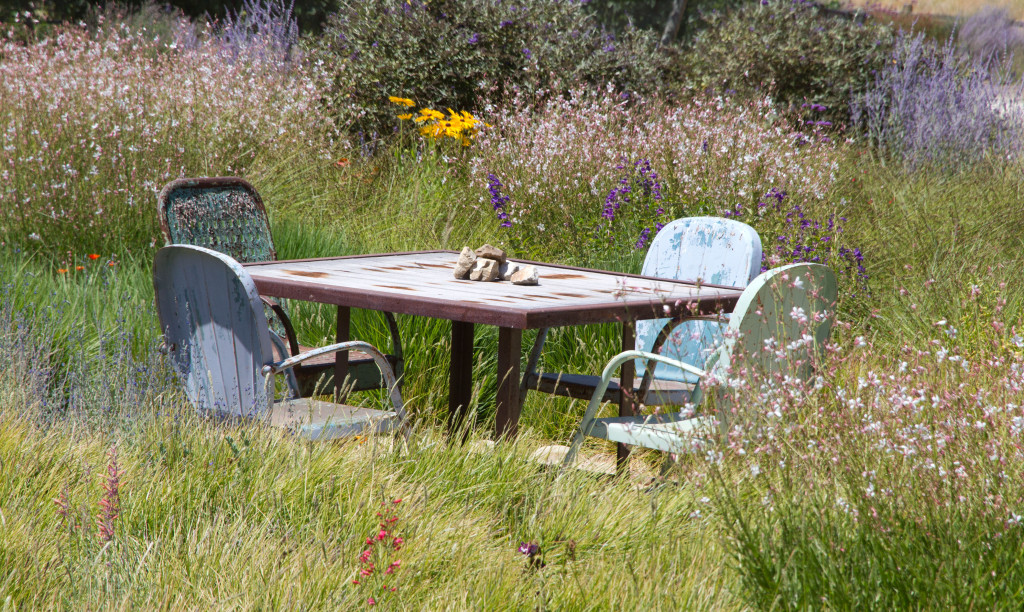 Refugio Ranch is the only vineyard on this side of the Santa Ynez River, and gently rolls up from teh river to the ridge.  With only 26 acres planted, it's hard to spot the vines, but easy to taste the terroir that makes this property unique.  The prime area is only 6 miles from the ocean, and is planted in salty, ancient sandy loam – the result of ancient sea beds, and long term drought.  This area of Santa Ynez gets very little fog in the morning, but a lot in the evening, lending a cooling influence perfect for those Rhones.
Keeping in tune with the cowboy theme, with a Spanish influence, the labels are a throwback to the cattle ranch days.  I couldn't pick a favorite since our host, Director of Sales & Marketing Jeff Butler kept pouring delicious wines, but here are some thoughts for your tasting pleasure:
2012 Viognier – 100% Viognier, fermented partially in stainless, as well as French oak.  Fresh and lively, with stone fruit and lychee, folllowed by fresh wildflower honey.  This was a beautiful example of what viognier should be, with rich fruit but bright, lively personality.
2011 Ineseño – 57% Roussane / 43% Viognier.  Fermented in stainless and concrete eggs, with 29% new oak, and 10% neutral oak, another Rhone style gem.  Brilliant gold peaches, spice box, and fruit compote.  A perfect glass with Thai food, or sitting on your porch enjoying life.
2012 Escondrijo – a rich blend of Syrah, Grenache, and Petite Sirah, this "hideaway" is a winter warmer, with cigar box, rose petals, saddle leather, and tobacco, along with blackberry cobbler and cherry pie.  This is something I wanted more of in my glass, even on a hot day and would be amazing with Pumpkin Pie on your holiday table.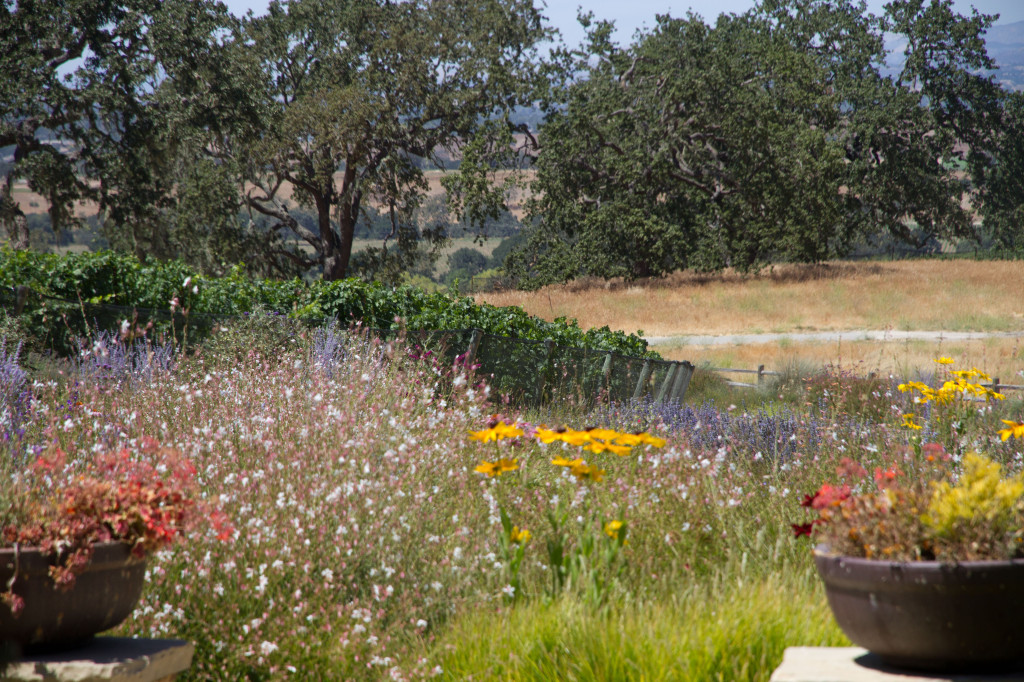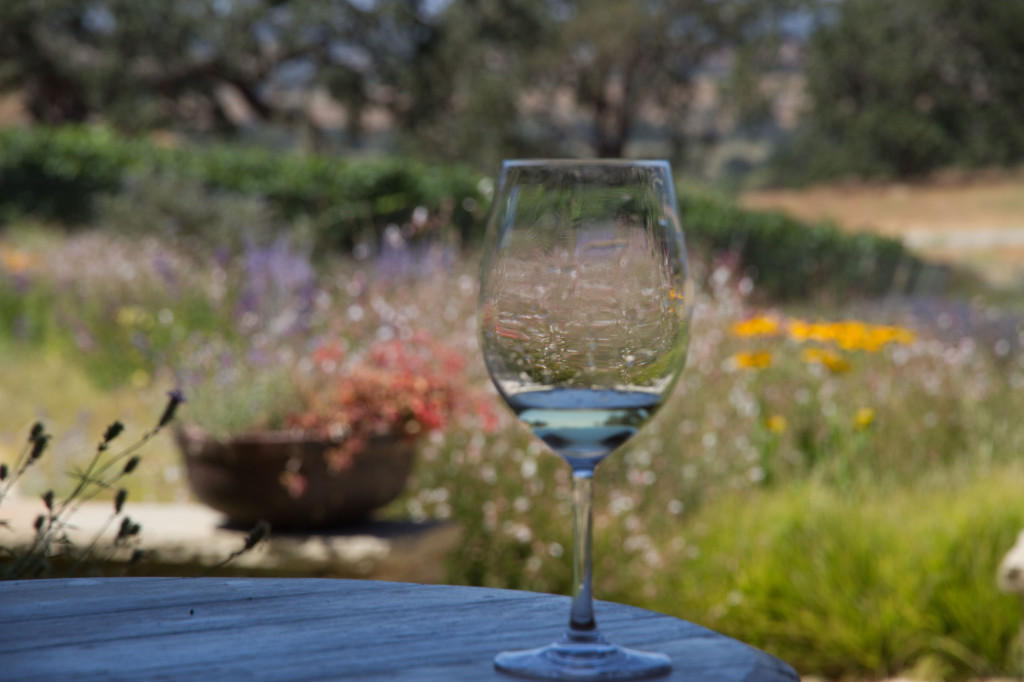 All images by Thea Dwelle, all rights reserved.  But if you ask nice, I might share.  The experience was courtesty of the winery, but we all left with several bottles in our hot little hands – which should encourage you to visit.  While the ranch is closed to the public, and we felt like movie stars, the Los Olivos tasting room is open and waiting for you.
.