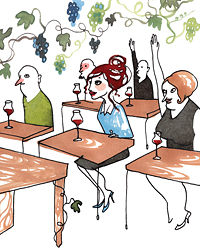 I'm here, hanging on, muddling through what is theoretically Fall.  Given that it's in the high 70s/low 80s, it's tough to stay inside and stare and the computer, but I'm trying.
You might be wondering why I've been so silent recently:  well I'll tell you.  Earlier this year, I took the California Wine Appelation Specialilst (CWAS) class offered by San Francisco Wine School  The three day intensive class was probably the highlight of my year, and I earned y credential with flying colors.  I still kick myself for missing 3 questions on the 100 point test, but there is always the next time.
As a result of that, I decided I really wanted to pursue my Certified Specialist of Wine credential, on the way to being a Certified Wine Educator.  Yes, I know, lofty goals for this blogger!  So, in September, I embarked on the 11 week course for the CSW.  Wow!  When you sit down to examine the entire world in 3 months, you realize what you really don't know.  So, my free time has been spent working, studying, and reading – mostly about the wines of countries that I really don't know anything about.
Given that I already spend 8-11 hours in front of the computer for my day job, it's been a challenge to push myself to maintain the blog in the standards to which I was once accustomed.  After working a full day, and then pulling out the study guide and flashcards, my brain is full of obscure knowledge that has little to do with what I blog about.   What is the German name for adding sugar to a wine that is still fermenting?  The classifications for Austrian wine that are not in Germany?  What about the communes in Chianti?  Sangiovese, Garnacha, Riesling oh my!  Step away from the computer before you do something rash!  So, that is how the blog got lost in the shuffle.  But I'm determined to get it back, and I'm going to start with some fun ideas for your holiday gift giving.
Stay tuned for good things to come, and with some luck, more studying, and a bit of wine – I'll be a Certified Wine Expert (and not even in my own mind) in no time!
Cheers!