It's that time of year again – when people scramble to find just the right gift for their wine friends.  I like to find unique items that you won't always find at the big box stores, and my friends at Uncommon Goods came up with some terrific ideas to fit the bill.
Uncommon Goods was founded in 1999, and features unique gifts and handcrafted items that are particularly kind to the environment, people, and animals.  While they are not local to me, I step outside of my "shop local" zone for the holidays because Uncommon Goods is, quite frankly, pretty cool.  Going above and beyond what most retailers do, they run their operations from an historic building in Brooklyn, where they give back to the local community by paying their local seasonal workers a minimum of 50% more than the average wage in the area.  Their mission is to support artists and designers, particularly those that make their wares by hand.  This is the kind of company I encourage all of you to support, whether they are local, or not.  Going above and beyond, Uncommon Goods also offers design challenges, tours and classes to further empower the inner artist in you.  I know that the next time I am in Brooklyn, I will make it a mission to book a tour and check this place out.  I also know, that given their large selection of wine gifts and glassware, decanters and accessories, I will be doing some shopping there for the holidays!  Not in to wine?  No problem!  Then have gifts for everyone.
Here are some of the wine themed items that I think will make excellent gifts this year:
Soiree Home Self Chilling Wine Glasses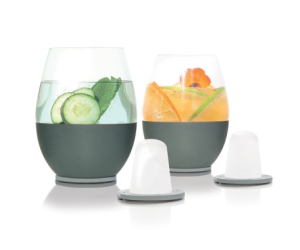 – Now, I own several Soiree Tilt Chilling Spheres, and they are the best invention ever.  If you don't own any, you need to buy some right now!  But the self chilling wine glasses take this a step further.  With an insert that you freeze, and place in the bottom of your glass, your white wine, soda, or other beverage will stay cool through the entire glass – for as long as you are sipping it.  As someone who shudders when people put ice in their wine (egads!) these are a fantastic innovation, and much like the Tilt Spheres, these glasses are the next generation and a must have.  $50 for 2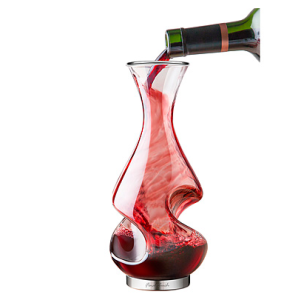 Twist Decanter – this pretty table top decanters aerate your wine and also is a nice center piece.  The curves allow up to half a bottle of wine to breathe and open up, and full of red wine it is simply gorgeous. If you're looking for a statement piece, look no further.  They are compact enough to fit in even the smallest cabinet, and easily refilled without making a mess.  $29.99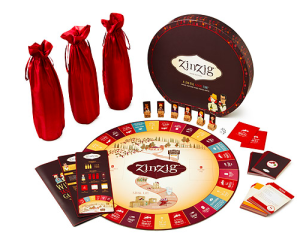 ZinZag  – the Wine Game – Half trivial pursuit, half wine tasting challenge, this game takes your wine party to a new level.  With 3 bottles of wine and up to 6 friends, you work your way around the board, with brainteasers, blind tastings, and a lot of fun!  $35
These are only a few examples of the wine themed gifts but there are endless selections of other handcrafted and creative items on the Uncommon Goods site.  Go check it out and see for yourself.  When you purchase from a company like Uncommon Goods that is uncommonly good to it's employees, it's community, and the world at large, you are doing your part to make the world a better place.  Go ahead, I dare you!
Some items were provided by Uncommon Goods for review, but all opinions and shopping habits are my own!