It's the 5th day of Hanukkah, and Christmas is only 4 days away.  Whatever you might be celebrating at this time of year, if you're like me – you are scrambling for some last minute gift ideas for the wine lover on your list!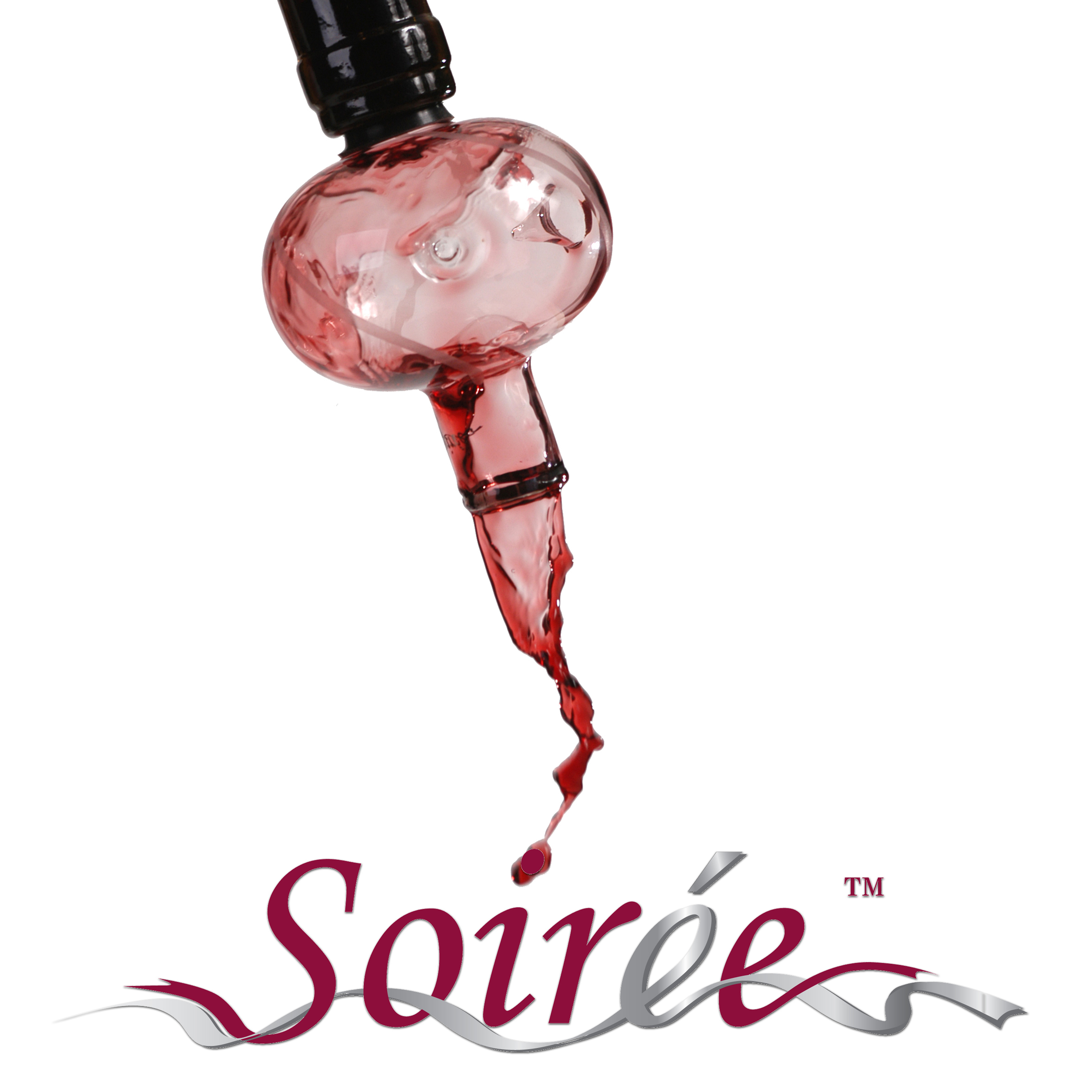 Soiree – in bottle aerator.  This is my go to wine aerator, and the pretty bottle topper makes any bottle festive.  Available in several optional gift configurations, this pretty glass topper allows wine to flow around the glass bulb, giving it time to breathe and encouraging the aeration process for any bottle of wine.
Capabunga – these innovative bottle toppers are handy little buggers when you want to recork something for ready access.   A reusable silicone cap that reseals a bottle of wine, the concept was inspired by the bung caps that are used to reseal wine barrels.  Once you pop a Capabunga on your wine bottle, it's air – and wine – tight.  No more spills if you knock the bottle over!  I am impressed by the usefulness of these gems, and at $7.95 for a pair, they are also great for resealing beer or champagne bottles.  I have had a bottle of bubbles still fizzy after a day in the fridge.
Indigo Root Drink Dotz are fun and creative wine glass identification stickers, which are a great alternative to those annoying wine charms.  Do you remember Colorforms?  You know, those sticky plastic things that you could affix to anything, and reuse, stick again, etc…well these are colorforms for drinkware!    For $10, you get a set of Drink Dotz and Wine Wrapps, which wrap the bottom of a wine stem.  What a fun party gift!  With creative designs and holiday themes, these are great for your next party and last forever.  Indigo Root also sells fun temporary fabric wall squares, called Tilez, which are perfect for apartment or dorm room decorating.  In fact, I'm going to decorate my apartment with some!

The Exes in my iPod:  A Playlist of the Men Who Rocked Me To Wine Country – a raucously good read by my wine buddy Lisa Mattson, exploring the iidiosyncrasiesof love, life, and laughter amongst great music and wine is a must read for anyone navigating wine country, dating, or just wants a good laugh with a happy ending.
The Essence of Wine – while the first run of the print book is sold out, the ebook of this wonderful pictorial and educational meandering through the discovery of wine.  Pre-order a copy or order an ebook today, for enjoyment all year long.
Corkscrew – the ultimate in luxury corkscrews, the Legnoart or Laguiole corkscrews are weighty, balanced, and have teflon coated screws for easy manipulation in the cork.  The right corkscrew is worth $1000 for any wine lover, so they can easily and quickly open that special bottle.  While you're at it – add in a good foil cutter to ensure that the capsules are cleanly severed at the lip, and that there are no raw edges.
For the Cards Against Humanity lovers on your list, how about a game of wine discover? Zin Zag is a fun game, complete with an excuse to open 3 bottles of wine, which challenges your knowledge and your palates.  Play with the brainteasers and blind tasting challenges and sip away!
St. Supery Red Wine & Bacon Pairing – more on this in another post, but if you're heading up to Napa for your holiday fun, be sure to stop by St. Supery Winery in Rutherford.  Tucked away upstairs, the special experiences such as the bacon & red wine tasting.  Explore St. Supery's specialty with five Bourdeaux blends, each paired with a tasty morsel of pure delight.  Advanced reservations required.
Happy holidays!  Want more unique wine ideas?  Let me know!