As you may have read, here on le blog, last fall I was studying for my CSW certification (Certified Specialist of Wine) through SF Wine School.  Recently, I learned that I didn't make the cut; unsurprisingly, with only 65% of first time test takers passing, I narrowly missed my pass rate.  After my initial fury at myself for missing 9 itty questions for the required 75% passing rate, I realized that this was a great learning experience, and an opportunity for me to share what I learned here.
Studying your passion isn't always easy.  It can turn in to a job, which, in my personal opinion, makes passion die.  A little of my passion did indeed die, as I was struggling to understand some regions that I was ill equipped to understand properly, along with work obligations, and family life.  Yep, didn't I say it was my own fault?  I lost focus.  But I'm back!  And I'm going to share my week by week re-examination of the material as I follow along with the official Certified Wine Educators online prep course.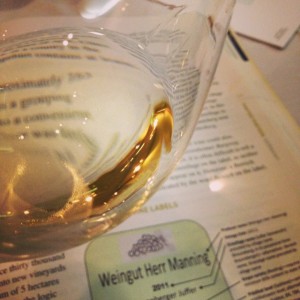 My downfall?  By far, Germany.  Perhaps if I put some Falco on in the background, along with Nena and The Scorpions, the Pradikat levels will soak in to my brain more thoroughly.  Rock me Amadeus in the Rhine with the Riesling!
While some weeks (namely the chemistry portion) aren't as fascinating, there is a wine tasting component that is going to not only be really interesting and eye opening, but also help me drill in my head where each region is and what it's terroir is.  I will be the first one to admit, 5 years ago, I was not convinced that French wine was going to be my new love; but here I am, enthralled with Burgundy and the Rhone, and enamored of Languedoc and the Loire.
So here goes:  Week 1:  Wine Composition & Wine Faults
I won't bore you with the details of the winemaking process (unless you really want to know…) but the pairing is Chinon, red Chinon.  This Cabernet Franc based wine from the Touraine region of the Central Loire Valley (France) is one that I am less than familiar with, so I look forward to exploring it more, both on my own and with my study buddies.
Stay tuned on January 26th for my Chinon tasting exploration!
And in February, winemaking, sparkling wine, and then…yes, France!