When you t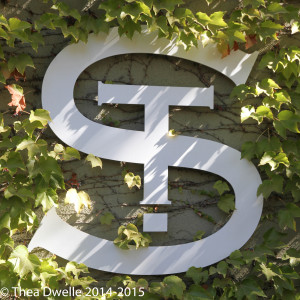 hink of wine tasting, I am going to guess that you don't typically think of line up like this.  Think of your comparative literature class from college, toss in some bacon, and you have St. Supery's Bacon and Bordeaux tasting experience summed up.
Having tasted the wines at this Napa Valley stalwart several times, I knew that at the very least, I was going to enjoy my tasting experience, but this special tasting brings it to a new level.  Conducted upstairs, in the newly remodeled private tasting lounge, these special tastings are a world apart from the hustle and bustle of the normal rush in the tasting room.
For our tasting, we paired each of the Bordeaux style wines with a bacon-licious dish, each specifically made by the winery chef to play off of the wines.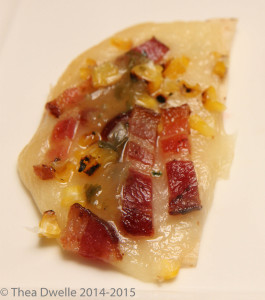 2012 Napa Valley Estate Cabernet Sauvignon paired with a Quesedilla with smoked mozzarella and…bacon with green salsa verde.  Both the Rutherford estate fruit as well as my favorite Dollarhide go in to this blend which has fresh loganberry, pink peppercorn, ripe plums and ginger notes.  The quesedilla brought out dark spices and blue fruit, as well a ground black pepper.
Next, the 2010 Napa Vallely Estate Elu, which is 76% Cabernet Sauvignon, 17% Merlot, 4% Petite Verdot, 2% Malbec, and 1% Bacon (well, really 1% Cabernet Franc.  This is St. Supery's signature red wine, and has a beautiful Bergemot nose with savory herbal qualities.  Dark cherries, dried lavender, and blackberries in cassis syrup were paired with a classic BLT.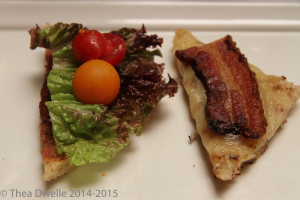 Next, the 2010 Rutherford Estate Vineyard Cabernet Sauvignon, which is 87% Cabernet Sauvignon, 11% Merlot and a touch of Cab Franc and Petite Verdot, all from Rutherford.  This unctuous red wine was full of coffee and chocolate, with cracked black pepper.  Paired with a Toma Grilled Cheese with applewood Smoked Bacon, the earthy and herbal notes really sang out.
Fi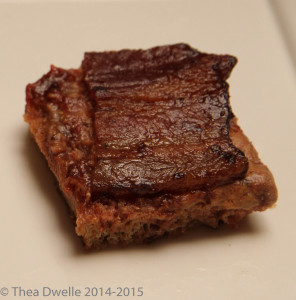 nally, the 2010 Dollarhide Elevation is 93% Cabernet Sauvignon and 7%  Malbec.  Dense and deep blackberry notes emerge from this "accidental" blend.  While it is always a blend, it's typically over 90% Cab to soften the punch.  The Malbec adds in a dense blue fruit, with young & lively notes of dark chocolate and espresso.  As this was our dessert course, it was paired with the "Happy Childhood" – An almond butter & estate fig jam sandwich, with cassis candied bacon.
Yum!While this special tasting experience isn't always on the menu, be sure to call ahead and make reservations for any of St. Supery's special tastings.  Experiences start at only $35 per person (group of 4 minimum) and are an event to remember.  I can't wait to go back and experience another version of this event as the estate garden grows through the seasons!
A special thank you to St. Supery and Scott Tracy, Guest Experience Manager for a truly spectacular tasting experience.
The wine and bacon were provided by St. Supery, but all of the sound effects and accolades are purely mine!