If you are from California, the first thing that pops in your mind when you say El Dorado County is probably the gold rush.  True, this is what placed a good many of the small towns on the map, but these days, there is precious little gold left in the rivers, creeks, and hillsides of El Dorado County.  Instead, agriculture is the new gold:  from apple orchards to vineyards, El Dorado COunty is booming with green gold; just over an hour from Sacramento, it is teetering on the edge of becoming a new kind of Napa.
Last month, I got to spend a long weekend exploring the wines of El Dorado county.  From exploring the founding fathers, to wine pairing dinners, there si so much to offer in this diverse region in the foothills of the Sierras.  With Tahoe a short drive away, and Sacramento nearby, it is a great place for a quick getaway or stop over during on a longer trip.
El Dorado might be mistaken as a zinfandel king.  Rather, it's neighbor, Amador County, is more well known fo powerful zins that leap out of the glass with spice notes.  In El Dorado, almost anything goes.  One of the key features of the wineries if El Dorado is their ability to be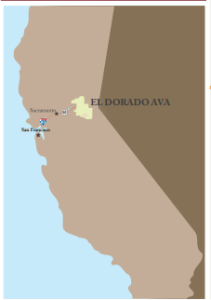 flexible and experimental.  Most wineries make 5 or more varietals, and make them well.  Some go over the top and make over 20 unique wines, and yet – still manage to do them well.  That is a hard task for the best winemakers in the world!
Within El Dorado County, vineyards are planted between 1,200 and 3,500 feet, which gives it a unique distinction amongst California AVAs.  With a variety of soils dominated by volcanic magma and grantite.  Within the larger El Dorado AVA lies the smaller nested Fair Play AVA, and here in the land that so many dreams were made, and broken, during the Gold Rush, the possibilities are endless!
Join me as I explore the county, one wine at a time.  First up:  We experience the founding fathers of El Dorado wine, and how they broke new ground.
Thank you to the El Dorado Winery Association and Solterra Strategies for this wonderful experience!