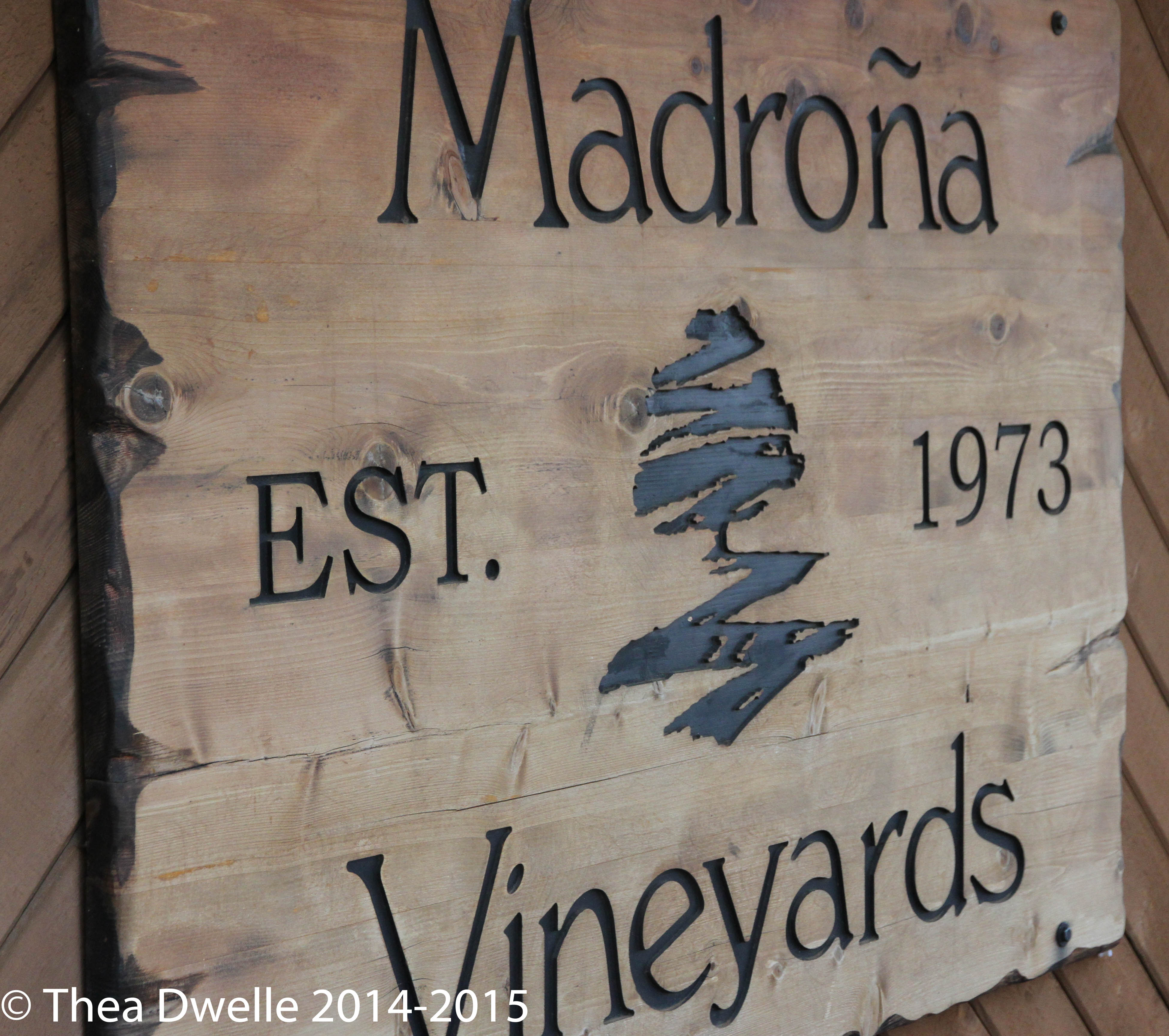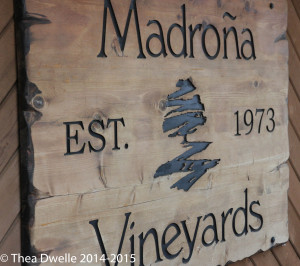 In the late 1970s, a group of upstart winemakers and like minded wine lovers, left the confines of traditional winemaking geography, and headed up to the hills.  While winemaking was just coming in to the golden era in Napa Valley during this time period, a few renegades decided that it was time to head to someplace more wild, more unknown, more…diverse.
With a long history of agriculture, El Dorado wine business started with the Gold Rush, when immigrants sought land to plant their native grapes.  When Prohibition came, acreage shrank from some 2,300 planted acres in 1900, and vineyards made way for pears and other tree fruit.  When the fruit industry suffered from a pest infestation int he late 1950s, UC Davis moved in and used the area for experimental vineyards.  The commercial wine industry was born out of this, and in the late 1970s, the founding fathers began a tradition that is still strong today.
Madroña Vineyards – in 1973, Dick & Leslie Bush fell in love with the beauty and surroundings of Placerville.  Taking a huge leap of faith, as there were no other commercial vineyards and wineries to lean on or learn from, the Bush's planted their vineyard, which was – at the time – the highest in California.
With the vineyard becoming a family project, the Bush's involved their children and their parents, while Dick's engineering background helped layout the vineyard and build their future home.  Today, the winery has evolved to include Paul & Maggie Bush, who make the wines and manage the vineyards, as well as Maggie's role managing the winery operations.  Additionally, David & Sheila Bush purchased some nearby land, the Sumu-Kaw parcel.
At Madrona, wine is the family business.  There is a careful focus on artisanal winemaking, sustainable care of the land, and family.  At the winery in Camino, the elevation is perfect for growing the wide variety of grapes that make the Rhône and Bordeaux focused wines.  At 3,000 feet, there are three vineyards that make up the family business.  Madrona, Enye, and Sumu-Kaw.  Each site is unique and has distinct terroir, and with over 26 varietals planted, what might seems as "anything goes" at first, is actually carefully selected for it's blending potential and sum of the parts.
Tasting the wines, I was particularly enthralled by the amazing Cabernet Franc. Paul Bush has a particular passion for this grape, and it shines through in the glass.  His particular verve for balance and expression of terroir is clean in the two different expressions of Cab Franc.  In fact, he made 4 variations of Cab Franc, each one with a specific tweak and unique element.  We were able to taste the very special Grain par Grain (berry by berry) version, and if you are a Cab Franc lover, get yet to Madrona Vineyards!
– 2011 Grain par Grain Cabernet Franc – whole berry maceration for 20 days in new French oak puncheons, hand turned and then punched down twice a day.  Aged for 20 months in 3 year old French oak, with just a hint of Cab Sav (1.4%) .  With only 24 cases made, this is a rare gem indeed.  Full of dark cherry, blackberry, and spiced fig notes.  This is a rich and elegant lady, with a velvet smoking jacket on.  Coffee in one hand, chocolate in the other.  $60
Sierra Vista is another one of the long standing wineries here in El Dorado County.  When the McCreadys settled here in 1972, they had an eye on the soil and topography as a perfect place to plant a vineyard.  When the first plantings in 1974, as I experienced on my Pleasant Valley adventures last year, there are some lovely wines, and view, from this property located on Red Rock Ridge at an elevation of half a mile.
Today, the winery farms 28 acres of mountain side vineyards, at 2,800 feet, on varying mountain terroir.  With low yields, and high intensity of flavor, the terroir is perfect for Rhone varietals.  With the first syrah plantings in 1979, John's eye was always on the Rhone varieties.  Using syrah grapes that are descended from Cote Rotie fruit, John found that El Dorado was very similar in geography and terrain to many parts of the northern Rhone.   Today, they produce about 5,000 cases, focusing on those rhone varietals.
– 2013 Fleur de Montagne is a bright and fresh rose, with wild strawberries and watermelon flavors.  The clean finish is great for a picnic or summer lunch on the deck, and the $25 price will make your wallet smile
Boeger Winery sits on a site that was a homestead during the gold rush, and the original house, cellar and distillery that were build then, are still in use today.  The winery itself survived Prohibition by producing wine for the local church, but the vine didn't fare as well.  As vineyards were replanted to fruit trees, the vines didn't return until after the pear crop failed.  That is when the Boegers purchased the property, and turned it back to vineyards.  While a small amount of vines still remain from the 1800s, most were replanted in 1972 when the Boegers purchased the property.
With 40 acres of vineyards on two sites, the winery also manages and additional 50 acres under contact in El Dorado County.  With the steep, rocky hillsides, over 30 varietals are planted and thriving.
– 2014 Sauvignon Blanc is floral and delicate, with the additional of Semillion, Chardonnay, and Flora (a blend of Gewurztraminer and Semillion) in the blend.  The old vine Sauvignon Blanc gives a rich mouthfeel, which has a mild acidity and juicy finish.
Lava Cap Winery planted thier first vines in 1981, and the winery opened it's doors in 1986.
 The Jones family, a family of geologist, specifically selected this site for the volcanic soils that were perfect for vineyards.  With the focus on hand crafted wines and sustainable agriculture, Lava Cap has become one of the most well known examples of El Dorado wine today.
– 2013 Chardonnay – as the largest production in Lava Caps lineup, this unique white wine is made of 4 clones.  With 70% barrel fermentation in French oak, the wine is started with native yeast and finished with an inoculation of commercial yeast.  Bursting with Meyer lemon, this is a nice example of a chardonnay that can be barrel aged but is not overly oaked.  It is refreshing, with a strong mineral finish.
Throughout this visit, we tasted more wines from these producers.  Next up, pairing some delicious wines with the innovative food of The Independant!
These are just a few of the wines and wineries visited in my exploration of El Dorado County.  A special thank you to Solterra Strategies and the El Dorado WINery Association for extending their lvoely hospitaltiy and opening doors to these unique wineries!