There's a big green truck rolling in to town, and it's not the kind that picks up your trash cans!  If you haent' heard by now, Clif Family Winery has expanded their St. Helena operation to include the Clif Family Bruschetteria Food Truck, replete with northern Italian menu options that are magically created to pair with the wines.
Clif Family Wines began with a spark of inspirtaion, when founders Gary Erickson & Kit Crawford, both avid cyclists, enjoyed the laid back lifestyle where a leisurely meal and bottle of wine were always on the agenda after a full day.  It stands to reason that the health-minded founders of the Clif Bar Company would also want to complete their lifestyle portfolio with wine.  After a long bike ride, with some tasty energy booting Clif Bars, who doesn't need a glass of yummy wine?
And so, here we are in St. Helena, at the Vino Volo tasting room and salon, where the winery tasting room has expanded to include a beautiful outdoor seating area and the Bruschetteria, offering bites, snacks, and full meals.  Keeping things local, Executive Chef John McConnell takes advantage of the Clif Family Farm in nearby Pope Valley, as well as various other local suppliers, to maintain the freshest of flavors.
On the day we visited,
BrixChick Liza
and I were greeting by General Manager Linzi Gay, who joined Clif Family in 2007.  With a curated menu of options that were paired wtih the day's food options, we were off on a culinary adventure, while enjoying the peaceful setting on the back patio.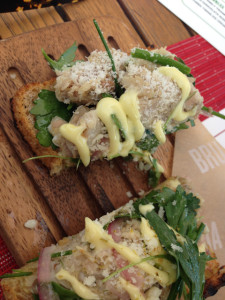 Porchetta Bruschetta paired with 2012 Oak Knoll Chardonnay
.  The juicy porchetta was perfectly rich for the Chardonnay, which was aged in 50% new French Oak for a delicate creaminess while still maintaining the fruit.  I loved the fresh, clean citrus notes that were followed by a mineral, flinty finish which paired perfectly with the fattiness of the pork.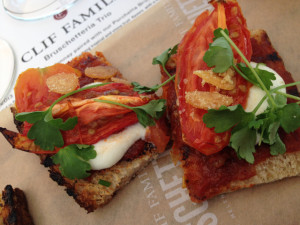 Pomodoro Bruschetta paired with 2011 Kit's Killer Cabernet – c
oming from the slopes of Howell Mountain, Kit's Killer Cab is bursting her green herbs, as well as bright red fruit and, chewy fig, and tobacco leaf.  This combination of a higher acid wine was perfect for the tomato based Pomodoro Bruschetta, which was oozing with garlic and goat cheese.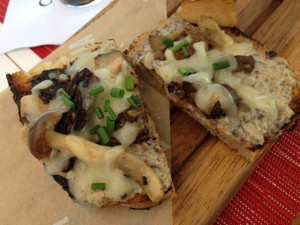 Finally, the Funghi Bruscetta with 2011 Gary's Improv Zinfandel.  As someone who has kind of a thing for mushrooms, the aromas wafted over to my nose even before they served it, and I couldn't wait to dive in.  Seasonal mushrooms are slathered with Fontina cheese and fresh herbs, and perfectly toasted.  The Gary's Improv Zinfandel, also from Howell Mountain, is a lovely example of high elevation fruit that shows both the brambleberry, dark blue and black fruit notes that are the hallmark of Zinfandel, but also the spice rack and acid pop that are classic Howell Mountain.  The earthy hard spices were a perfect match for the funghi!
With only 4,000 cases produced, winemaker Laura Barrett, who just joined in  2014 after a stint at Casey Flat Ranch, is able to focus on specific fruit sources that are both Estate and sourced fruit.  Picking just the right vineyard, she is able to craft small lot wines of distinction, and serve them with the perfect companion bites.
The Bruchetteria has been open since 2014, and is normally parked outside the
Clif Family Vino Velo
tasting room on Highway 29 in St. Helena; but don't' be surprised if you see the big green truck roaming the valley!  The food truck is open Tuesday-Sunday, 11:30-4:00, and is a perfect stop for lunch or a mid afternoon snack anytime you are in Napa Valley.  Dishes range from snack sized salads and bruscetta, to larger lunch portioned roticceria dishes, and are perfect for sharing.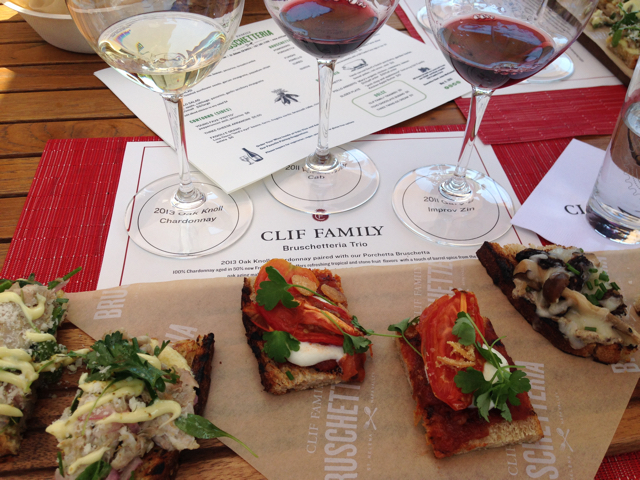 Stop by and stay a while!
Special thanks to Clif Family and The Barn Group for hosting us for this perfect lunch hour escape.