From one end of Spain to the other, the #OleWinos continuing adventures took us across the country – by trains, planes, and automobiles – to Bierzo, a small town in the wine region of Mencia.  
Actually, there were no planes on this adventure, but at times the high speed train from Alicante to Madrid certainly felt like one!
A two hour blur later, we piled in the rented van and took off for El Bierzo, a small DO located in the northwest region of León.  Located in a lush, green, and hilly area of the north, there are many small valleys and wide, flat plains that are perfect for cultivating Mencia, the area's grape.
Making our homebase the university town of Ponferrada, the castle loomed large over the walled old town where our hotel was.  With a viticultural history dating back to Roman times, the phylloxera plague nearly wiped out the industry in the 19th century.  With modern advanced in vine grafting, the vineyard economy slowly recovered, and producing grew to be a significant influence on the region's economy.  In 1989, the DO was created.
With the heavy quartz and slate soils, vineyards are planted on moist, rich soil.  Here in Bierzo, only a handful of grape varietals are allowed:
Mencia, Alicante Bouschet, and a few experimental grapes for red
Godello, Palomino and Dona Blanca (and a few more experimental grapes) for white.
With these "experimental" varietals only allowed in Crianza (young) wines, the Riserva and Grand Riserva wines must only contain the classic varietals to carry the DO lable.
On this trip, we were exploring MG Wines' property Bodegas Estefania, which was founded in 1999.  Keeping in line with MG Wines mission of sustainalbe, unique, and local wines, "Tilenus", as Estefania is commonly known as, meets and exceeds those expectations.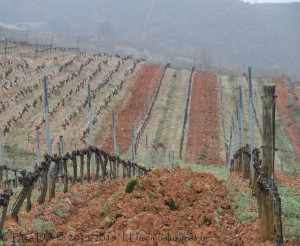 Bodegas Estefanía, much like the other MG Wines Group properties, prides itself of being sustainable, modern, and true to the native habitat of the region.  While they focus primarily on the indigenous Mencia group, they also make a Godella (white).  Our host, winemaker Carlos Garcia, led us on a bit of Mr. Toad's Wild Ride – as we explored the rugged countryside where the vineyard are located.  On this particular day, it was drizzly and cold, so we scrapped our plans to explore the hilltop plot, and instead explored the oldest vineyard.
Here, in what was formerly the land of bulk wine and large coop wineries, Bodegas Esefania was founded in 1999, it was influential as the start of the Bierzo revolution.  Once an old creamery, it was acquired by bin 2014.  It's primary brand, and what most people refer to the winery as, Tilenus, pays tribute to the Roman era of Bierzo; today, this history is on the wine labels, with the image of a Roman coin, signifying the period of history when the Roman's mined the area for gold.
The red earth undulated like a fault line, revealing many microclimates of peaks and valleys.  In these vineyards, 80% of the fruit is grown, with the additional 20% sourced from small, local vineyards.  Tilenus carefully maintains separate vinification of each vineyard, and each of the five Mencia based wines comes from a different area.  This gives each wine a distinct sense of terroir, and no two are exactly the same.
Keeping in the theme of MG Wines holdings, Tilenus uses the best tools available to them; in this case, the careful use of native yeast increasing the character of the Mencia based wines, and brings out the true local flavor of this little-known grape.  With the minimal use of oak so as to not overpower the delicate wines, the true expression can shine through beautifully.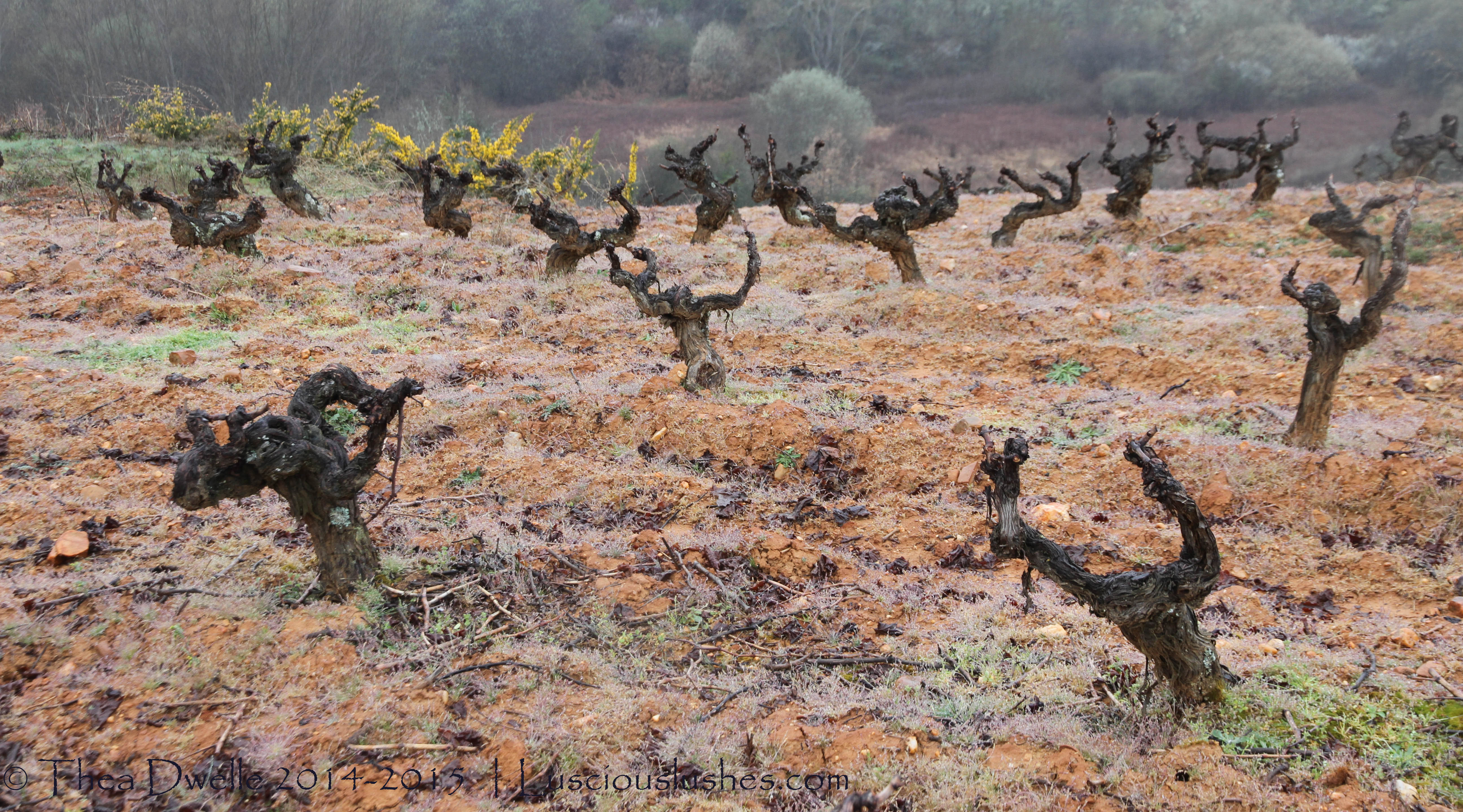 The wines of Tilenus reveal the nuances of the mineral driven Mencia grape; each one bringing out another layer of excellence and unique flavors.  Mencia is one of the most tannic wines in the world, and mastering the balance of structure is something that is difficult.  Tilenus seems to have done that just fine.2014 Vendimia – at only $14, this entry level wine is a bit rough, but shows violets and forest floor, with limestone, plums, and bay leaves.  A great introduction to Mencia.     2008 La Florida s- dense rose petals and floral notes, hard spices and smoke masking purple fruit, dried plums, tobacco, and holiday spices.  $20     2006 Pagos de Posada – this top of the line example comes from small berries in a vineyard that has a lot of wind, keeping them dry.  Full of coffee, dark chocolate, and ripe purple fruit, with a dusting of peppercorn and mint.  Very elegant and balanced, with silky tannins.  $50     2007 Piesa – Hailing from the oldest parcel of land, it is an inky dark color with black fruit, chewy dried figs, and chocolate.  From a vineyard at 1800 feet, and only 1000 bottles produced, the dried sage and white pepper compliment the dense, dark fruit.  
This whirldwind tour of Spain exposes us to some of the lesser known areas and varietals that should be better explored for anyone that loves wine.  MG Wines Group represents the best of these up and coming regions, with an emphasis on terroir, history, modern technology, and sustainable winemaking.  Three cheers to MG Wines for an outstanding portfolio, and experience!