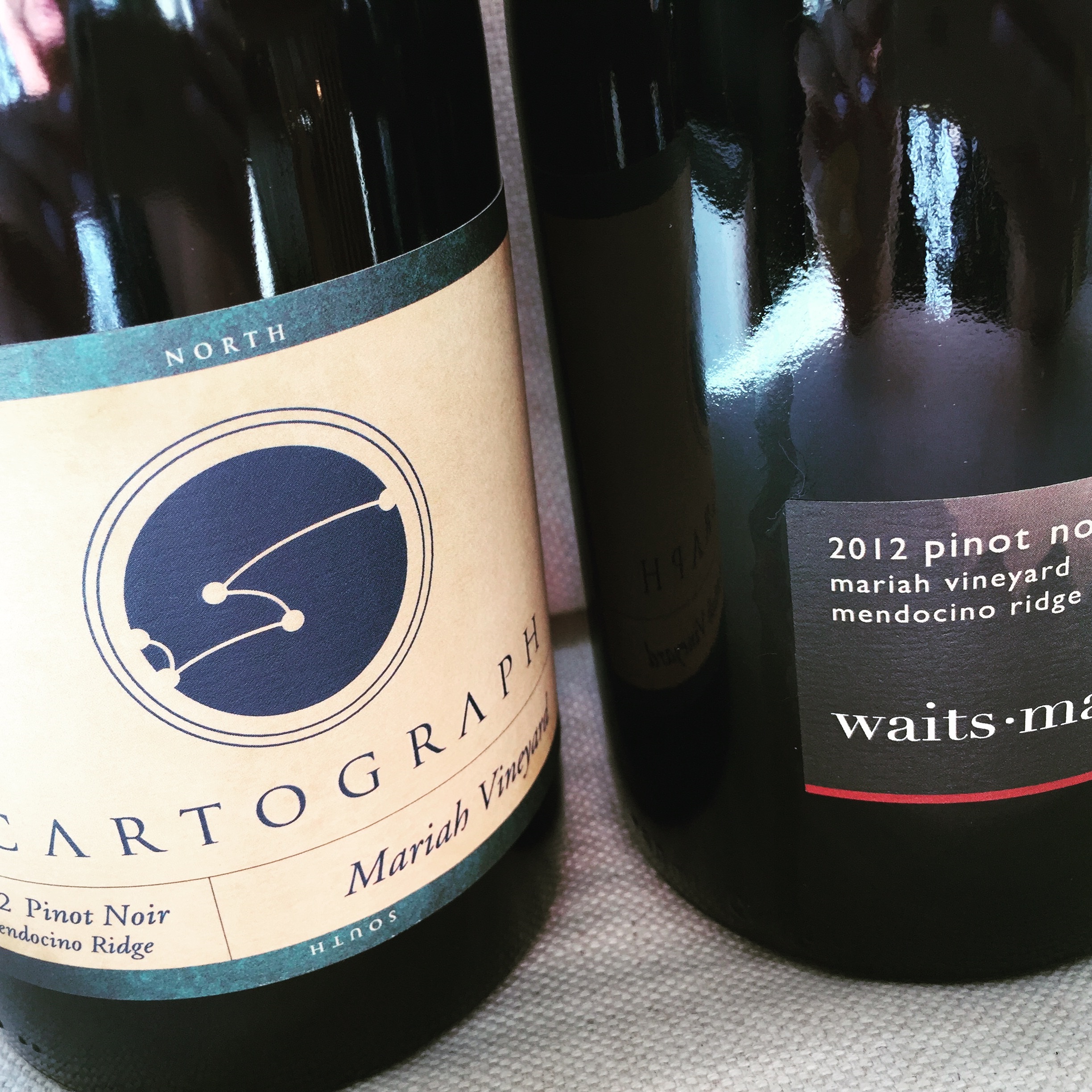 I love it when a plan comes together!  One of my favorite things about wine, is tasting the expression of the winemaker in the bottle.  Every touch, every decision, every nuance in his or her mind ends up in your glass.  Pinot Noir particularly responds to a gentle hand, and there is no better way to taste that than by tasting wine crafted by two winemakers, with fruit from the same vineyard.
In this case, I am lucky enough to know two fabulous wine makers who are using Pinot Noir fruit from Mendocino County's Mariah Vineyard.  As a long time fan of the delicacy and brightness of Pinots from Mendocino County, I fell in love with these two wines at first sip – but each on it's own merits.  Now, having the opportunity to taste them side by side, I can key in on the specific attributes of each wine that make my taste buds smile.
The Mariah Vineyard is located in the extreme reaches of Mendocino, and is part of the Mendocino Ridge AVA.  This is one of the most fascinating AVAs for wine, as it's a non-contiguous region that is specifically drafted from "Islands in the Sky" – all vineyards that fit in the Mendocino Ridge AVA must be above 1,200 feet in elevation, and exist entirely within the coastal zone of Mendocino County.  The vineyards in this magical plane are blanketed in a thick layer of morning fog, helping maintain the zingy acids, and sit in small patches of usable space on the ridgeline that is often covered in heavy Douglass Fir forest.  Here in the Islands in the Sky, some of the state's best Pinot Noir is grown.
First, the 2012 Cartograph Mariah Vineyard Pinot Noir ($48). Rich strawberry and cherry mingle with wild mint and wood smoke.  Fresh cream is present, with a slight cola note on the background.  Bright cranberry acidity plays with an herbal finish of forest floor and pine needles, with Bing cherries threading through the entire palate.  The finish is coated in ground baking spices, reminding me of a gingerbread house and Thanksgiving's cranberry sauce.
In contrast, the 2012 Waits Mast Cellars Mariah VIneyards Pinot Noir ($42) is slightly wilder, with more black cherry and bramble berry pie.  The cedar woods are more pronounced, and the mint is hiding in the background.  A slightly richer wine, brown sugar dances on my palate.  The Waits Mast is Little Red Riding Hood, meandering the forest, darting in and out of black raspberry bushes, hinting at black cherry and voluptuous bramble berries, while enjoying a softer, more velvety mouth feel.  The finish is dusted with a pleasant pinch of white pepper.
The primary difference in these wines comes from the clonal selection of the specific blocks in the vineyard.   While the Cartograph block uses clone 115 and 777, the Waits Mast is block is 667 and Pommard.  Pommard is known to be a richer style Pinot Noir, with dark fruit and depth of flavor, while the 777 has that eartly, forest floor and herbal character that I found in the Cartograph.  The 667 in the Waits Mast brings out that dark cherry and plush tannin.   Another key difference is the use of commercial yeast (Cartograph) vs native yeast (Waits Mast).  Does yeast make a huge impact?  Sometimes.  Ocassionally.  Maybe.  These subtle but clear differences can showcase the stylistic features that each winemaker wants,  while still representing the fruit in a clear and present way.
In the end, these wines are so similar, that the primary different is so subtle, it can be hard to pick up.  Stylistically, they are on the same page; flavor wise, there are ever so subtle differences, that make them both sisters, and yet, unique.  So, vivre le difference!  Now, go forth and make your own vertical.  See what is different, and what is the same.  You won't be sorry!