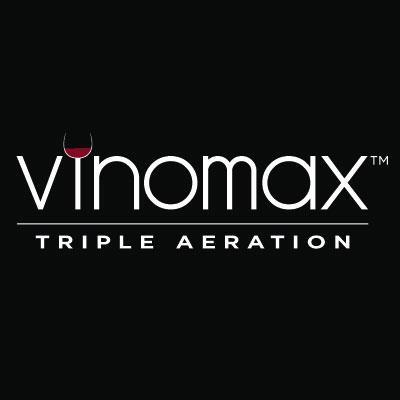 I've written about several aerators over the years, and have rarely seen a new one that is unique and functional enough for me to actually use frequently.  The Vinomax is one such gadget however, that I am finding myself using more and more.  Vinomax is different because of it's patented triple aeration system, which focuses on not over aerating your wine.  If you've left your wine out in the open for long enough, you know what too much air does; it isn't pretty.  However, with an aerator, you are trying to outsmart Mother Nature by increasing the oxygen contact while short-cutting Father Time.
With both bottletop and stand alone devices, as well as a travel option, Vinomax is giving us the best of both worlds.  While the handheld device looks exactly like a giant Vinturi, it actually behaves quite differently.  This device actually mixes your wine with air three times, increasing contact and aeration, creating the perfect glass, every time.
I found that this tool is very useful for those big wines that you just don't have 4-6 hours to open up, let alone something that might need 12 hours!  By aerating the wines, you are softening the tannins and making them more ready to drink immediately.
While nothing is a substitute for good old fashioned time, these tools are handy to have in your arsenal when you need to help a wine along in the aeration process.  The handheld model is oversize cylinder, with a bigger barrel and more oomph than the original aerator, the Vinturi.  I like the way it feels in my hand, and quickly aerated a glass of red wine.
The bottle top model is nice to have if you're pouring through a whole bottle, and allows you to pour directly from the bottle to your glass without the added (and sometimes messy) step of using a handheld aerator.  In this case, I preferred the handheld model, but the bottle top is handy indeed.
When you want a quick glass of wine, I'd go with the handheld.  If you're pouring for a crowd, go for the bottle top.
When I look for wine accessories to give to my friends & family as gifts, I will definitely be giving the Vinomax hand held product to my wine brethren this year.  The triple aeration process seems to work better than a single aeration chamber, and while my heart still belongs to the Wine Soiree
Thanks to Vinomax for the samples!  Now go forth and shop at VinomaxProducts.com!