Recently, the good folks at Diageo invited me to experience the re-launch of an iconic brand:  Blade & Bow.  Unique in it's production technique, using a Solera system that is classical used for Sherry in Spain, no year is a single vintage. Instead, it is an ever evolving blend of many vintages as they tumble down the cascading pyramid of the solera.  In this case, the Blade & Bow solera is 5 barrels, with the oldest being from the original Stitzel distillery where blade & bow was originally born.
Stitzl-Weller was founded in 1935 in Louisville, and was distilling continuously until 1992.  When they shut down, the bourbon stock was sill aging, and therefore made it possible to create the oldest solera tiers that are available today.  The
22 year old Limited Release
is a blend whiskies, distilled at both the historic location at 17th and Breckinridge in Louisville, Ky. and another historic distillery in Frankfort, Kentucky, creating this complex beauty.  This blend is then aged and bottled at Stitzel-Weller.
A beautiful expression of caramel, brown sugar, baked apples, and baking spice.  Sip this beauty straight, or make a killer Manhattan!  It's fairly hard to put the glass down once you start drinking this sexy little number, and on these foggy summer nights, I am happy to have my little friend. $150
  I'll Take Manhattain (with a Bow)
2 oz. Blade & Bow 22 Year old
.25 oz. Carpano Antica Sweet Vermouth
1 dash Bob's Abbot's Bitters
1 Dash Fee Brother's Aztec Chocolate Bitters
1/2 dash Aged Citrus Bitters
1/2 Dash Meyer Lemon Bitters
Shake over ice and strain in to a cocktail glass.  Garnish with a slice of lemon and a bourbon soaked cherry.  The Aztec Chocolate adds a sweet richness, while the lemon garnish adds enough acid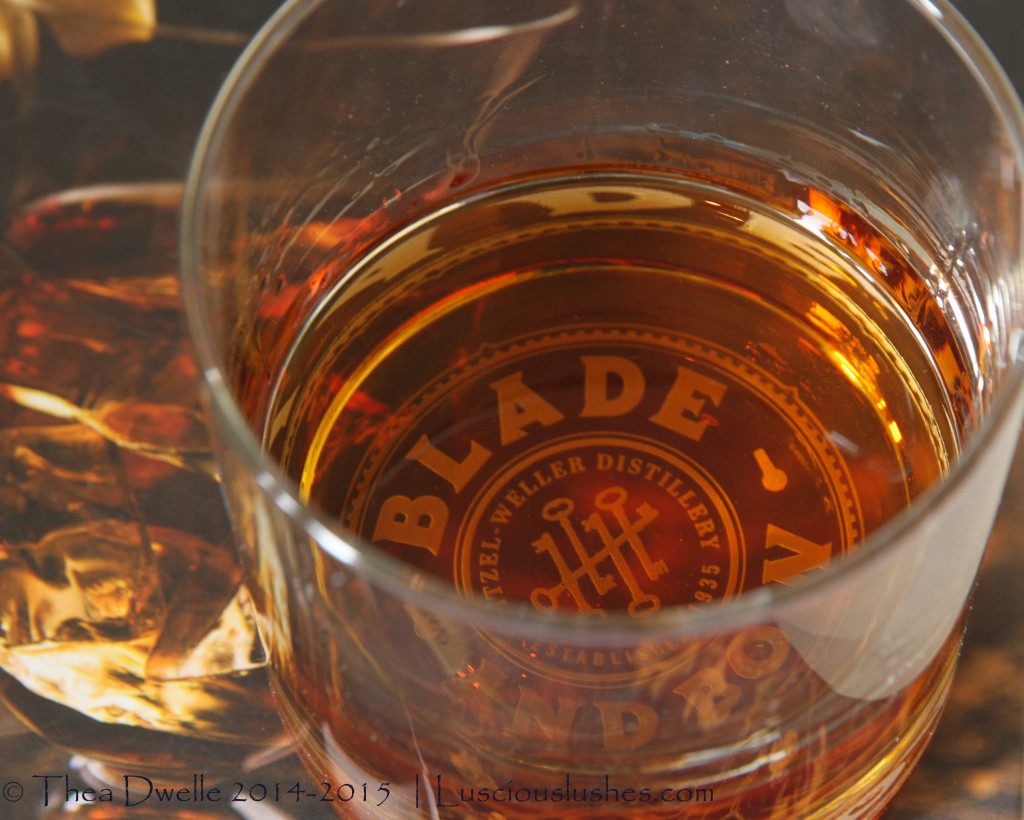 to make the flavors pop.   This is a treat that you will get addicted to!
For those looking for a more affordable treat, the
Blade & Bow Kentucky Straight Bourbon Whiskey
is  a lighter and fresher bourbon, perfect over ice, or in your favorite cocktail.  The Blade & Bow Kentucky Straight Bourbon Whiskey is a  fine sipping bourbon, and is made from the solera stocks from Stitzel-Weller, blended with other whiskies to create the completed product.
Fresh and fruity, with notes of vanilla, fresh oranges, ripe pears, marzipan and gingerbread why not try an Old Fashioned Ginger?  $50
 Ginger Old Fashioned
2 oz Blade & Bow Kentucky Straight Bourbon
1 oz Ginger Liquor
splash ginger beer (preferably a dry one)
dash orange bitters
Muddle 1/2 tsp of sugar with the bitters and ginger liquor.  Add ice, and top with bourbon, and ginger beer.  Garnish with an orange wedge.
 The use of the solera cask system allows Blade & Bow to carry on a tradition that was once thought to be lost, preserving some of the oldest golden nectar for future generations to come.  I highly recommend the 22-year old, and if you are out at a bar and see the Kentucky Straight, give it a shot! Pun intended, of course.
Thank you to Blade & Bow and the Diageo team for a great night of cocktails and a dinner of Southern specialties with a twist, at Dirty Habit – a peach of a bourbon bar in the heart of San Francisco.
---
---