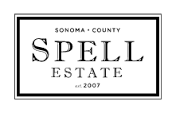 Wandering the aisles of the annual Pinot Days in San Francisco is a combination of old friends, new discoveries, and random skee ball shooting.  This year, there was a new venue, new wineries, and new tastes abounding, of which a few really stood out.
I fully admit that I stopped by the Spell Estate table, simple for the reason that I had never tried them.  When approaching events of this size, I often target those "new to me" folks, of which I am unfamiliar.  I was happy that I had the opportunity to do so, because Spell Estate really is a special find that I have on my "must buy" list for Pinot Noir now.  After chatting with winemaker Andrew Berge, I knew that I was excited to taste the full line up.  Thanks to
General Manager Allisun Groat, I was able to taste the large variety that Spell Estate offers and here are some of my notes.
Founded in 2006, Spell Estate was inspired by Bill & Tiki Spell's love of Pinot Noir.  Committed to delivering the best expression of Pinot Noir possible, they focus on the vineyards to create world class Pinot Noir.
Engaging winemaker Andrew Berge, who grew up in Europe and is deeply indoctrinated with the wine & food lifestyle, was a smart move for the Spells.  With a depth of experience in winemaking, Andrew is passionate about his wines.  With Spell, as well as his other label La Poutchine , Andrew can extract the expression of each microclimate and terroir as detailed as small patch of vineyard on a steep slope. With each winery comes a unique style, both created and ever evolving by Andrew Berge.
 2013 Alder Springs Pinot Noir – Located just 12 miles from the Pacific Ocean, the fruit comes from three blocks planted between 1700 and 1900 feet.  The volcanic soils here lend themselves to the earthyly old world character of this wine, will tea leaves, dried herbs, and leather, with a bright garget color.  With the earthy underlying notes, the bright red berry and cherry notes are calling attention to this age worthy example of Mendocino Pinot.
2013 Weir Vineyards
– Yorkvile Highlands Pinot Noir
– just southeast of Anderson Valley, Yorkville Highlands is the gateway to Pinot country.  The Weir Vineyard is planted between 850 and 1000 feet, with the cooling influences of the coastal fog, giving this wine a brilliant cherry base with macerated strawberries.  A hint of graphite and smoked meat round out the finish.  With just 43% new oak, the wine is balanced and calm with the remaining 50% one year or older.
2014 Umino Vineyard Pinot Noir – a classically bold Pinot, with strong cherry flavors and a rich and sultry mouthfeel.  With the vineyard located in the far western reaches of Sebastapol, in western Sonoma County, the foggy influence moderates the hot summer days creating beautiful acid and structure.
2011 Marimar Estate Pinot Noir – from a vineyard on the true Sonoma Coast, in Freestone, this luxurious wine is bursting with tangerine and bright berry, while the forest floor mingles with honeycomb and graham crackers in the deeper layers.  Delicious for those of us who enjoy acid.
The flagship of Spell Estates Pinot Noir lineup is the 2013 Terra de Promissio.  Just east of Petaluma, the maritime influence in the Petaluma Gap helps to maintain cooler temperatures and slows ripening.  Planted in 2002 to 777 and 115, the Terra de Promissio has a plethora of flavors, from strawberry and raspberry paired with tart cranberry, to classic cherry.  The spicy notes of star anise and cinnamon flow through the edge of toasty oak and coffee, with a finish of dark chocolate.  A truly memorable Pinot to hold on to as long as you can resist!
All wines are $48, except the Terra de Promissio, which is $58.
Make sure you stop by and taste these wines when the opportunity strikes!  Tastings can be arranged by special appointment.
Stay tuned for more on Andrew Berge's other project, La Poutchine!