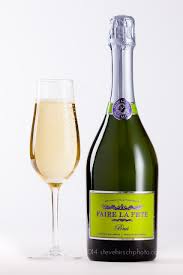 Monday Monday.  It's Monday, and I hate Mondays.  But, on the update, it's the last Monday in 2015.  So how do we celebrate?
With Faire la Fête of course!  
Faire la Fête
is a blend of Chardonnay, Chenin Blanc and Pinot Noir, from Limoux, France.  Much like yesterday's Crémant, this wine is from the birthplace of sparkling wine, and is where there is a month long carnival (fête) each year before Lent.
This is a fun, lively bubbly, that is full of bright white peaches, lemons, cherry blossoms and fresh cream.  This wine encourages you to celebrate every day life, and is a fête in itself.  At under $20, it is a great everyday fizzy that you can enjoy with oysters, desserts, or a warm afternoon in the sunshine.
Thank you to Banner Media Group for introducing me to this great wine!