It's hard to believe that next week is Christmas, and we just finished Hanukah festivities.  Whether you celebrate one of these holidays, another one, or just the time of year, you probably have a list of people that you want to a little something special for.
Don't panic!  Here are a few last minute gifts that are sure to please the wine lovers in your life!
Wine bottle totes – I love these cute little neoprene bottle holders.  They make a great gift in of themselves, but you can put your favorite bottle of wine inside and make even more special.  I love these soft, cushioned totes for parties, and they even keep those whites chilled!
CBreeze design will monogram them for you, which makes a great custom gift.  Choose from a variety of designs and accents, and your monogram.  They also have wine tote bags and other designs. ($28)
Built New York has a large selection of wine accessories, including the City Tote, which is the perfect light weight reusable bag for your your shopping needs. ($40).  They also have wine totes, which come in a 20201 or 2 bottle version.  Slightly taller than the CBreeze version, the Built wine tote is great for larger bottles and those odd shaped sparkling bottles. ($15-18).
Tattinger & Dita Von Teese – Who doesn't like bubbles at this time of year?  If you are celebrating something, on consoling yourself, sparkling wine makes everyone happy.  To celebrate the launch of Dita Von Teese's new book, Your Beauty Mark: The Ultimate Guide to Eccentric Glamour, from famed Burlesque star Von Teese, Champagne Taittinger has worked with Dita to envision the perfect DIY Beauty & Bubbles Bash to host at home!  With the glitzy holiday packaging, even the box is a party, not to mention the nectar inside.   ($50 champagne)
With instructions on how to build your own Champagne Tower, pirating advice, and more fun, this is a great party starter.  The book is fabulous too, and makes an awesome gift for someone who want to learn more about how Dita empowered herself, and broke all the rules, while defining a new style at the same time.  ($30 book)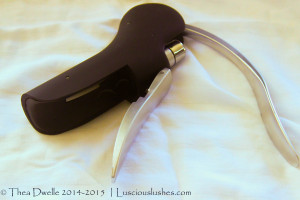 VinoMaster Wine Opener – similar to the Orignial Rabbit, this wine opener is a great tool to have in your bar.  The VinoMaster makes opening one, or many, bottles, super easy!  The simple lever action is fantastic for any one with manual dexterity issues, with arthritis, or just opens tons of wine.  $45
Joyeaux Noel, and Happy New Year!