I love food.  If you take one look at my Instagram account, or follow me on Facebook, you can probably figure that out.  I'm very fortunate that I live in a food capital, where there are literally dozens of world class (Michelin starred or not) restaurants to choose from.
There is a problem however; new restaurants open and close like a revolving door.  It's no secret that opening a new restaurant is a challenge – something like 80% or more fail within the first year.  Even established restaurants can close their doors in twist of the economy.
But I'm not here to talk about the negative, I'm here to talk about the positive!  Last fall, I was introduced to a new restaurant in the heart of our Latin Quarter, The Mission.  A blend of many different Latin American culture, The Mission has a plethora of both ethnic and uniquely American food choices.
Enter Coco Frio.  Coco Frio Restaurant and Bar is uniquely Caribbean, based on the food culture of Margarita Island, located off the Venezuelan coast.  Using the freshest seafood and a Venezuelan flair, the food is taste tantalizing fusion of Caribbean and Latin cultures.  Topping it off, unique cocktails and a pretty stellar wine list will set off the cuisine.
On our visit, we opted to start with a cocktail, before having the tasting menu, with wine pairings.  In addition to the classic tasting menu, Chef Manny Torres Gimenez added in a few extra dishes to ensure that we were fully immersed in the Margarita culture.  The wine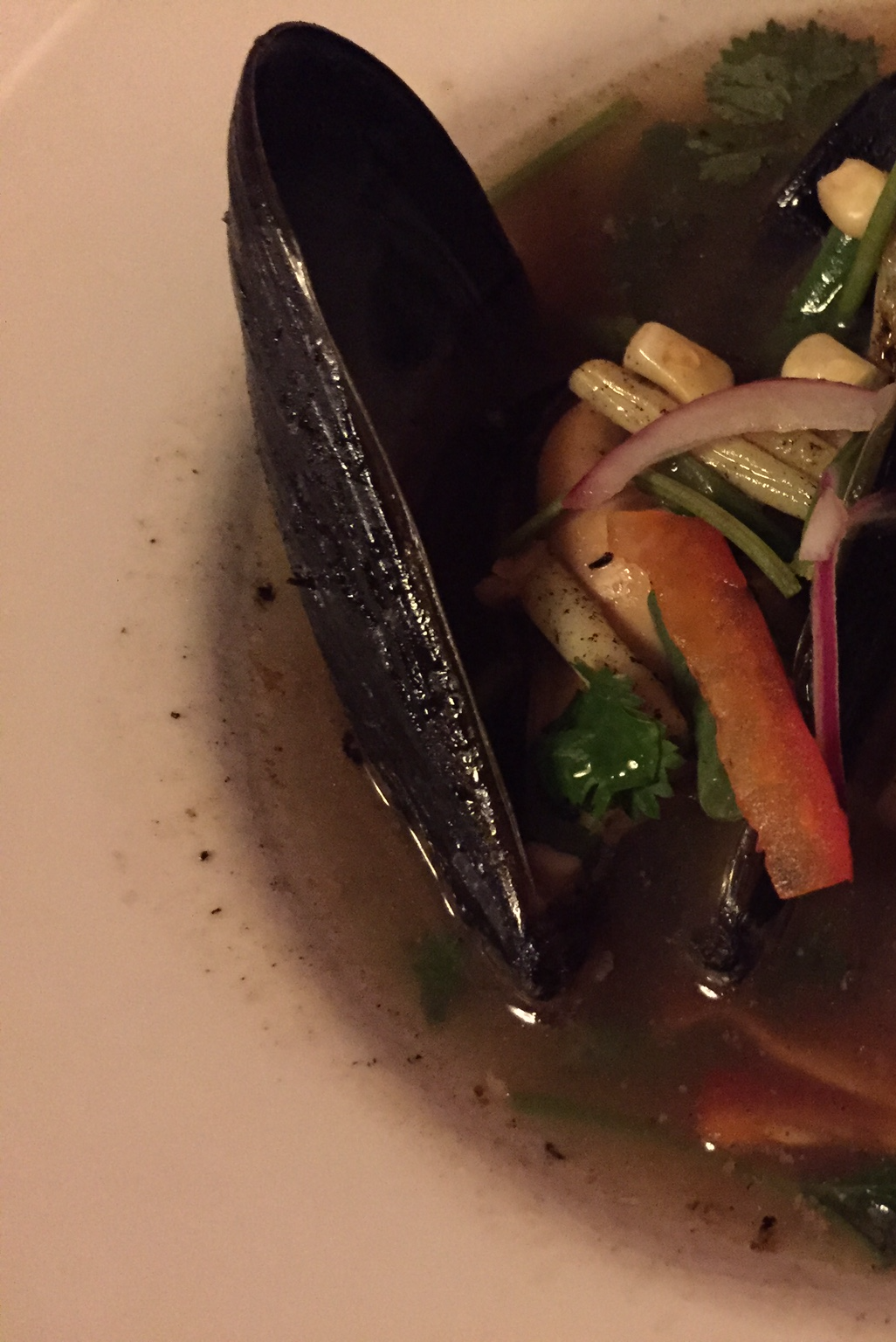 list, curated by Katie Brookshire, focuses on affordable, unexpected, and unusual pairings.
First Course:  We started with the Fish Fume (Siete Potencias) a delicious fish soup, with
fresh mussels and clams.  This paired perfectly with the Kerner, which was fresh and unique with a mineral finish.
Second Course:  Scallops on the half shell.  Sadly not pictured, the scallops were perfectly cooked with fresh tomatoes and spices of the region.  I think this might have been my favorite.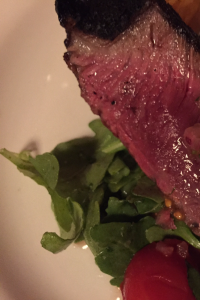 Third Course:  Meat!  This amazing steak was so tender, you could have cut it with a spoon.
Fourth Course:  Free Range Chicken (Pollo Frito) with Yuca,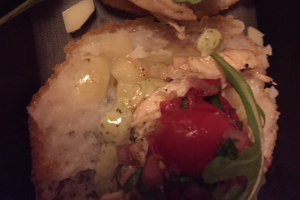 which paired surprisingly well with Austrian Zweigelt.
With many additions to the menu, we lost track of what came next, but suffice it to say we were stuffed.  With so many delicious wines and experiments to try, I highly recommend you take time to visit Coco Frio when you are in San Francisco.
The large by the glass selection of wines ranges from Vino Verde and Gruner Veltiner, to Rioja and Garnacha.  Most glasses are $8, and the wine pairing for the $30 – 3 course prix-fixe menu is only $15, which considering the large half glasses, is a steal.  Additionally, there are several beers if you want to have an inventive beer paring for some of the spicier dishes.
The final component of Coco Frio is the lengthy and creative cocktail list.  With Chef Manny's recent acquisition of Santa Teresa Rum, the oldest rum in the Caribbean, the cocktails are, naturally rum based.    From the party packed Pisco Punch to the Venezuelan classic El Coco Frio, served in a coconut and meant for 2, this is not your mother's Pina Colada.
I look forward to a return visit to taste more of the cocktails and dishes!  With a menu that focuses on fresh, local, and seasonal ingredients, it si sure to be different every time you go.
Special thanks to Natalie from Bread & Butter PR for not only setting this up, but hanging out with us for a drink!