Goosecross Winery is one that has along history in Napa Valley, beginning in the 1970s as grape growers and evolving in the 1980s as winemakers.
Today, a new Goosecross has emerged, carrying on the tradition in a modern style.  In 2013, the winery was purchased by Christi Coors Ficeli, who, ironically, comes from a beer family.  (Yes, that Coors.)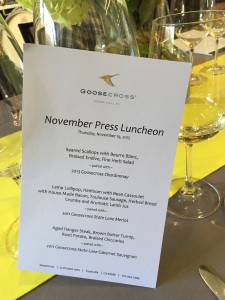 On a particularly magical fall day, I was invited to experience the new face of the winery.  Driven to making wines with a sense of place and style, the current winemaker, Bill Nancarrow, honed his skills at both Paraduxx and Duckhorn before spreading his wings.  From a Duck to a Goose, Nancarrow specializes in Bordeaux style wines, with a smattering of other offerings.
The evolution of the style of wine at Goosecross was a slow one.  It's history is long, and before the change in ownership, it was a bit of an odd duck, with a rustic barn, hidden treasures, and decaying reputation.
Trying to avoid a revolution, but rather encourage evolution, much of the original equipment (and the juice contained in it) was transitioned to Ficeli in 2013.  Even with a slow change, some things have been revolutionary; the best example is the use of concrete eggs to make Riesling.
Being creative with the concrete and stainless steel, Nancarrow has created something unique, and unlikely to be found outside of these four walls.  We were fortunate enough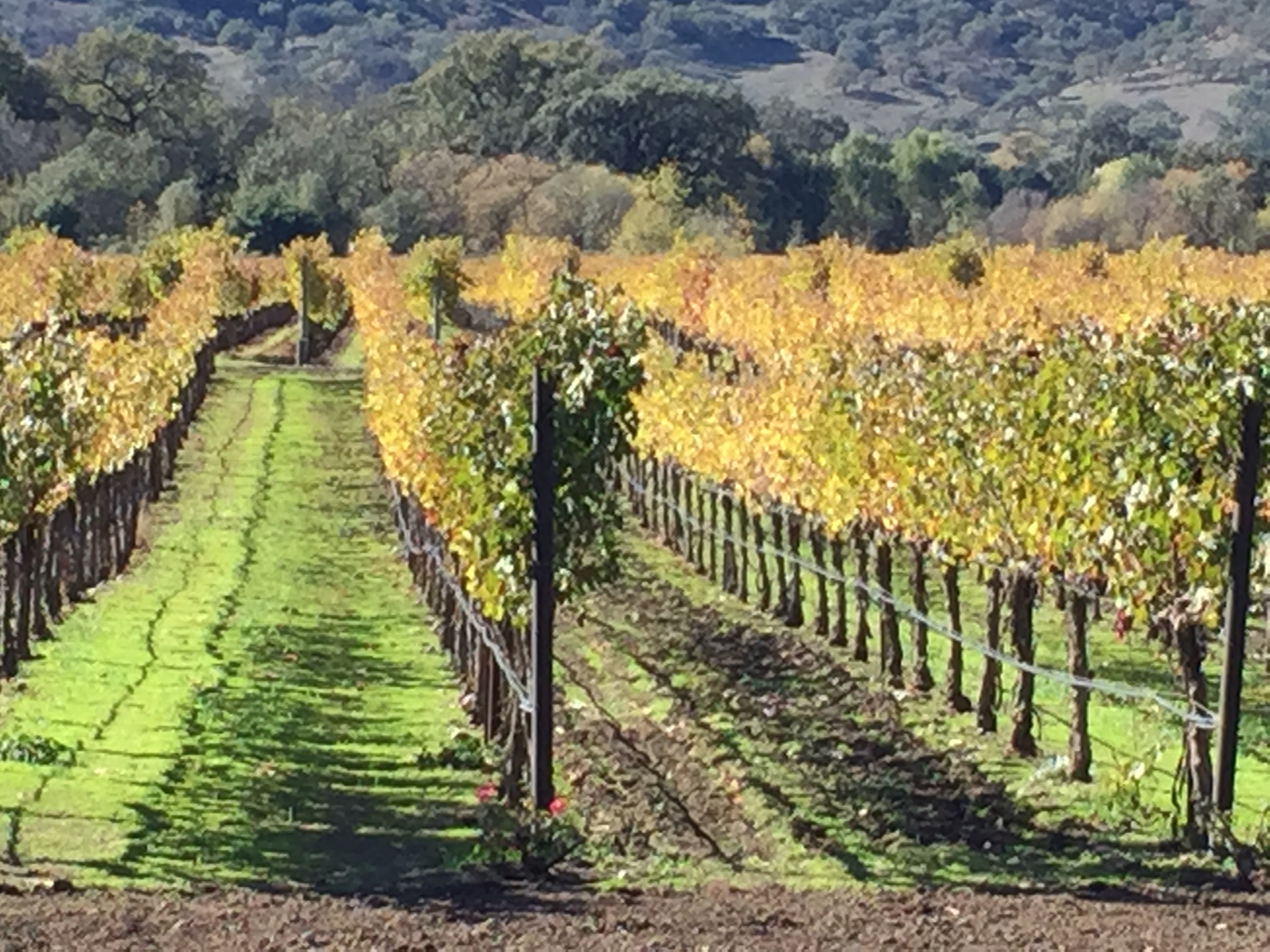 to taste two versions of this wine in tank, as well as the not quite final blend.  From 46 year old Riesling vines, which are completely dry farmed, and fermented with native yeast, a concrete egg and a stainless steel version were crafted as base components for the the finished wine.  I can't wait to try it in bottle!
As we sat down to lunch, we were greeted by the
2013 Chardonnay
.  With no malolactic fermentation, this is a rare treat.  Procured from the Curato Vineyard in Carneros, this floral and citrus driven wine had touches of apricots and honey. The lack of battonage played nicely against the 40% French Oak, to add caramel and texture.
Next the
2011 State Lane Merlot
, which is Estate Grown.  Even in a difficult year, this Merlot is everything I love about the varietal, and none of the sad, woody, bitter Merlot that made me run from it so many years ago.  Gorgeous rich banking spices, cracked peppercorn, and a hint of cigar box match the lean body with blue and black berries, plums, and leather.  The cooler influence of the vintage kept this wine lively, and only 30% French Oak barrels kept the wood from being too pronounced.
Lastly, (not entirely, but lastly with lunch) the
2011 State Lane Cabernet Sauvignon.
 With an enticing chili pepper spice note, the full aroma encompassed my senses with wood smoke, blackberry, and ripe red currents.  The hint of mineral on the finish was a clean refreshing sensation in a very enjoyable wine.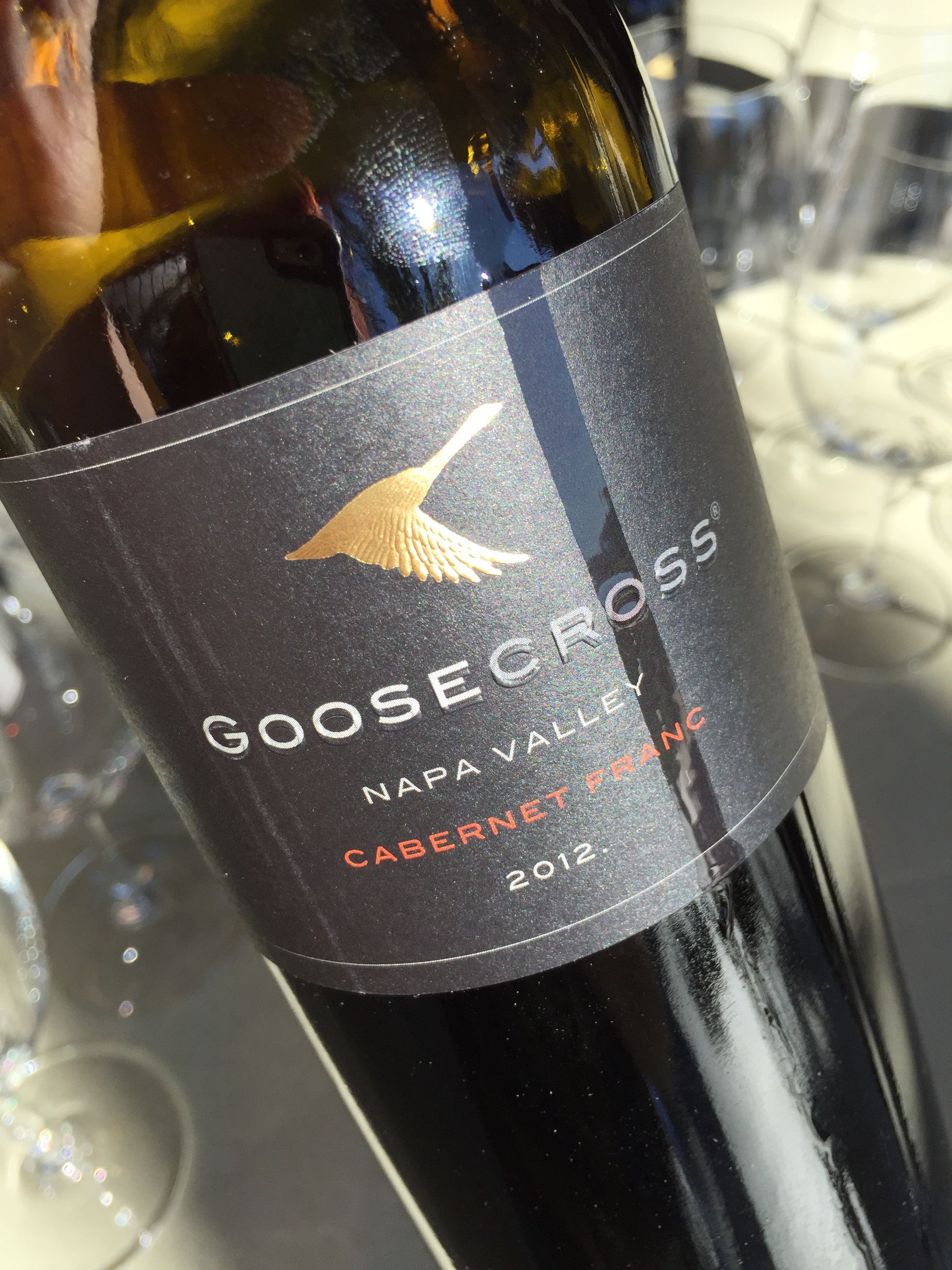 Finally, as we enjoyed the newly built deck behind the tasting room, we were able to enjoy the
2012 Cabernet Franc
.  One of my favorite varietals, I am always excited to try a new one.  This did not disappoint!  Rose petals, raspberries, and white pepper floated out of the glass, while dark cherries, dried lavender, and chocolate coated my mouth with a burst of happiness.
Goosecross Napa Valley is located in Yountville, about 10 minutes north of Napa.  Hidden away on a side road just off of Yountville Crossroad, you might miss it, but this is a destination worth seeking.  Open from 10-4:30 daily, it's a well worth a detour.
A special thank you to everyone at Goosecross for a wonderful experience, and to Lisa Klink-Shea from Creative Marketing for hosting!