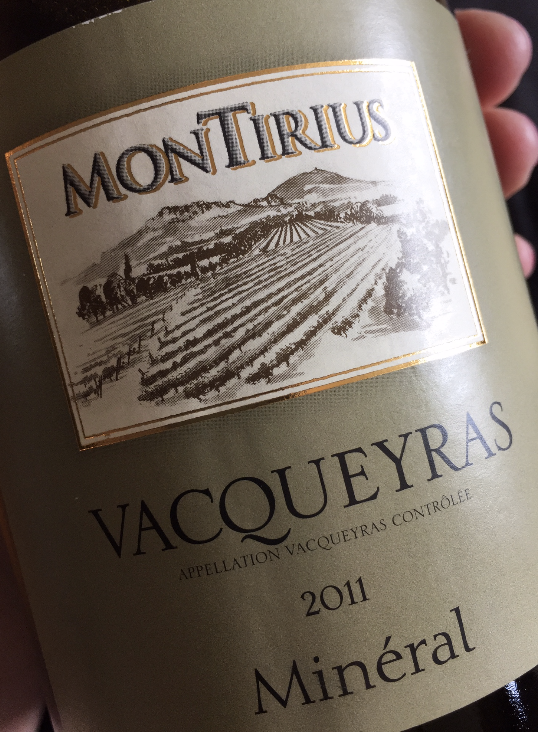 As a wine writer, one of the most exciting things is to taste wines from producers that  am unfamiliar with, and that I have no bias or previous information for.  Coming to a wine with a fresh perspective gives me to ability to focus on what I taste, and feel, vs what I remember or think I should expect.
Enter Domaine Montirius.  This small, family run vineyard is a relatively recent entry in to the Rhône; founded 26 years ago by Eric and Christine Saurel, it is now a true family business.  Certified bio-dynamic since 1999, the Saurels are dedicated to pursuing balance in the vineyard, and in the wines, and to find the perfect expression of the land in those wines.
In the practice of biodynamics, it's important to "observe, feel, listen to and taste, repeatedly, and to act on different clues in the environment.  The idiosyncrasies of Mother Nature create a natural rhythm to the winemaking process.
The 2011 Montirius Mineral Vacqueyras is an unusual blend of 50% Bouboulenc, 25% Grenache Blanc, and 25% Roussane.  You might be wondering about Bouboulenc, as its one of the more obscure white Rhône varietals.  It's a hearty grape, and tends to resist weather and pests, but s a forgotten variety for the most part until the Surels re-planted it in 1994.  A late ripener, it requires patience and tenderness, but yields a minerality and brightness.
The grapes were hand harvested and fermented whole cluster.  Aged without oak, there is a texturally intense fresh white wine. Strong notes of ginger and grapefruit peel, with tropical mango and green apple to follow. The palate is reminiscent of a baked apple, with the spice cabinet making a bold appearance. This wine is perfect for meatier fish, chicken, and even pork.
When I first tasted this wine, I anticipated the retail at $35+.  Even at that price, I think there is excellent QPR.  However, I was pleasantly surprised to learn it is only $22!  This is a wine to run out and stock up on, as it will certainly be my summer sipper as we slip in to warmer weather.
Thank you to the Teuwen Communications team for helpng me find the undiscovered and unusual Rhône Valley wines!