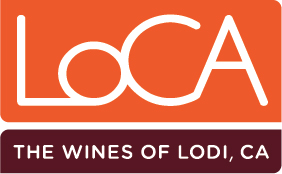 Just about a year ago
I set out on the road
Seekin' my fame and fortune
Lookin' for a pot of gold
Thing got bad and things got worse
I guess you know the tune
Oh Lord, stuck in Lodi again
Credence Clearwater Revival made the song, and the town, famous in 1969.  At the time, the small town of Lodi was a bit of backwater, located somewhere between Stockton and Sacramento, and was a thriving farming community.
Fast forward 50 years, and it is still a thriving farming community, but today, most of the agricultural pursuits center around wine.  In the 70s and 80s, and to some extent today, large production facilitates that focused on both bulk wine and zinfandel made the wine of the region famous.  Lodi is still the self-proclaimed capital of Zinfandel, and over 40% of premium Zin from California is produced here.
In addition to a strong heritage of Zinfandel, Lodi has also been home to many other varietals. With the 4th and 5th generation wine families, you can find Iberian, Rhone, Austrian and German grape varietals all thriving.
This year, the annual Wine Bloggers Conference is headed to Lodi in August.  Ahead of the storm, I was invited by the Lodi Wine Commission to a whirlwind tour of Lodi – focusing on "anything but zin" – my specific request to showcase the lesser known grapes that thrive in this region.
A short 90 minute (just don't leave at rush hour!) drive from the Bay Area, Lodi is a hidden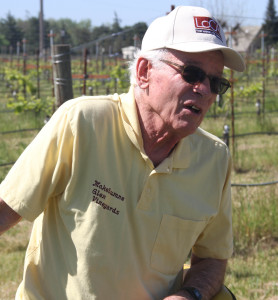 goldmine of delicious and living history.  One such vineyard is Mokelumne Glen Vineyard, which specializes in German and Austrian varietals.
With strong ties to Germany, the Koth family has over 40 varietals of both obscure and more common grapes planted here, in a hidden spot where the river dips and a natural "glen" is formed.
Originally planted to Zinfandel vines, as so much of Lodi was, Bob Koth (right) had a natural curiosity about viticulture and started researching what other grapes would do well there.  Today, that has culminated in the German Collection Vineyard, an experimental block next to their house, where 35 of the 41 varietals are planted.  With just a row or two of most, it is a true experimental vineyard.  If you're lucky enough to get a bit of this fruit, it is true gold.

After touring the property, we went in to town and sat down for lunch at Pietro's, where we tasted some lovely wines from Bob's fruit.
| | |
| --- | --- |
| | Sidebar Kerner – This aromatic white is a cross between Trollinger and Riesling, and is common in Germany, but unsual outside oft hat region.  This was a nice refreshing white, with a medium body and delicious saline and mineral finish, with rich apricot notes. |
| | Markus Wine Co Nativo white blend – The Markus Wine Company is a coop between winemaker Markus Niggli and Borra vineyards, where Swiss born Niggli can play a bit with styles and structure.  The Nativo is a fresh and fun light white, that is 53% Kerner and 28% Riesling, with a 15% dollop of Bacchus.  Bacchus, as it turns out, is another blended grape – developed as a cross between Silvaner and Riesling, and then that result crossed with Muller-Thurgau.  Does everyone have their family tree ready to fill out?  The intensity of the grapefruit note was brilliant, with bright acid and fresh cut herbs, floating in a field of flowers.  This was the perfect white wine for a warm lunch al fresco! |
| | Forlorn Hope's Gemischter Satz is a true chorus of voices, which is a clear representation of Mokelumne Glen's Germany Block project.  With 5-7 vines of each varietal (final blend is a well kept secret), it dances with white jasmine and spring flowers, and refreshing citrus on a foggy day. |
| | One of my favorites of the afternoon was the Borra Vineyards Vermentino, a delightfully light, crisp, and citrus driven white.  I have loved Vermentino since my first trip to Italy, where the fruit forward dry white is an easy sipper, as the mineral core keeps the sweetness of the ripe citrus at bay. |
| | Who doesn't love a rose?  On a warm day, I would drink rose…all day.  The Borra Vineyards Rosé Members Reserve is no exception, and is a classic Provencale recipe for happiness:  63% Syrah, 37% Carignane, and 100% love.  Bright wild strawberries, watermelon, and earthy hints of Tuscan melon and dried figs.  I could, and did, drink this glass, and another, and another. |
One key point to note about all of these wines is the absolutely stunning QPR.  With an average price of $20 or under, these are luxuries you can afford every day!
 Thank you to the Koth's for their generous hospitality and pioneering spirit!  There is so much more to come from this vineyard and these winemakers.  Head to Lodi and find out what!
There is so much more to say about Borra and Markus wines, such as the intriguingly acid driven Petite Sirah, and the blends.  But that, is for another day of discovery.