Markus Bokisch was raised in California, but has a long history of ties to Spain.  As a child, Markus spent his summers there, and as is the norm in European tradition, water & wine were served at meals.
With this pre-disposition to love the rich wines of Spain, Markus moved to Spain with his wife Lisa and worked his way up in the Spanish wine industry.  With endeavors in Raimat and Penedes, he became and expert at the cultivation of these special varietals.  When he moved back to California, he knew that Lodi had something special – hidden behind 100 years of old Italian field blends and Zinfandel, and that it was the perfect location to begin his endeavor with Iberian varietals.
The Terra Alta Vineyard in Clements Hills was the first property they purchased, where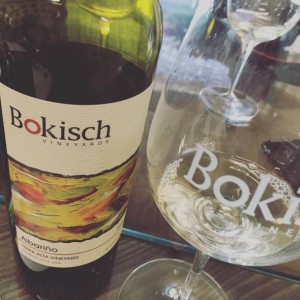 they imported Spanish budwood to firmly root Bokisch as the go to resource for these plantings.  In 1999, they planted Las Cerezas Vineyard, which is the motherblock, planted to Tempranillo, Albarino, and Graciano – classic Spanish grapes.  Two years later, the first vintage of Bokisch Vineyards wine was released.
Today, Bokisch grows over 2500 acres under vine, and works with wineries all over California in addition to producing their own wine.  With a careful consideration for the environment and sustainability, they are making a mark on how viticulture can be beneficial for the land as well as the economy.
I first tasted Bokisch wine shortly after that initial release, when I was part of the now (sadly) defunct Wine Q wine service.  I knew immediately, even though my palate was still developing in those early years of my wine career, that I would love what was to come.
Here we are, 8 years later, and I am lucky enough to taste the current releases of Bokisch frequently through a variety of tastings.  On this day, we enjoyed two different Albarinios – the first being from the Terra Alta Vineyard, where the tasting room is located, and the second from Las Cerezas, that motherblock planted in 1999.  While they were both welcome refreshers on this warm day, the Las Cerezas edged out the Terra Alta, with intensely tropical notes, and juicy fruit with lime zest and firm minerality on the finish.
Next, the Garnacha Blanca – a personal passion of mine – was a clear expression of how terroir impacts the finished product.  The medium body was full of fresh stone fruit, oranges, and pungent green herbs.  The creamy finish is perfect for cheese, hearty fish dishes, and just plain summer sipping.  Stylistically, Garnacha Blanca tends to be bolder than it's cousin Grenache Blanc, and I appreciate the weight and texture.
The last of the whites, the age old question of Verdelho vs. Verdejo.  Often confused as the same grape, Verdelho has roots in Portugal and is used widely in Madeira.   In contrast, Verdejo is a Spanish white grape, which has been traced back to North Africa, and is now widely grown in Rueda.  Confused?  Well, taste them side by side and you can see the differences.
 Moving on to the reds, Garnacha (once again) holds a special place in my heart.  Whether it's Grenache, Garnacha, or GSM, the varsity of styles it can be made in – let alone Grenache Blanc, Grenache Gris, and Grenache Noir (or Tinto), the diversity is delicious.  Tracing its origigans to the Aragon region of Spain, the Bokisch Garnacha fils your mouth with blackberries, boysenberries, and dark red fruit.  A finishing touch of blood orange and forest spices tease the palate as vanilla vapors envelop your senses.  I love to serve Garnacha with a slight chill, and of course, anything is better with fresh Manchego cheese.
A bolder red wine,
Graciano
is one of the grapes commonly used as a blending component in parts of Rioja.  It's also thought to be the oldest variety commercially grown in Spain.  A deeply purple black wine in the glass, bittersweet chocolate, Mission figs and cherries, with a hint of fresh violets tempt you, while tobacco and old saddle leather round out the palate.  Graciano is a meaty grape, and this is a fantastic wine for steak and a classic Rioja cookout.
And now:  Mourvedre.  Mataro.  Monastrell!  Depending on where you are in the world, this blue hued grape is called different things.  In France, Mourvedre.  In Spain, it can be either Mataro, particularly in the Catalan dialect, or Monastrell.  The 2013 Belle Collne Vineyard Monastrell is classically blueberry, bergamot, and baking spices.
The passion and dedication of Markus and Liz are infectious.  His single focus of making Lodi a top wine destination of distinction, and their dedication to sustainability is second to none.  Keeping these wines affordable is also of critical importance, and with prices between $18-32, the QPR on these wines is outstanding.
If you are in Lodi, a stop at Bokisch is a must do ! The sweeping view from the picnic tables to the seven oak tress in the gently rolling hills is bliss, and it is less than two hours from the Bay Area.
Cheers!