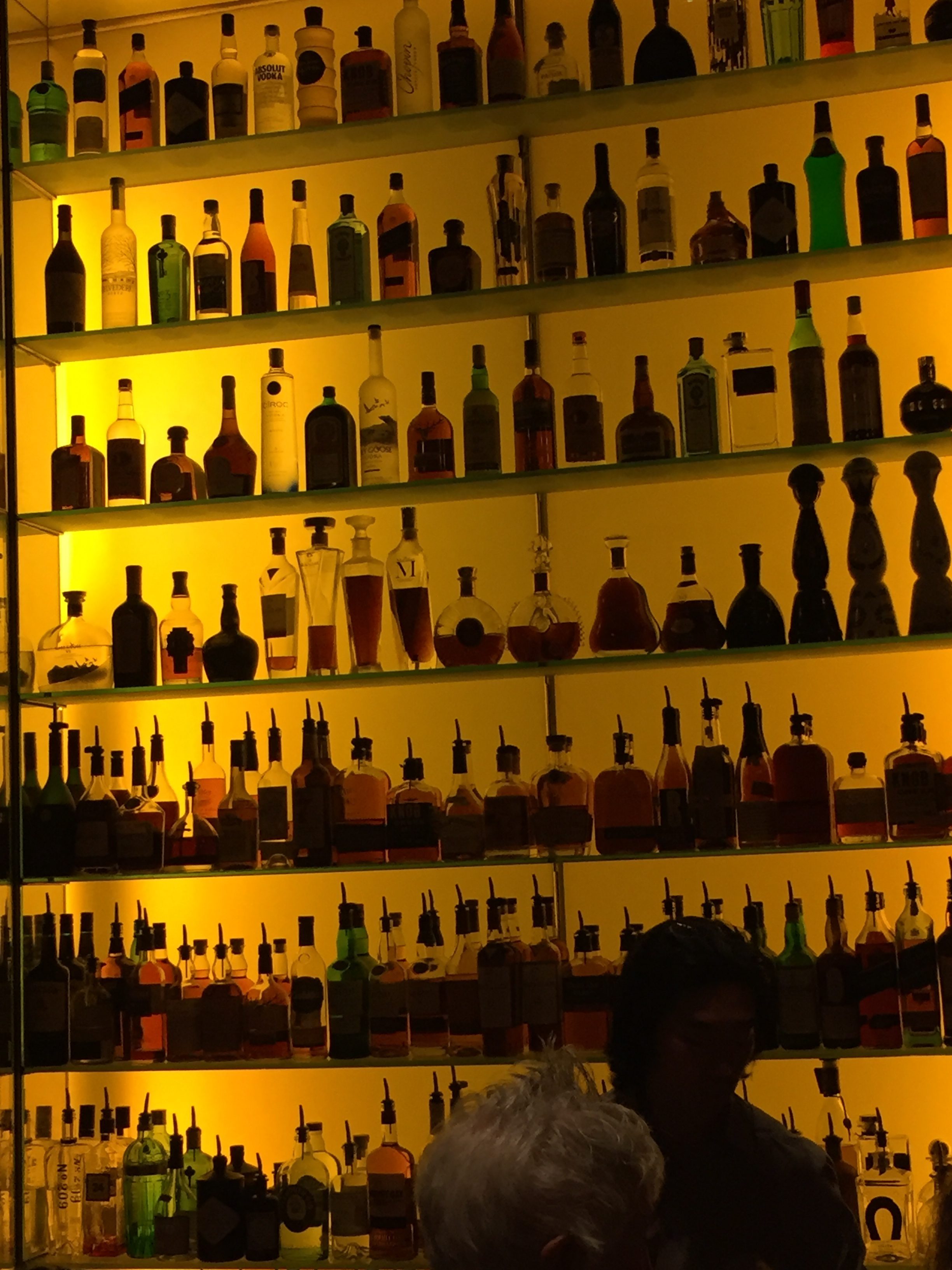 Walking through the doors of the historic Clift Hotel in San Francisco, you can almost smell the years of cigar smoke and high powered financial deals that linger in the wood lined lobby.  Long the bastion of high powered deal making, the Clift opened it's doors in 1913 by Frederick Clift on a family property, to serve the Pan Pacific Exposition.
Build to survive earthquake and fire, it still stands with the 1924 expansion of three additional floors.  At the time, it was the largest hotel in the state, and today, while it is now owned by the Morgans Hotel Group, it still remains much the same as when it initially opened.
The dark and brooding Redwood Room cocktail lounge feels like you are stepping back in history, with modern touches.  So named for the rich redwood panelled walls, and imposing etched glass and wood bar all pull us back to the original hotel's glamour and clientele.  Enhancing to the unique flair, the Redwood Room boasts digital art work that will change when you are least expecting it – reminding me of a scene out of the cult movie Clue.
Clift's famous and hanging array of digital artwork displayed on plasma television screens hung throughout the room. Snack on gourmet bites while sipping on delicious cocktails and enjoying curated music provided by well-known native San Francisco DJs along with world-class talent Thursday through Saturday nights.,
Master Mixologist Anthony Kim created the inventive and refreshing cocktail list just in time for Indian Summer, which is when us San Franciscians traditionally get some su
nshine.  Using the freshest ingredients, these 5 cocktails represent traditional drinks that you might find in any bar, but with a twist of fresh, bright, and unique flavors.
King's Lemonade – Woodford Reserve Rye, fresh lemon juice, basil syrup, strawberry puree
A bit like a mai tai, this drink was named for two kings:  Bourbon, and basil.  This was my 2nd favorite of the night, because, naturally I love bourbon, and the addition of strawberries and basil adds a savory but sweet note that hits the spot.
A mimosa that is splashing out to play, the passion fruit and mint play off of each other in a dance of the Sugarplum Fairy, while the vodka adds a cool touch.  A smooth and refreshing aperitif.