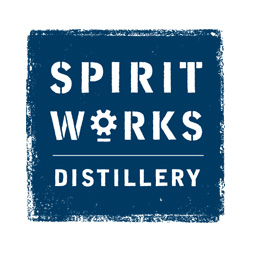 I've long been a fan of Spirit Works, a small craft distillery in Sebastapol's Barlow. Since their initial launch of vodka and gin in 2012, Tim & Ashby Marshall have been distilling grain to glass spirits that truly have a terroir of their own
Continuing their grain to glass philosophy, Spirit Works recently launched their new Navy Strength Gin.  Navy Strength Gin differs from traditional gin in that it tends to be both higher in alcohol, but also has a brighter expression of botanicals, and juniper.
Originally distilled for the British Navy, to help ease the physical and mental aches of a long voyage at sea, the Spirit Works' iteration is a delicious departure from their traditional Gin.
Distilled from a red winter wheat base, this gin is much spicier than the more citrus driven Spirit Works gin.  Smooth and sturdy, this is a fine sipping gin with a prominent spice note, and firm backbone.
My picks for cocktails that shine a light on the gin are:
Classic G&T
Fill a highball or cocktail glass with ice.
Pour 3 oz of Spirit Works Navy Strength gin over the ice.
Add 3-4 cracked cardamon seeds.  I love how the cardamon plays with this gin, but you can also infuse with Star Anise to create a more earthy fall flavored cocktail.
Top with Fever Tree tonic water, or your favorite tonic (anything that isnt' make with corn syrup!)
Gin Gimlet
juice of 1 lime (please don't use sweetened lime juice!)
simple syrup to taste
3 oz Spirit Works Navy Strength Gin
Pour all ingredients in to a cocktail shaker over ice.  Shake.
Strain in to a cocktail glass or coupe
Spirit Works is open daily, from 11am – 5pm for tastings, tours, and sales.  Stop by and see them some time in The Barlow, you won't be sorry!  While you are there, visit some of our local wineries and stop in Zazu for a bacon tasting, and a specialty cocktail made with Spirit Works.
While this sample was provided by my friends at Verdant PR, I buy plenty of hooch from Spirit Works.  Support your local distiller!