I love to create; specifically, I love to create cocktails from amazing ingredients.  Being a Bay Area native and a Sonoma County resident (well, mostly), when I found out about Stolen Fruit Cocktail Mixers, I was excited to get my hands on them.
Created by wine country chef Peter Brown, and Healdsburg grapegrowing royalty Doug & Susan Provisor, these fascinating blends of ver jus (freshly pressed juice) are the perfect base from everything to amped up water, to mock-tails, to elegant cocktails for every season.
Beginning with some pretty spectacular grapes, much of which are used to create some delicious wines, these fresh juice mixers come in exotic flavor combinations like:
Lemongrass-Ginger-Sav Blanc
Jasmine-Juniper-Viognier
Blood Orange-Muscat
Fig-Grains of Paradise-Zinfandel
Hibiscus-Grenache (not reviewed)
The freshness of these components and creative blends make them perfect for playing in your cocktail bar, or just jazzing up the every day.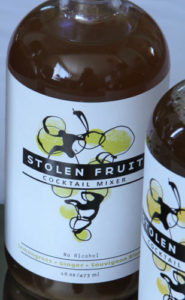 Lemongrass – Ginger – Sauvignon Blanc – I love the lively spice of the lemongrass and ginger, and this would make a perfect addition to your favorite sparkling wine on Sunday morning.  Gin-Mosa anyone?  I also love this with sparkling water.  Just a splash wake up the benign and helps you get those 8 glasses in.  It is also a natural base for any vodka or gin drink, such as the amped up Moscow Mule!
7 Mules for Sister Sara
Mix 2 ounces of Stolen Fruit with sparkling water to make a light soda.
Add 3 ounces of gin (or vodka)
Add 2 ounces of ruby red grapefruit juice
Stir over ice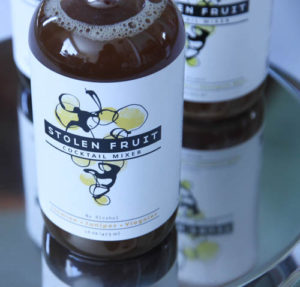 Jasmine – Juniper – Viognier
The surprisingly piquant flavors of lychee and kiwi, with a floral finish pair perfectly with cucumber.
Juniper Martini
Pour 3 ounces of your favorite gin (Hendricks would work well here) over ice in mixing glass.
Add 2 ounces of Stolen Fruit.
Squeeze 1/4 fresh lemon on top and shake well
Strain in to a martini glass with 3-4 slices of fresh cucumber.
Brilliant fresh orange flavors and bright citrus jump out of the glass with a hint of nutmeg and tropical vanilla.  This reminds me of Pirates of the Caribbean, and screams for rum.
But, What About the Rum?
2 ounces of Stolen Fruit
3 ounces of dark rum
3 ounces of light rum
A few shakes of tropical or Angostora bitters
Serve over ice in a coconut.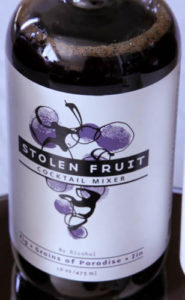 Fig-Grains of Paradise-Zinfandel
This dark and brooding baby is perfect for the fall.  Nutty with the fig notes, and a winter warmer, this is perfect for a fruity hot toddy.
Winter is Coming
3 ounces Stolen Fruit
1 ounces hot water 
3 ounces bourbon (or, you can use a strong red wine)
cinnamon stick, cloves, star anise (to taste) or 1 tsbp mulling spices
And for yet another use, the Stolen Fruit mixers are fantastic for culinary sauces, dressings, and glazes!  Thank you to Verdant PR and Stolen Fruit for sharing these great bar items.  Pick some up today for $18 each, or the handy gift set!