Hidden in the depths of a cozy bar in San Francisco's Hayes Valley, a secret lurks:  A delicious, inventive pop up called Lunchpad SF.  The Lunchpad has been serving lunch and brunch for the last three years, transforming this hip evening hangout in to a great day time destination.
Featured in 7X7 Magazine's list of San Francisco's "5 Best Spots for Coffee or Lunch Meetings", The Lunchpad was created by Adam & Mark Hubbell, and Chris Snowden.  Combining unexpected ingredients with original flavors, this unique hot spot can even be delivered to your door via Postmates, one of the hottest new delivery apps.
During the week, the lunch menu includes a wide range of sandwiches, salads, and…wait for it…habanero candied bacon.  Yes, I said bacon.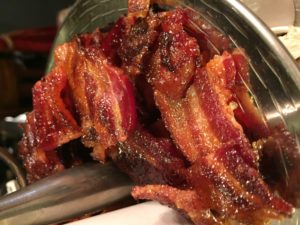 This bacon is tangy, sweet, and spicy, and while it serves as the centerpiece for a few of the sandwiches, it really is best just alone.
Other favorites that I enjoyed were the Chicken Run, served only on Wednesdays when chef Chris comes in to make this special.  How could you go wrong with fried chicken?
Another favorite, and one that spawned a pickle craze at our table of media guests, was the Turkey Drizzle.  A classic turkey sando with so many twists you could be in the Winchester Mystery House, the candied bacon is layered on with cheese, giardiniera, tomatoes, and house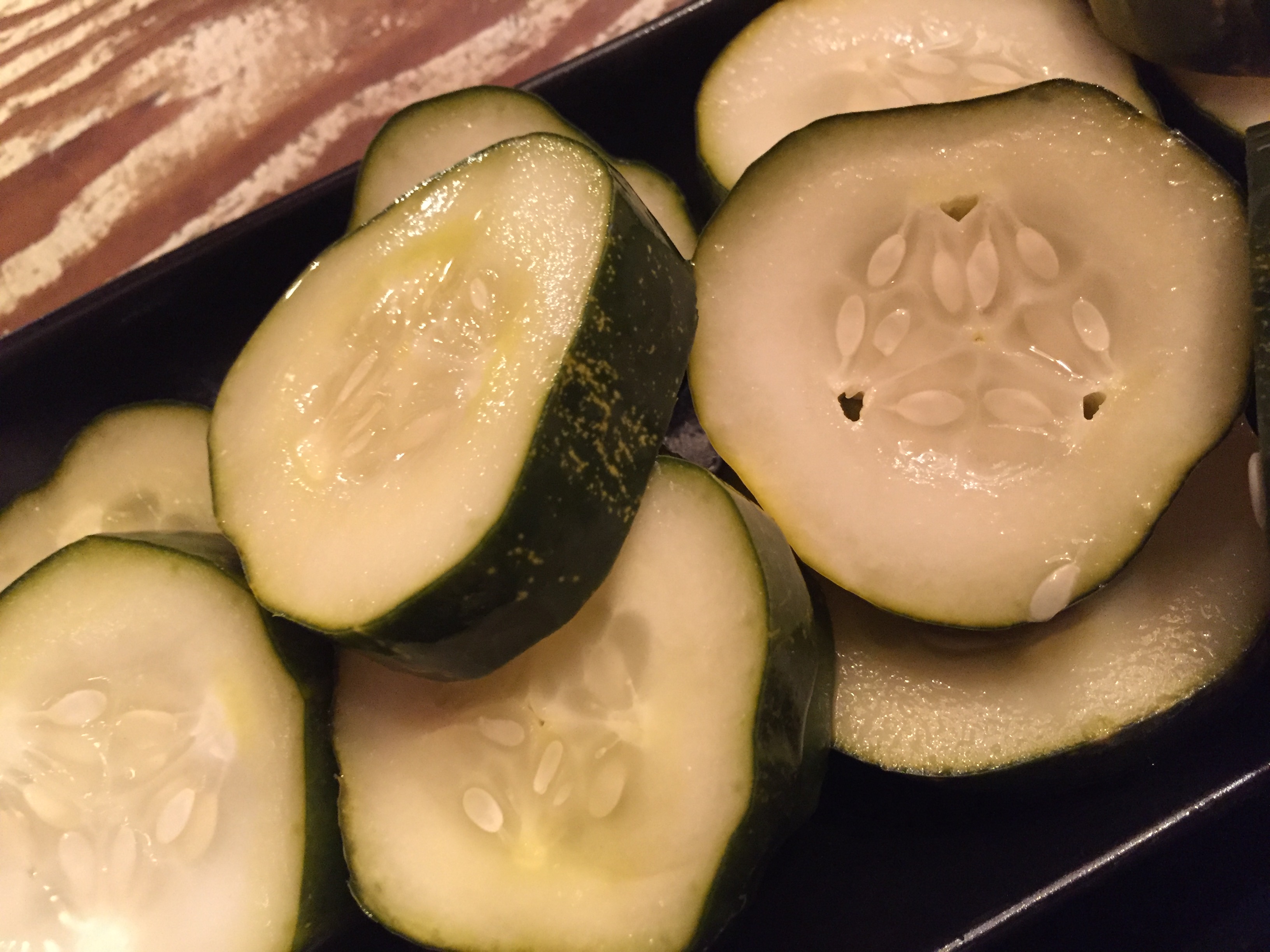 made pickles.  These pickles were of divine creation, and take the classic bread and butter pickle and elevate it up three notches.  We were enjoying them so much that we actually ordered a plate of pickles to nibble on – as if we were going hungry.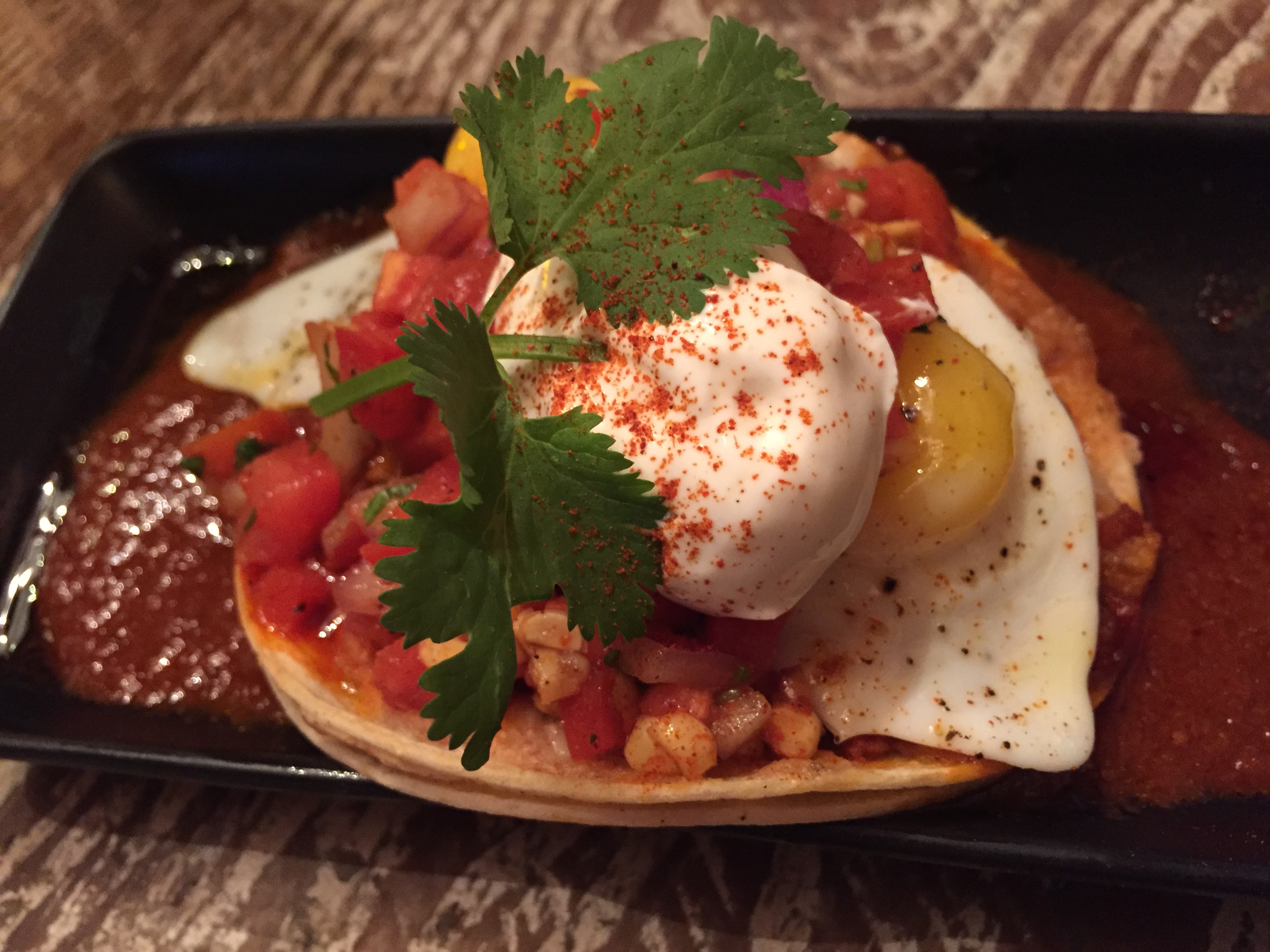 We thought we were nearing the end, but then came the Brunch menu!  savory Huevos Rancheros made my mouth water, but the cherry on the cake was the ginormous breakfast biscuit.  Based on a huge fluffy cheddar biscuit, more cheese is melted on top of  a perfectly fried egg, and garlic aioli is added as the finishing touch.  Yum!  Did I forget to mention that the bacon is also hiding in there?
To wash all of these tasty treats down, the Brunchpad Bloody is served only on weekends.  With bacon used as the finishing touch of flavoring, this fresh tomato juice cocktail is savory with just the right touch of sweetness.  Normally I'm not a huge fan of the Bloody anything, however, this was refreshing and delicious.  Other cocktails are available.
If you find yourself hungry while strolling Hayes Valley midweek, or are looking for a fun new brunch spot, check out The Lunchpad at Noir Lounge.  They are open Monday through Friday, 9am – 2:30pm, and weekends 11am-2:30.
On a rainy night you don't want to go out, order directly from Postmates and enjoy Lunchpad from the comfort of your own home!  Lunchpad also offers pickling classes and other fun events. 
  

Special thanks to Lunchpad for this amazing media preview!  Be sure to stop by and grab a bite when you are doing your last minute holiday shopping on Hayes Street.