If you ask the average person about South Africa, typically you will hear Nelson Mandela, Apartheid, and Pinotage.  If you ask a wine persona about South Africa, you are likely to hear Pinotage and Chenin Blanc.
Chenin Blanc is a unique white wine, with origins in teh Loire Valley of France and is made is a wide variety of styles.  In the South African wine growing regions, Chenin is king.
With 60ish official appellations, and nearly 100,000 hectares plated to vine, wines range from average to exceptional.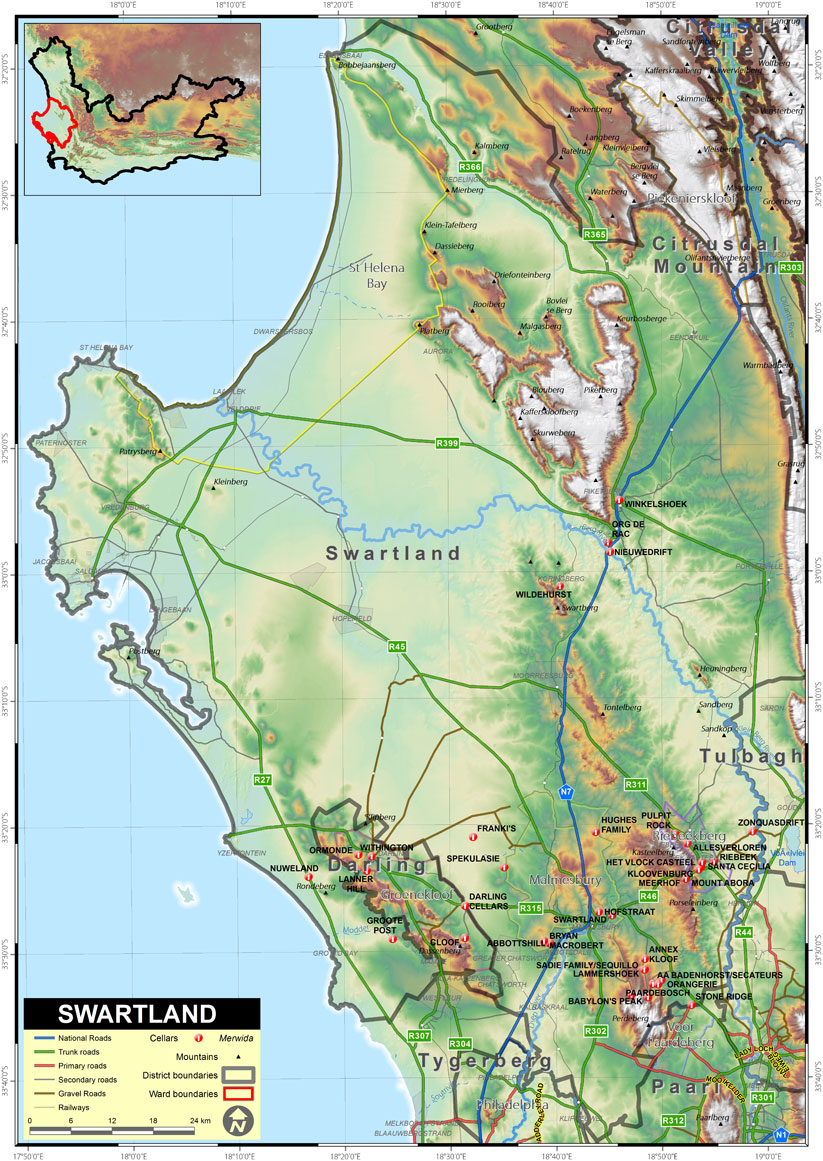 The Swartland region of the Western Cape winelands in South Africa, is one of the youngest wine regions in the country, and rapidly growing.  The decomposing granite soils tumble off the low mountains in to a fertile valley that is prime for grapes.
Planted in the 1950s and 1960s with Chenin Blanc, Cinsault, and Grenache, the Badenhorst is located in the  Swartland region of the Western Cape, which is a younger wine region but growing.  The decomposing granite and shale soils tumble off the low mountains in to a fertile valley that is prime for grapes.
Co-owner Adi Badenhorst is a bit of rebel, taking the time to make even the smallest decision such as picking for peak freshness and blending choices.  Raised in a farming community with his cousin Hein, they purchased the Kalmoesfontein farm in 2007 and set about restoring the badly neglected property.
Modeling it on the farms they grew up on with an eye towards making natural wines, the Badenhorts maintain the old techniques of dry farming and hand foot crushing whole clusters.  Using concrete tanks and large wooden vats for fermentation, these wines have a taste of yesterday, with earthy back to the earth flavors and mouthfeel.
With his blends co-fermenting in a bit of a mish mash, Adi doesn't using rules or classic winemaking by numbers to make his wine.  Instead he relies on what nature has done n the field.
This complex blend of Cinsault, Grenache, Shriaz, Mouvedre and Tinta Barocca is a lovely representation of how Rhône varietals do well in many climates.  You might know that Cinsault is one of the parent grapes of Pinotage, but here, it is an earthy backbone to this lush red wine and I love the flavors it imparts.  Cinsault here, is an old school country grape, and was often used to make bulk or table wine.  Today, is once again a premium grape.
Aging in 4000 liter casks for 16 months, the oak is a very subtle note and not at all influential in this easy to drink red.
The savory, smoke meat mingles with old leather and black tea while ripe blackberries layer with dried herbs for a pleasing, masculine blend.  There is fruit here, but the key notes are savory and herbal which is a nice departure from a bold and bombastic Shiraz or Southern Rhone blend.  The silky tannins finish with a minty fresh dusting of black pepper.
The $30 price tag shouldn't deter you from this wine, and it should be enjoyed with a juicy burger, a steak, or any BBQ.
Special thanks to Colangelo & Partners and Wines of South Africa for providing samples and images!