Alsace is probably most well known for the aromatic whites – Pinot Gris, Pinot Blanc, Gewertztraminer.  It is also well known for their sparkling wine, Cremant d'Alsace, amde in the classic champenoise method.  But, Alsace also produces some lovely Pinot Noir's will excellent QPR.
When the AOC was created in 1962, wines were not required to be bottled in the region and there were no Grand Crus.  That quickly changed in the mid 1970s, and in 1976 the AOC of Crémant d'Alsace was created, to showcase the sparkling wines of the region, which had been produced since the 1900s.  Using the Méthode Champenoise (Champagne style, secondary fermentation in the bottle), these bubblies are made from the local aromatic whites of Pinot Blanc, Pinot Gris, Riesling, Auxerrois, as well as Pinot Noir and Chardonnay.  The rarest of Crémants is the rosé, make entirely of Pinot Noir.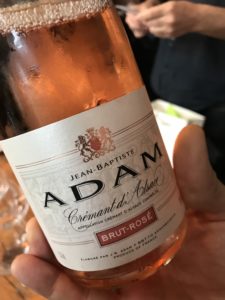 Sitting down to dinner on this evening, we were treated to the 
Jean-Baptiste Adam Crémant d'Alsace Brut Rosé NV.  
This $20 sparkling wine comes from a producer that has been making wine for 400 years; with a 14th generation winemaker at the helm, the estate recently went biodynamic.  Aged in foudres and on the lees for 9 months, it is bursting with strawberries and bright citrus it is a delightful summer sipoper.
Other Crémants to enjoy:
Allimant-Laugner Crémant d'Alsace Brut Rosé NV –
this popular producer offers another history lesson as the Allimant and Laugner families have been making wine since 1724.  Now run by 10th generation winemaker Hubert Laugner, this mineral drive rosé comes from vineyards on the granite slopes of the Vosages.  It is zesty and driven by blood orange and red fruit, and is a great option for weekend brunch!  $18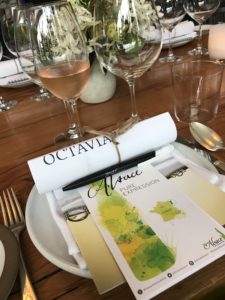 Lucien Albrecht Cremant d'Alsace Rose Brut – this budget busting $12 sparkler is a house staple.  Easy to drink, easy to find, grab it while you can!
Moving in to more undiscovered territory, we started to explore the Pinot Noirs of the region.  With 90% of the wines produced in this region being white, and 18% being Crémant, there is only a smattering of red wine available.  The vast majority of this red wine is Pinot Noir, used both for the illusive Crémant Rosé, as well as still wines.
2015 Rieflé Pinot Noir Bonheur Convivial – Another historical house, the grapes for this wine are grown on the limestone loess and were fermented on native yeast.  Aged in French oak for 10 months, the result is a low alcohol (13.5%) wine with floral notes wafting out of the glass, followed by bright cherry and dusty strawberry, Jolly Rancher notes and mouthwatering herbal notes.
2012 Hubert Meyer Pinot Noir Fut en Chen – Dark ruby with a muted nose, rustic and more ore savory notes are followed by black cherry, cranberry, and rhubarb flavors.
2012 Domaine Ostertag Fronholz – The youngest house in my roundup, Domaine Osterag was founded in 1966.  Famous for the Muenchberg Grand Cru vineyard, but this Fronholz Pinot Noir comes from top top of the hill of Epfig.  Known for the minerality, the grapes are 100% destemmed and aged in neutral barrels for a year.  Grippy and full of limestone, the subtle cherry comes out after a bit of air.  Exuding earth and crushed minerals it's another lower alcohol winner clocking in at 13.7%.  $45
Special thanks to Thierry Fritsch of the Vin's d'Alsace, for his expressive humor and pure passion for Alsace, and to Teuwen Communications for the lovely event!