When I first began my spirit studies in earnest, I knew nothing about Cognac, save for the ancient bottle of Hennessy in my stash, inherited from one friends' move or another.
As time went on, and as I build my cocktail catalog, I learned about the diversity and deliciousness of the amber queen.
Enter the marketing genius of the Cognac people, who worked with teams in New York and San Francisco to create a pop up cocktail tour, featuring inspired drinks made with cognac.
But first, a little lesson in Cognac. Cognac is brandy, distilled in the Cognac region of France. The prime grape source is Ugni Blanc (Trebbiano in Italian), but a small amount of Colombard and a smattering of lesser grape may also be used.
The most important thing to understand about Cognac is the labeling system of classification as, while it does not denote quality, it gives you a clue as to how long it has been aged.
V.S. (Very Special) is a blend in which the youngest brandy has been stored for at least two years
V.S.O.P. (Very Superior Old Pale) or Reserve is also a blend, but the youngest brandy has be aged for at least four years in a cask.
XO (Extra Old) or Napoléon is a blend where the youngest brandy is aged for at least 6 years. This is changing however, because in 2018, the XO needs to be aged at least 8 years.
Hors d'âge (Beyond Age) really is the same as XO, but it's a great marketing ploy to showcase the highest quality product offering, and gives the appearance of rarity and luxury.
Here in San Francisco, our crawl included 5 well known craft cocktail bars, with 5 equally crafty cocktails – all different, all delicious, and all showcasing the flexibility of cognac brandy.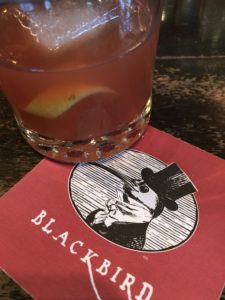 First up, we met at Blackbird, a hidden gem in the no man's land between the . Mission and the Castro, on the upper reaches of Market Street. At Blackbird, we started our journey with the Carried Away, a refreshing concoction made with Rye Bread-Infused Cognac V.S., Cocchi Torino, Bonal, a splash of Benedictine and a dash of Peychaud's Bitters – with just a hint of Absinthe to add something interesting.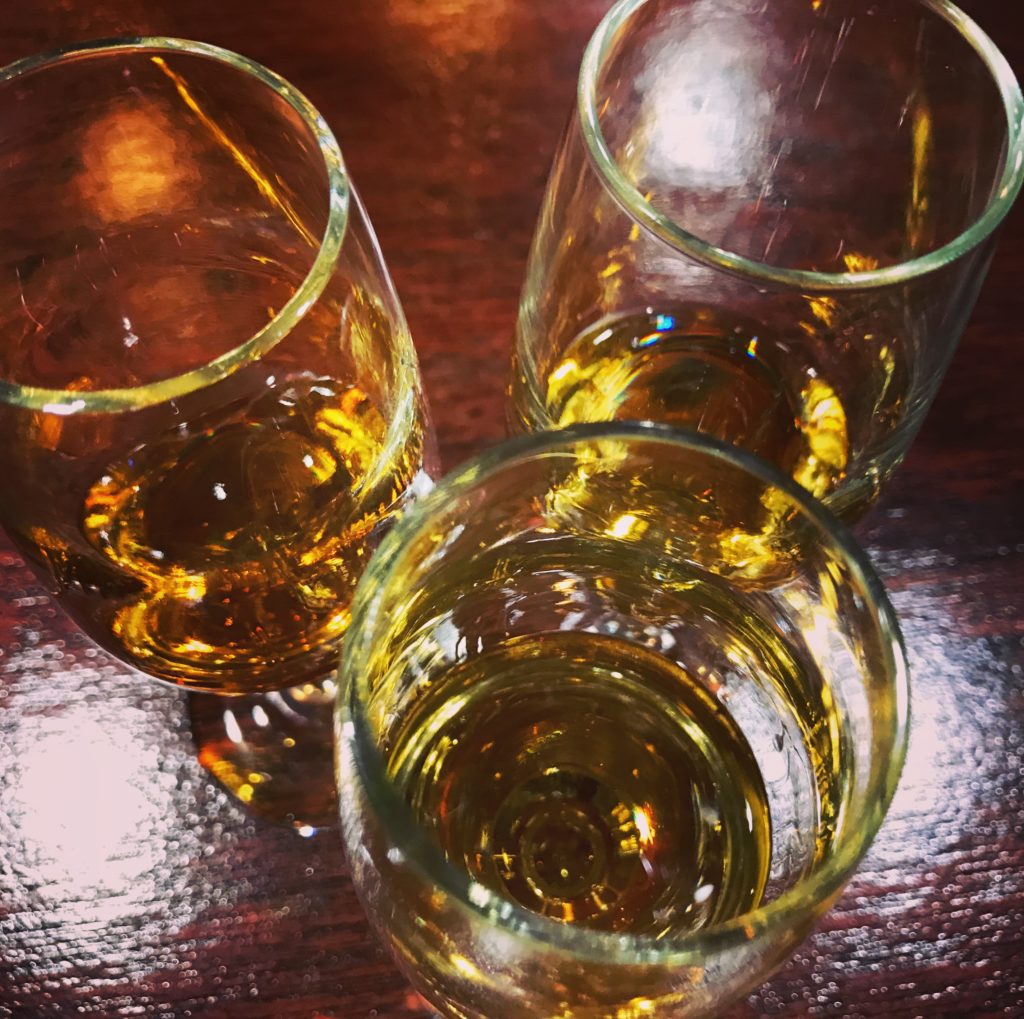 Next, we wandered down the street to Elixir, one of my favorite whiskey bars in San Francisco. With over 500 bottles lining the walls, it's hard to focus on the task at hand, but owner H. has plans for us. walking out the back door, through the pass through bathroom to what seemed like a speakeasy that never went out of style, we arrived at the Elixir classroom. Here, H., an avid Cognac fan and educator, led us on a guided tasted of three distinct cognacs.
Once we were clear on the foundation of our drink, the mixologists at Elixir treated us to the Elixir of Cognac, a frothy tropically inspired punch with XO Cognac, Crème de Cassis, pineapple gum syrup and lemon juice. To add the creamy froth, a bit of egg white is added in and the whole thing is shaken over ice. Yum
Our next stop was Dalva, where we snuck through the back door to another, semi secret speakeasy type bar. Here, while it was dimly lit, it was cozy with a few small tables and a well stocked and beautiful bar. This stop gave us the most pure drink so far, somewhat of a Cognac Manhattan if you will – or a Corpse Reviver #1.
At Dalva, this was The Cure For What Ails You – and it certain did! I could have had many of these, a straight cocktail made with Cognac, Bonal, Fernet, whiskey bitters and some amazing smoked pear bitters.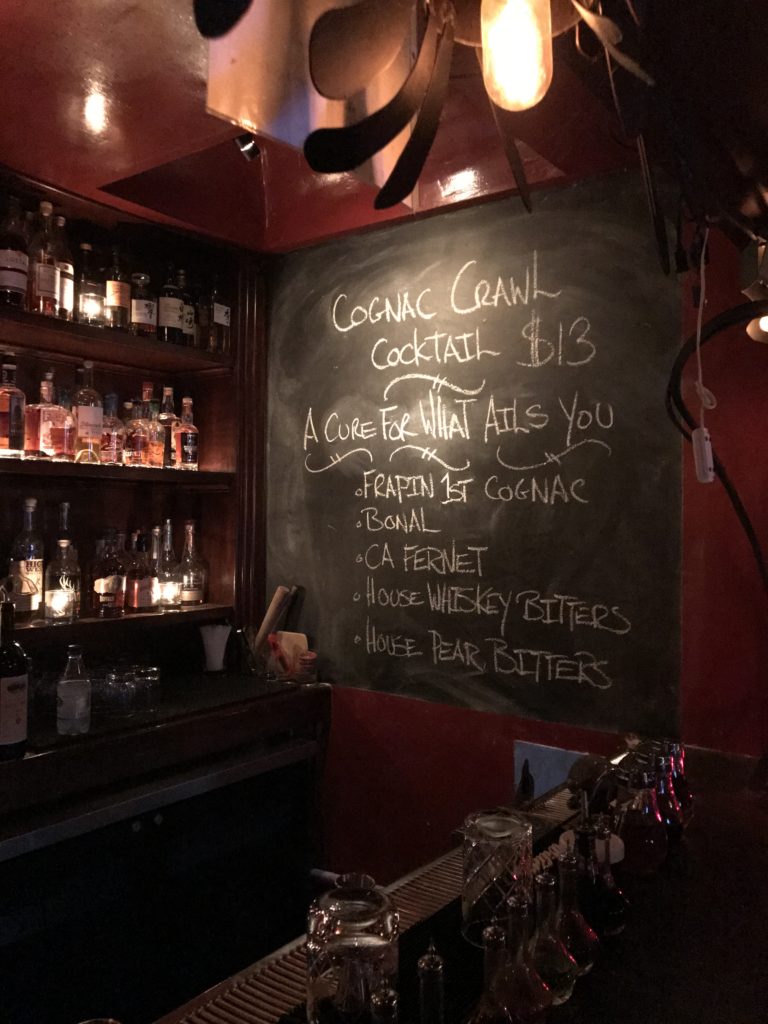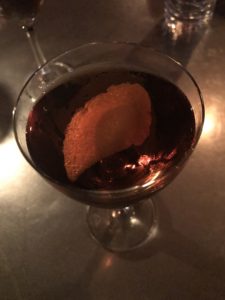 Our next to last stop, and the last stop on foot, Wildhawk, was bustling and teeming with happy hour revelers. Here, we departed the savory land for the somewhat sweet Kind of Fancy, with Cognac, Rye, Port, Yellow Chartreuse (people still use this this stuff?), and mole bitters. I admit, this wasn't my favorite, but I can see how enjoyable it would be on a cool fall day, particularly if you warmed it up a bit.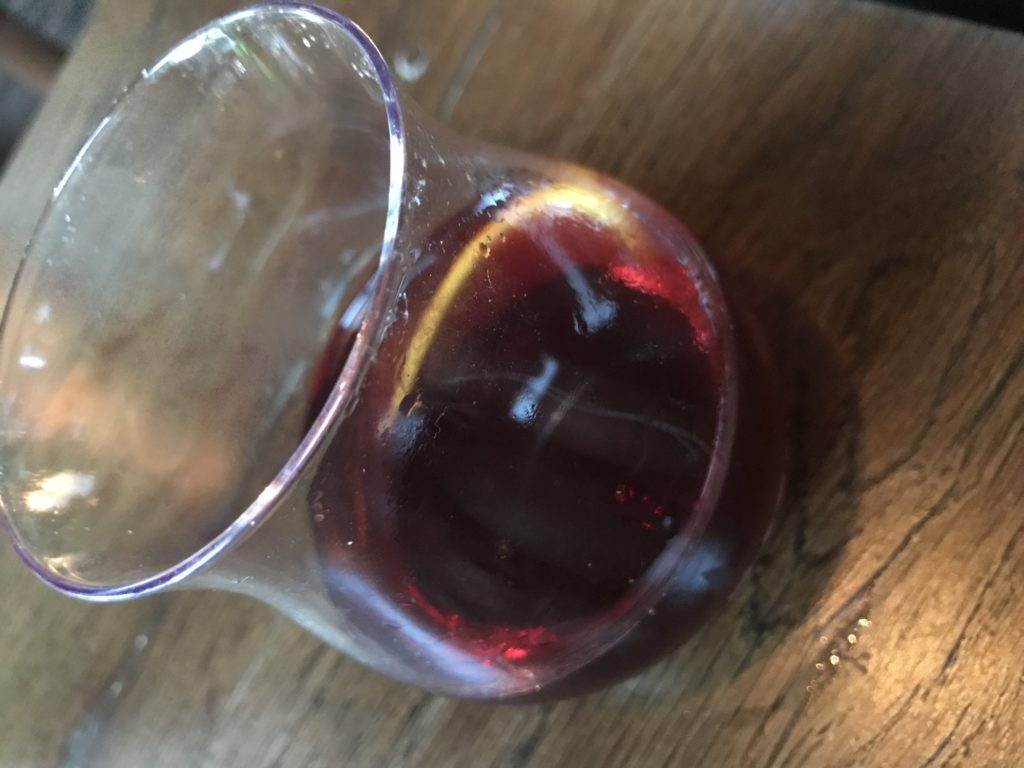 Our final stop required an Uber to meander through the hills of Bernal Heights, where we ended our tour at Holy Water. Our last cocktail of the #congaccocktails crawl was a Stinger Royale, a minty, chocolatey wonder with cognac, Cremè de Menthe, Cremè de Cacao, Absinth (you fickle fairy you) and bitters. It was rich and certainly served as dessert.
Sadly, I couldn't get a good picture of this one, so be creative with your imagery.
My personal favorites were the first three stops, but there is a cocktail on this tour for everyone – and you get the added bonus of discovering some of the best craft cocktail bars the city has to fofer. The best part? Its only $30. Have you ever had 5 cocktails for $30 in San Francisco – outside of a shot of well rye in a dive bar in the Tenderloin?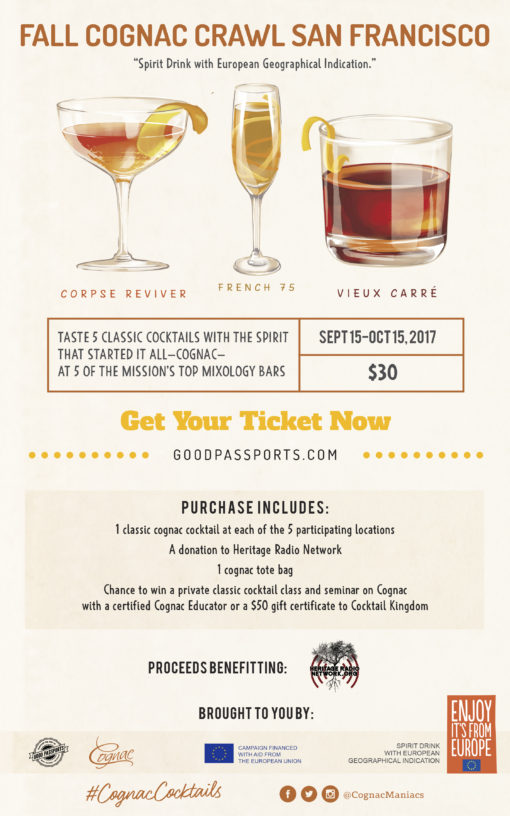 The Cognac Crawl continue through October 15th, so be sure to get your cocktail on and join int he fun! Visit Good Passports to book yours today.
In New York? There is a Manhattan version as well!
Special thanks to Teuwen Communications for the media preview, and H. from Elixir for joining the fun and providing a great Cognac class.